HOW IS THIS A RE-OPENING?! | TRAVEL GUIDE FOR FOREIGN TOURISTS IN THE PHILIPPINES START DEC 1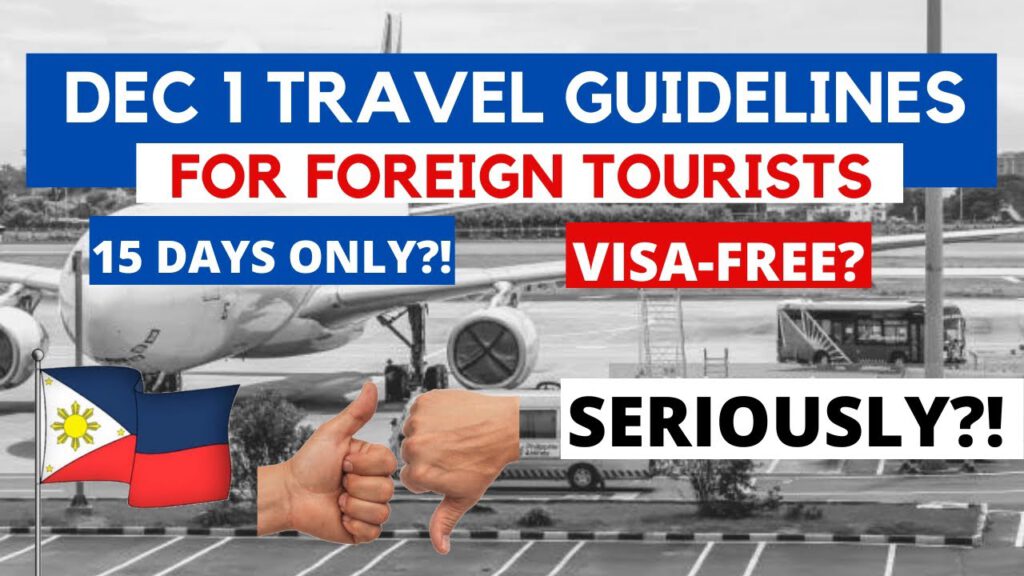 Latest Update on Philippine Travel: Quarantine Protocols, Requirements and Process.
Immigration Travel Requirements for flights to the Philippines for Filipinos, Balikbayans and Foreigners:

Updated List of Green, Yellow, Red countries:
https://www.facebook.com/photo?fbid=256386879855495&set=pcb.256386939855489
US from PH Complete Travel Guide: https://youtu.be/b7-gy3oWXto
Are you a Filipino tourist leaving the country? You need a reliable insurance! Check this out: https://www.safetywing.com/a/24818256
Hello, I am Jennifer Terri, a 24 year old Filipino-Australian living alternately in Sydney and Tagum, Philippines. I make Philippine Travel News & Updates. 🙂
Let's connect!
Facebook: https://www.facebook.com/Jennifer-Terri-103337894995996
These videos and the effort I put into them are 100% free for everyone, and all I ask is that you leave a thumbs-up on any videos that you like and subscribe to my channel .
For those of you that still wish to support my channel further, however, I've posted my link below. Thanks!
Support through Paypal: https://www.paypal.me/Terri967
COMPLETE LIST OF QUARANTINE HOTELS:
In Manila: https://quarantine.doh.gov.ph/boq-allowed-and-dot-accredited-quarantine-facilities-as-of-november-12-2021/
In Cebu: https://bit.ly/MCIAAccreditedHotels.
In Clark: https://clarkinternationalairport.com/list-of-accredited-hotels/
In Davao: https://www.philippineairlines.com/en/covid-19/arrivingintheph/davaoquarantinehotels
In Laoag: https://www.philippineairlines.com/en/covid-19/arrivingintheph/laoagquarantinehotels
In Subic: https://www.philippineairlines.com/en/covid-19/arrivingintheph/subicquarantinehotels
All passengers landing in MANILA, CLARK, LAOAG, CEBU, SUBIC, AND DAVAO must register for ONE HEALTH PASS: https://www.onehealthpass.com.ph/e-HDC/One-Registration-Platform/
NEED TO TRANSFER MONEY TO THE PHILIPPINES?
This is what I personally use:
https://www.worldremit.com/en/r/JENNIFERTERRIH1
First transfer is free plus you get a $20 voucher!
DISCLAIMER: The following information is the best of Jennifer Terri's knowledge at the time of publication and cannot be guaranteed to be reviewed and updated immediately. Given the rapidly evolving nature of the international response to the COVID-19 outbreak,Jennifer Terri cannot guarantee its complete and all time accuracy and can accept no liability for any errors or omissions.Jennifer Terri reserves the right to add or change information at any time.
Travel Guidelines at Philippine airports Traveling to the Philippines during covid-19 Philippines travel restrictions Philippine International Travel Rules and Requirements New normal travel guidelines at Philippine Airport International airport travel guidelines ECIF RedCross Philippines Travel tips to all international travelers Non OFW returning to Philippines Philippines quarantine news Flying to Manila during pandemic? What to expect Philippine air travel guide Manila airport procedures NAIA Airport procedures Travel guidelines for passengers arriving at NAIA Traveling to Philippines Quarantine on arrival Arrival in Philippines Airport procedures Traveling during the pandemic Airport quarantine procedures Quarantine on Arrival Philippine Philippine news today Philippines travel update Travel update Philippines today
#JenniferTerri