How Unvaccinated Travellers Can Go To The USA: The New US Travel Rules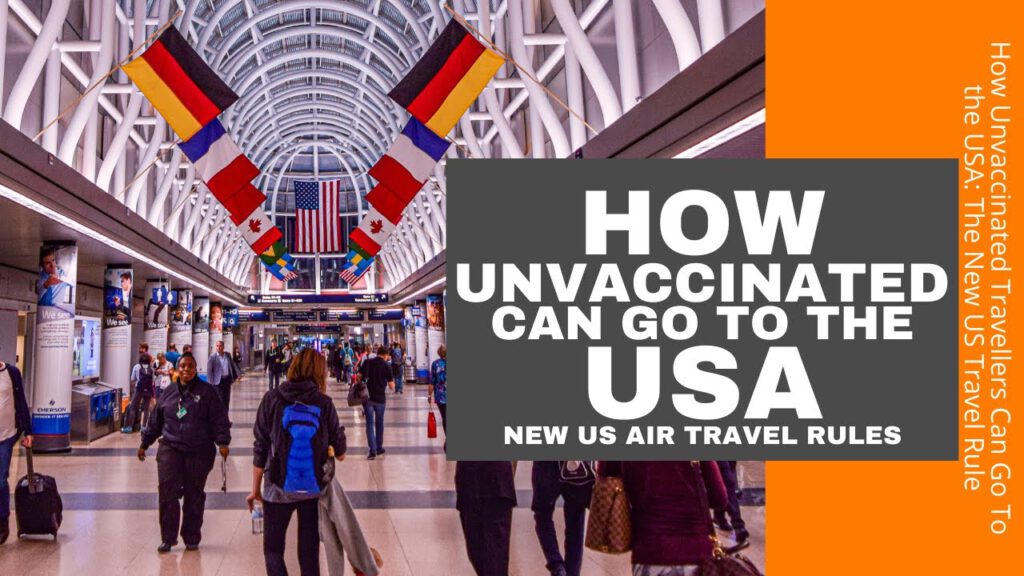 How Unvaccinated Travellers Can Go To The USA: The New US Travel Rules
✈ In this video:
0:00 How Unvaccinated Travellers Can Go To the USA The New US Travel Rules
1:27 How Unvaccinated Travellers Can Go To the USA The New US Travel Rules
As of this week, the United States lifted the travel restrictions that barred non-US citizens from Brazil, China, India, Iran, Ireland, the Schengen Area, South Africa, and the United Kingdom from entering the country.
With the reopening of US border restrictions, the United States is also imposing new rules requiring nearly all foreign adult visitors to be vaccinated against COVID-19.
…
2:30 US Vaccine Travel Exceptions
The US administration stressed that exceptions to the vaccine requirements for foreign visitors would be rare but have been made for the following reasons.
* Persons on diplomatic or official foreign government travel
…
3:50 Children Under 18
The Centers for Disease Control and Prevention stated that unvaccinated children visiting the United States will not need to be quarantined upon arrival under the country's new travel rules.
According to an amended document signed by CDC Director Rochelle Walensky, noncitizens under 18 years old who are not immigrating to the US will still need to fill out an attestation form
…
4:54 Travellers with Medical Conditions
Visitors claiming medical reasons for not being vaccinated have to present a signed letter from a licenced physician documenting a medical contraindication to receiving a COVID-19 vaccine.
The letter must have the following essential elements:
* Must be signed and dated on official letterhead that contains the name, address, and phone number of the licenced physician who signed the letter.
* Must clearly state that the passenger has a contraindication to receiving a COVID-19 vaccine. The name of the COVID-19 vaccine product and the medical condition must both be listed.
…
6:18 Participants in Certain COVID-19 Vaccine Trials
Travellers that prove they have participated or are participating in Phase 3 COVID-19 vaccine trial with a qualifying vaccine can still travel to the US.
…
6:46 Persons Issued A Humanitarian or Emergency Exception
The CDC may grant a humanitarian or emergency exception in limited circumstances only when an individual must travel to the United States to preserve health and safety and is unable to become fully vaccinated before travel.
..
7:17 Travellers from Countries with Less Than 10 percent Vaccination Rate
Unlike in the US, Covid-19 vaccines are not readily available to most countries. The CDC has listed 50 countries where Covid vaccines are scarce.
…
8:23 Travellers Recently Recovered from Covid-19
Travellers who recently recovered from COVID-19 should provide official documentation of recovery from COVID-19.
They should provide the positive COVID-19 viral test result and should be dated no more than 90 days before boarding the flight
to the US…
8:57 National Interest Exception (NIE)
Qualified traveller will need to show an official US Government letter (paper or digital) documenting approval of the National Interest exception.
Are you ready to travel to the US? Talk to us in the comment section below.
If you're still unsure about your application, let us help you out!
👉https://immigrationandmigration.com/schengen-visas/
✈ Read the full article at
New US Travel Rules: How Unvaccinated Travellers Can Go to the USA
==========================
✈ Apply for your Schengen Visa at https://immigrationandmigration.com/schengen-visas to get your Schengen Visa!
==========================
Check out the offers and discounts from:
Airport Transfers – https://iam.ontraport.com/c/s/j9Q/P/U/jvT/P/6oTxO3/Uz8tXktnsh/P/P/P
Holidays – https://iam.ontraport.com/c/s/j9Q/P/j/jvi/P/6oTxO3/vof8Cu3AQ4/P/P/P
Flights, Hotels Etc – https://iam.ontraport.com/c/s/j9Q/P/5/jvo/P/6oTxO3/vjtlp51A5x/P/P/P
Things to Do When You Get There – https://iam.ontraport.com/c/s/j9Q/P/r/jvM/P/6oTxO3/sALWj2h37D/P/P/P
And because of the pandemic, don't forget to get your travel insurance https://immigrationandmigration.com/travel-insurance-amid-coronavirus/ , which will cover you for flight disruptions and pandemic related matters https://iam.ontraport.com/tl/400 .
==========================
✈ Find us on social media:
. Facebook: http://iam.re/iamfb​
. Instagram: http://iam.re/iamig​
. Twitter: http://iam.re/iamtw​
. Linkedin: http://iam.re/iamli​
. Pinterest: http://iam.re/iampin
-~-~~-~~~-~~-~-
Check out our latest video: "Schengen Visa Types"

-~-~~-~~~-~~-~-
#UnvaccinatedTravelToTheUS #HowUnvaccinatedCanGoToTheUS
* Some of our content may contain affiliate links. If you use these links to buy something we may earn a commission.