US May Require Vaccine Mandate on Domestic Flights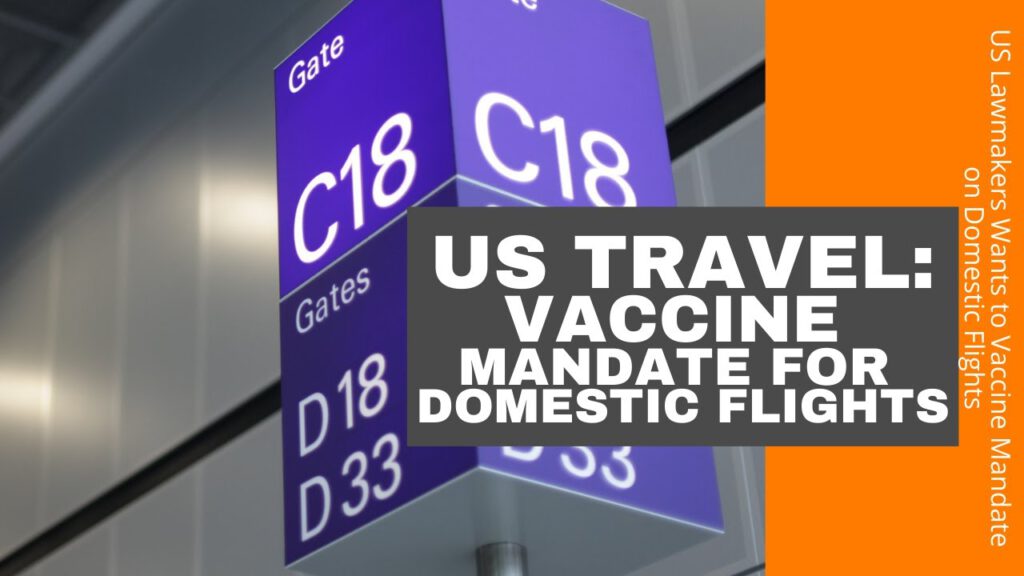 US May Require Vaccine Mandate on Domestic Flights
✈ In this video:
0:00 US May Require Vaccine Mandate on Domestic Flights
1:22 US May Require Vaccine Mandate on Domestic Flights
With the holiday travel season rapidly approaching, US lawmakers are pushing the federal government to require proof of full vaccination or a negative coronavirus test to board domestic flights.
A United States Senator and 35 members of the House of Representatives have sent a letter to President Joe Biden, asking him to implement a mandate that all domestic airline passengers provide proof of vaccination or a negative test against COVID-19 in order to fly.
ensure Americans can travel safely to see their loved ones during the holidays while also limiting household introduction and spread of COVID-19 from visiting family and friends — Lawmakers
The push for more mandates comes less than a week after the United States updated its entry requirements for international air travel.
2:48 Boost Confidence in Travel
The letter cites polling from the Kaiser Family Foundation, which published a survey in May that found about four in ten respondents
who said they wanted to wait and see how the vaccine works for
other people before getting vaccinated themselves would be more likely to get the shot it was required to fly on an airplane.
The letter also asks that the safety protocols on trains and other modes of public transportation continue to be updated to reflect new data on how to curb the spread of the virus.
"This is a necessary and long overdue step toward ensuring all Americans feel safe and confident while traveling and reduce the chances of yet another devastating winter surge."
The partisan letter was signed by Sen. Dianne Feinstein and 35 Members of the House of Representatives.
This isn't the first time lawmakers have tried to add more stringent safety protocols for domestic flights.
Throughout much of the pandemic, US airline executives and airline union leaders argued that any additional Covid-19 restrictions for domestic flyers would be bad for business, resulting in fewer people willing to fly, and ultimately putting jobs at risk.
…
Do you agree to mandate vaccination on domestic flights? Talk to us in the comment section below.
If you're still unsure about your application, let us help you out!
👉https://immigrationandmigration.com/schengen-visas/
✈ Read the full article at
==========================
✈ Apply for your Schengen Visa at https://immigrationandmigration.com/schengen-visas to get your Schengen Visa!
==========================
Check out the offers and discounts from:
Airport Transfers – https://iam.ontraport.com/c/s/j9Q/P/U/jvT/P/6oTxO3/Uz8tXktnsh/P/P/P
Holidays – https://iam.ontraport.com/c/s/j9Q/P/j/jvi/P/6oTxO3/vof8Cu3AQ4/P/P/P
Flights, Hotels Etc – https://iam.ontraport.com/c/s/j9Q/P/5/jvo/P/6oTxO3/vjtlp51A5x/P/P/P
Things to Do When You Get There – https://iam.ontraport.com/c/s/j9Q/P/r/jvM/P/6oTxO3/sALWj2h37D/P/P/P
And because of the pandemic, don't forget to get your travel insurance https://immigrationandmigration.com/travel-insurance-amid-coronavirus/ , which will cover you for flight disruptions and pandemic related matters https://iam.ontraport.com/tl/400 .
==========================
✈ Find us on social media:
. Facebook: http://iam.re/iamfb​
. Instagram: http://iam.re/iamig​
. Twitter: http://iam.re/iamtw​
. Linkedin: http://iam.re/iamli​
. Pinterest: http://iam.re/iampin
-~-~~-~~~-~~-~-
Check out our latest video: "Schengen Visa Types"

-~-~~-~~~-~~-~-
#USTravel #USHolidayTravel #USVaccineMandateOnFlights
* Some of our content may contain affiliate links. If you use these links to buy something we may earn a commission.