Malta Defies Europe Travel Ban Malta Opens Border To 28 More Countries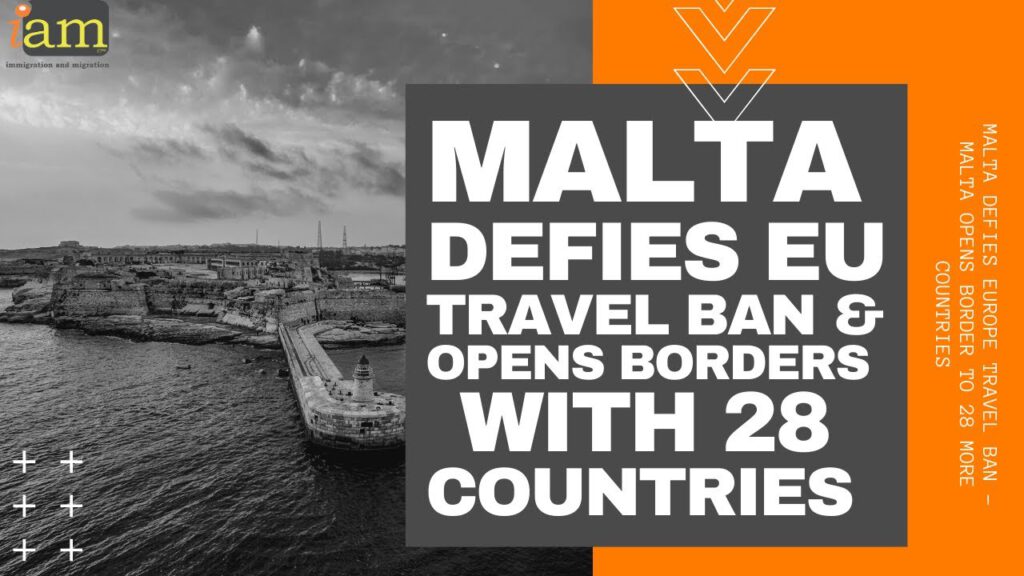 Malta Defies Europe Travel Ban Malta Opens Border To 28 More Countries
Malta Opens Border to More Nationals
Malta welcomes tourists from 28 countries.
Malta has started opening the country for tourism at the beginning of July and has recently released an extensive list of countries allowed to enter the country as of July 15
In a recent move, Malta has opened borders to 28 new countries, which it has called "safe corridor countries", upon an evaluation which found that these countries are epidemiologically safe.
Arrivals from their territories are considered to pose a low risk for further COVID-19 cases spreading in Malta.
✈ In this video:
Malta Opens Border to More Nationals
Malta welcomes tourists from 28 countries
As of July 15, residents of the following countries are now eligible to enter Malta for non-essential purposes
Andorra
Australia
Belgium
Bulgaria
Canada
China
Indonesia
Japan
Jordan
Lebanon
Liechtenstein
Monaco
Morocco
Netherlands
New Zealand
Portugal
Romania
Rwanda
San Marino
Slovenia
South Korea
Thailand
Tunisia
Turkey
United Arab Emirates
United Kingdom
Uruguay
Vatican City
The list of countries is expected to be updated regularly
Travel to Malta from a non-corridor country is
not permitted unless the person travelling has spent the previous 2 weeks in a corridor country.
Air and sea travel between Malta and specific safe 'corridor countries', based on epidemiological criteria, has resumed as of July 1, 2020.
Such travel is allowed only for persons who have been living for at least two weeks in corridor countries (including Malta)
Furthermore, Malta has added to its list of 'safe corridor countries', countries that the EU Council has not listed as epidemiologically safe, such as Turkey and the United Arab Emirates.
Quarantine and negative test results for COVID-19 are not required for entry.
However, those who show symptoms at the port of entry will be requested to have a PCR swab test.
Systems are in place to verify the origins of passengers arriving in Malta.
Upon arrival, all travellers will have to complete two forms:
the Public Health Travel Declaration Form and the Passenger Locator Form which should then be handed to the Aircraft Crew
They may also be dropped within the deposit boxes available on exit from the Terminal Temperature Screening Points upon arrival at Malta International Airport.
The Maltese embassies and visa application centres are opening slowly worldwide.
Malta has suspended visa services in Turkey for select purposes of visit visas.
In the UAE, Malta has reopened it's Visa Application Centres in Abu Dhabi and Dubai.
The acceptance of applications for Malta Schengen visa is still suspended in the UK until further notice.
You can contact us to get the latest status of the visa centres in the UK
If you're still unsure about your application, let us help you out!
👉https://immigrationandmigration.com/schengen-visas/
✈ Read the full article at
✈ Keep up with Schengen Visa information to Malta at
https://immigrationandmigration.com/category/schengen-visas/malta/
✈ Keep up with Schengen Visa News & Information at
https://immigrationandmigration.com/category/news-and-events/schengen-visa-news/
==========================
✈ Apply for your Schengen Visa at https://immigrationandmigration.com/schengen-visas to get your Schengen Visa!
==========================
✈ Find us on social media:
. Facebook: https://www.facebook.com/immigrationandmigration/
. Instagram: https://www.instagram.com/iam.uk/
. Twitter: https://twitter.com/iam_immigration
. Linkedin: https://www.linkedin.com/company/iam-immigration
. Pinterest: https://www.pinterest.com/iam_immigration/
-~-~~-~~~-~~-~-
Check out our latest video: "Schengen Visa Types"

-~-~~-~~~-~~-~-
#EuropeTravelBan #SchengenVisa #MaltaVisa #MaltaReopens #MaltaSchengenVisa #IaM