US Travel Ban: Embassies Outline Who Can travel From Banned Countries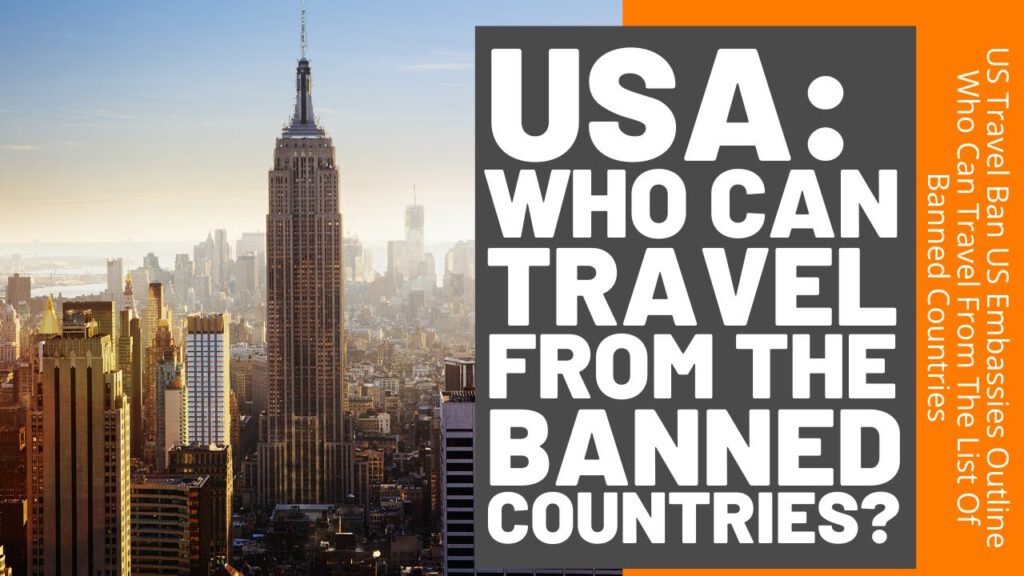 US Travel Ban: Embassies Outline Who Can travel From Banned Countries
US Travel Ban US Embassies Outline Who Can Travel From The List Of Banned Countries
U.S. Embassies and Consulates in the Schengen Area Expand the National Interest Exemption Beginning on July 15
The US Department of State announced the phased opening of embassies and consulates to begin the processing of visa applications.
The question then arises as to who is permitted to travel to the USA? Following the Trump Presidential proclamation of the US travel ban, the US embassies and consular websites are beginning to define who is permitted to travel to the US.
✈ In this video:
US Travel Ban US Embassies Outline Who Can Travel From The List Of Banned Countries
Of course, countries not on the US travel ban list are permitted to travel. If you were physically present within the following list of countries within 14 days, then you are not permitted to enter the US.
The list of banned countries are:
– Brazil;
– The United Kingdom of Great Britain and Northern Ireland, excluding overseas territories outside of Europe;
– The Republic of Ireland;
– The 26 countries that comprise the Schengen Area (Austria, Belgium, Czech Republic, Denmark, Estonia, Finland, France, Germany, Greece, Hungary, Iceland, Italy, Latvia, Liechtenstein, Lithuania, Luxembourg, Malta, Netherlands, Norway, Poland, Portugal, Slovakia, Slovenia, Spain, Sweden, and Switzerland)
– The Islamic Republic of Iran;
– The People's Republic of China, not including the Special Administrative Regions of Hong Kong and Macau.
The travel restriction does not apply to American citizens, legal permanent residents, most immediate family members of U.S. citizens, and other individuals who are identified in Presidential Proclamation 9996.
You can also avoid the travel ban by travel to the United States through a country that is not covered by Presidential Proclamation
Where you are not exempt from the travel restrictions but I have an emergency need to travel, the Department of State provided a "National Interest consideration" clause.
If you have a valid visa or a valid ESTA and you have a humanitarian need for travel, such as for critical medical treatment, you may still be able to travel.
But the question remained: That will be considered as "national interest" for purposes of obtaining an exemption to President Trump's March 11 Proclamation suspending travel from the Schengen area and the other countries into the United States?
U.S. embassies in the UK, Luxembourg and Bratislava both reference a July 10 announcement from Washington allowing certain travellers from Schengen countries and the rest to resume travel to the United States beginning July 15 after getting an exemption.
The U.S. embassy in Vienna also states that national interest exemptions are available, but it does not reference a July 10 announcement from Washington.
The announcement identifies those travelling as students (F-1 and M-1), researchers (certain J-1 programs), investors (E-2), or business travellers (B-1) may be eligible for the exemption.
Travellers falling into certain categories may be considered for the NIE: Economic, Investors, Students, and Academics.
All other travellers that have ESTA or hold a valid visa in one of the specified categories must obtain the exemption from the consulate prior to seeking entry to the United States.
Travellers without a visa who believe they qualify for the exemption should apply for their visa as normal.
If you need help or information, reach out to your visa coordinator at IaM
If you're still unsure about your application, let us help you out!
👉https://immigrationandmigration.com/schengen-visas/
✈ Read the full article at
https://immigrationandmigration.com/us-travel-ban-us-embassies-outline-who-can-travel-from-list-of-banned-countries/
==========================
✈ Apply for your Schengen Visa at https://immigrationandmigration.com/schengen-visas to get your Schengen Visa!
==========================
✈ Find us on social media:
. Facebook: https://www.facebook.com/immigrationandmigration/
. Instagram: https://www.instagram.com/iam.uk/
. Twitter: https://twitter.com/iam_immigration
. Linkedin: https://www.linkedin.com/company/iam-immigration
. Pinterest: https://www.pinterest.com/iam_immigration/
-~-~~-~~~-~~-~-
Check out our latest video: "Schengen Visa Types"

-~-~~-~~~-~~-~-
#USTravelBan #USTravelBanexemptions #USVisa #USVisaSuspension #USWorkVisa #USGreenCardSuspension #Travel #US