No Vaccine Mandate for US Domestic Air Travel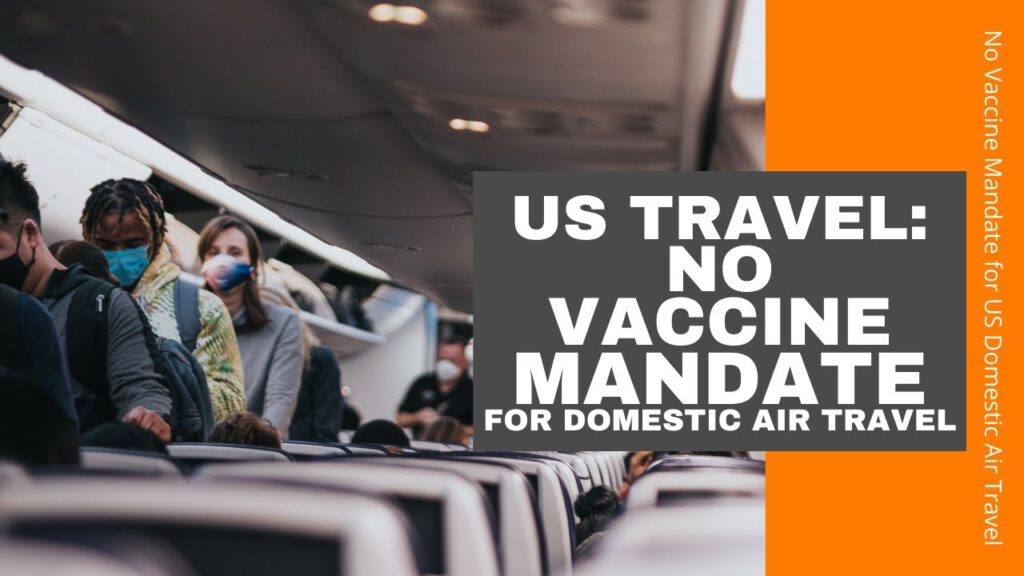 No Vaccine Mandate for US Domestic Air Travel
✈ In this video:
0:00 No Vaccine Mandate for US Domestic Air Travel
1:23 No Vaccine Mandate for US Domestic Air Travel
US President Joe Biden said he doesn't plan to make COVID-19 vaccines mandatory for domestic air travel amid the spread of the omicron variant at this time.
On 03 December, the US President said he doesn't see a need to implement a vaccine mandate for travel within the United States, even though the new Omicron variant of the COVID-19 virus prompted him to enact a travel ban on several southern African nations…
2:49 Testing Requirement For All International Arrivals
Amidst the fears of the new Omicron variant, the US updated its entry requirements for international arrivals.
And from this week, all inbound travellers to the United States must show proof of a negative Covid test result taken 1 day prior to departure.
The travel rule applies to all arrivals coming from an international destination, regardless of vaccination status or nationality…
3:45 US Travel Ban Being Reviewed Daily
Last week, there was also a travel ban put in place for any passengers coming from 8 southern African countries.
According to a number of reports, the travel ban will be lifted soon and the US medical advisers are reviewing the travel restrictions "on a daily basis."
The ban followed a number of EU nations, the UK as well as other countries that also banned travellers coming from southern Africa.
What are your thoughts on this issue? Talk to us in the comment section below.
If you're still unsure about your application, let us help you out!
👉https://immigrationandmigration.com/schengen-visas/
✈ Read the full article at
==========================
✈ Apply for your Schengen Visa at https://immigrationandmigration.com/schengen-visas to get your Schengen Visa!
==========================
Check out the offers and discounts from:
Airport Transfers – https://iam.ontraport.com/c/s/j9Q/P/U/jvT/P/6oTxO3/Uz8tXktnsh/P/P/P
Holidays – https://iam.ontraport.com/c/s/j9Q/P/j/jvi/P/6oTxO3/vof8Cu3AQ4/P/P/P
Flights, Hotels Etc – https://iam.ontraport.com/c/s/j9Q/P/5/jvo/P/6oTxO3/vjtlp51A5x/P/P/P
Things to Do When You Get There – https://iam.ontraport.com/c/s/j9Q/P/r/jvM/P/6oTxO3/sALWj2h37D/P/P/P
And because of the pandemic, don't forget to get your travel insurance https://immigrationandmigration.com/travel-insurance-amid-coronavirus/ , which will cover you for flight disruptions and pandemic related matters https://iam.ontraport.com/tl/400 .
==========================
✈ Find us on social media:
. Facebook: http://iam.re/iamfb​
. Instagram: http://iam.re/iamig​
. Twitter: http://iam.re/iamtw​
. Linkedin: http://iam.re/iamli​
. Pinterest: http://iam.re/iampin
-~-~~-~~~-~~-~-
Check out our latest video: "Schengen Visa Types"

-~-~~-~~~-~~-~-
#USVaccineMandateForTravel #TravelWithinTheUS
* Some of our content may contain affiliate links. If you use these links to buy something we may earn a commission.