Australia Delayed Reopening Plans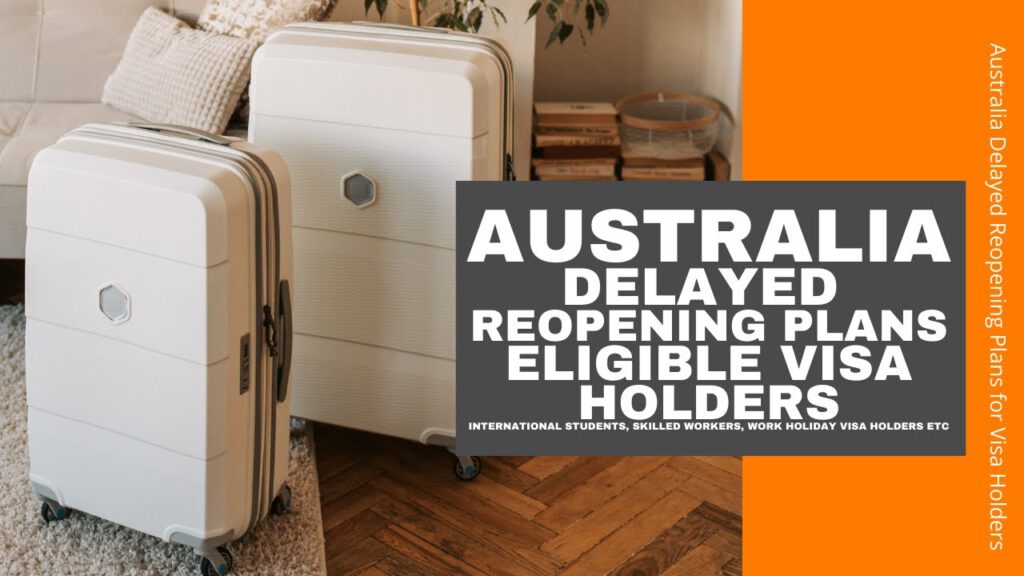 Australia Delayed Reopening Plans
✈ In this video:
0:00 Australia Delayed Reopening Plans
1:26 Australia Delayed Reopening Plans
People eager to return to Australia have been plunging in and out of hope and despair as the country announced it had delayed the reopening of its borders over Omicron concerns.
The reopening plan has been delayed for two weeks.
This meant that vaccinated international students, working holidaymakers, skilled migrants, and individuals with humanitarian visas have to wait a little longer before returning to Australia..
2:20 Australia's New Reopening Plans
The current plan is for the easing of restrictions to occur on 15 December.
That means, everything that was meant to occur on December 1 will occur on this date,
Quarantine requirements now apply to all international travellers arriving in Australia.
Each state has implemented its own rules so it is important to remain up-to-date on the relevant process for your arrival destination…
3:24 Australia's Travel Ban
A temporary ban has been placed on all travel by non-Australian citizens from the following eight African countries: South Africa, Zimbabwe, Botswana, Malawi, Namibia, Lesotho, Mozambique, and Eswatini.
People who have been in any of these countries in the past 9 days will not be able to enter Australia if they are not a citizen or permanent resident…
what are your thoughts on this issue? Talk to us in the comment section below.
If you're still unsure about your application, let us help you out!
👉https://immigrationandmigration.com/schengen-visas/
✈ Read the full article at
==========================
✈ Apply for your Schengen Visa at https://immigrationandmigration.com/schengen-visas to get your Schengen Visa!
==========================
Check out the offers and discounts from:
Airport Transfers – https://iam.ontraport.com/c/s/j9Q/P/U/jvT/P/6oTxO3/Uz8tXktnsh/P/P/P
Holidays – https://iam.ontraport.com/c/s/j9Q/P/j/jvi/P/6oTxO3/vof8Cu3AQ4/P/P/P
Flights, Hotels Etc – https://iam.ontraport.com/c/s/j9Q/P/5/jvo/P/6oTxO3/vjtlp51A5x/P/P/P
Things to Do When You Get There – https://iam.ontraport.com/c/s/j9Q/P/r/jvM/P/6oTxO3/sALWj2h37D/P/P/P
And because of the pandemic, don't forget to get your travel insurance https://immigrationandmigration.com/travel-insurance-amid-coronavirus/ , which will cover you for flight disruptions and pandemic related matters https://iam.ontraport.com/tl/400 .
==========================
✈ Find us on social media:
. Facebook: http://iam.re/iamfb​
. Instagram: http://iam.re/iamig​
. Twitter: http://iam.re/iamtw​
. Linkedin: http://iam.re/iamli​
. Pinterest: http://iam.re/iampin
-~-~~-~~~-~~-~-
Check out our latest video: "Schengen Visa Types"

-~-~~-~~~-~~-~-
#TravelToAustralia #AustraliaDelaysReopeningBorder
* Some of our content may contain affiliate links. If you use these links to buy something we may earn a commission.