Spain Extends Travel Restrictions For Third Countries Until 30 April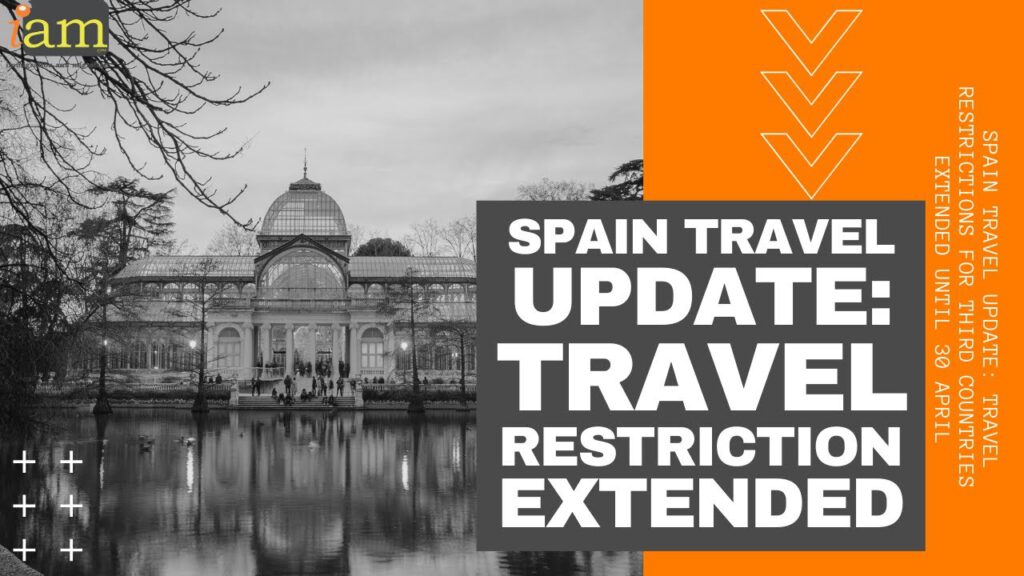 Spain Extends Travel Restrictions For Third Countries Until 30 April
Spain Travel Update: Travel Restrictions For Third Countries Extended Until 30 April
Entry Permitted with Negative COVID Test – EU & Schengen Countries Permitted Entry
Limited 3rd Country Nationals Allowed Entry – UK & Other Countries Allowed Entry
✈ In this video:
0:00 – Spain Extends Travel Restrictions For Third Countries Until 30 April
01:22 – Spain Travel Update: Travel restrictions extended for third countries until 30 April
Spanish authorities have extended restrictions on non-essential travel from countries outside the European Union and the Schengen Zone ​until 30 April in order to halt the further spread of the Coronavirus disease.
Initially, the restriction was scheduled to end on 31 March however, due to increasing coronavirus cases, the Spanish government decided to keep the restriction in place until 30 April.
01:57 – Countries with low infection rates
Some countries have reported low rates of infection and they will be eligible to enter the territory.
Travellers from the following third-countries can enter Spain.
New Zealand, Australia, Singapore, Rwanda, South Korea, Thailand, China (subject to reciprocity),
​as well as the areas of Hong Kong and Macao.
This latest measure would also technically affect travellers from the United Kingdom as it's now a non-EU country.
Although Spain announced it will lift its travel ban for UK arrivals on 30 March, the British government has prohibited holidays abroad, ​including in EU countries, and all individuals who violate such a rule risk facing a fine of up to £5,000.
02:47 – EU and Schengen members
The Spanish government has clarified that citizens coming from the following countries ​will be allowed entry as long as they present a negative COVID-19 result upon their arrival.
The decision will be effective from March 29 until 4 April.
* Belgium * Bulgaria
* Croatia * Cyprus * Czech Republic
* Denmark (except the Faroe Islands and Greenland)
* Estonia * Finland
* France * Germany
* Greece * Hungary
* Ireland * Italy
* Latvia * Liechtenstein
* Lithuania * Luxembourg
* Malta. * Netherlands
* Norway (except the Møre og Romsdal and Trøndelag regions)
* Poland * Portugal
* Romania * Slovakia
* Slovenia * Sweden
03:42 – Spain's Mandatory face Mask Requirements
A strict new law in Spain will require people to wear face coverings at all times outdoors, even while sunbathing on beaches.
It replaces the current rules, which have been in force since June 2020, ​that only require face coverings to be worn when social distancing is restricted
According to papers published in Spain's official gazette, those aged six and over must wear masks "on public roads, ​in open-air spaces and in any closed space for public use or that is open to the public."
The measure has no end date, but will last until the Government declares the Covid-19 crisis over, the announcement added.
What are your thoughts on the extended restriction? Talk to us in the comments section below.
If you have plans to travel, check out the deals we have found in the description box below.
If you need assistance with a visa to Europe, the UK, or the US, including help with securing your travel arrangements, IaM can help.
For visa advice, contact your IAM visa coordinator. If you're still unsure about your application, let us help you out!
👉https://immigrationandmigration.com/schengen-visas/
✈ Read the full article at https://immigrationandmigration.com/spain-travel-update-travel-restrictions-for-third-countries-extended-until-30-april/
==========================
✈ Apply for your Schengen Visa at https://immigrationandmigration.com/schengen-visas to get your Schengen Visa!
==========================
Check out the offers and discounts from:
Airport Transfers – https://iam.ontraport.com/c/s/j9Q/P/U/jvT/P/6oTxO3/Uz8tXktnsh/P/P/P
Holidays – https://iam.ontraport.com/c/s/j9Q/P/j/jvi/P/6oTxO3/vof8Cu3AQ4/P/P/P
Flights, Hotels Etc – https://iam.ontraport.com/c/s/j9Q/P/5/jvo/P/6oTxO3/vjtlp51A5x/P/P/P
Things to Do When You Get There – https://iam.ontraport.com/c/s/j9Q/P/r/jvM/P/6oTxO3/sALWj2h37D/P/P/P
And because of the pandemic, don't forget to get your travel insurance https://immigrationandmigration.com/travel-insurance-amid-coronavirus/ , which will cover you for flight disruptions and pandemic related matters https://iam.ontraport.com/tl/400 .
==========================
✈ Find us on social media:
. Facebook: http://iam.re/iamfb​
. Instagram: http://iam.re/iamig​
. Twitter: http://iam.re/iamtw​
. Linkedin: http://iam.re/iamli​
. Pinterest: http://iam.re/iampin
-~-~~-~~~-~~-~-
Check out our latest video: "Schengen Visa Types"

-~-~~-~~~-~~-~-
#SpainTravelRestrictions #SpainBorderClosure #SpainTravel #SchengenVisa
* Some of our content may contain affiliate links. If you use these links to buy something we may earn a commission