Sweden Clarifies Travel Ban – Sweden Opens Borders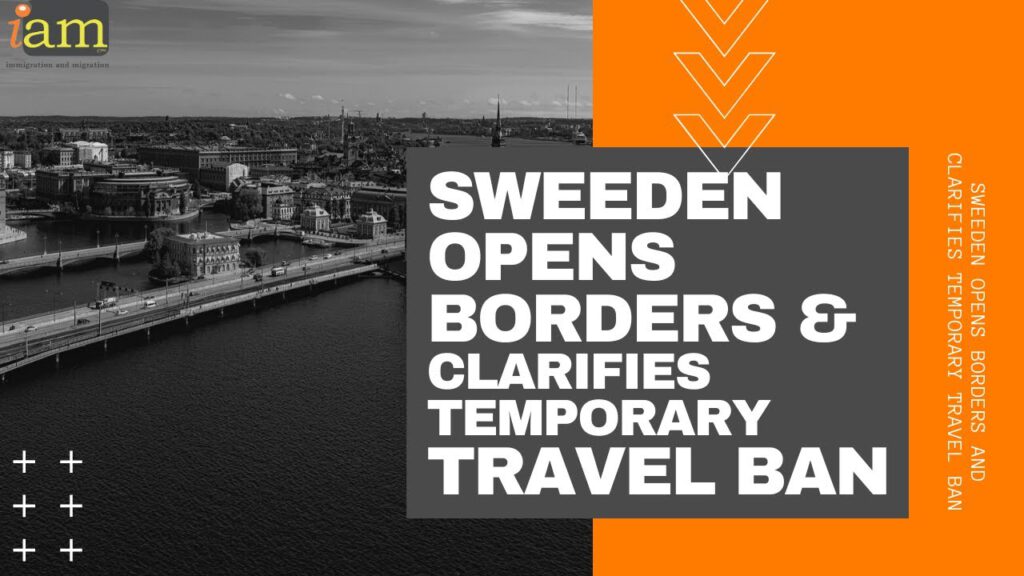 Sweden Clarifies Temporary Travel Ban & Opens the Swedish Borders
Sweden clarifies temporary travel ban to exempt EU countries, Schengen countries and the UK.
Sweden's government has clarified the amendments regarding the country's ban for European Union nationals which remains in force due to the Coronavirus pandemic
✈ In this video:
Sweden Clarifies the Temporary Entry Ban
According to the Ministry, the temporary ban will be kept in place until further notice as the country attempts to stop the further spread of the virus
Seasonal workers in the agricultural, forestry and horticulture sectors are added to the list of groups with essential functions in Sweden, who can be exempted from the entry ban
The Ministry stressed that the clarification is in line with the European Commission's practical guidance of March 30, in which seasonal agricultural workers are mentioned as one such group.
Sweden's Ministry of Justice press release clarifies that the exemption for Swedish citizens' family members also has been simplified, which will facilitate the travel home to Sweden for families living abroad.
The clarification has also been made with a view to making it easier for people with Swedish residence permits to join their families in Sweden this applies to spouses, partners or children of someone who lives in Sweden
Due to the Coronavirus developments, on March 17, Sweden's government announced that it would temporarily ban non-essential travel to Sweden for citizens of all countries except the European Union Member States, Norway, Iceland, Liechtenstein, Switzerland and citizens coming from the United Kingdom.
Sweden's ban decision came as the European Council and European Commission urged to take such precautionary measures in a fight against Coronavirus pandemic.
The ban has been put in place on March 19 and will remain in place until June 15 as part of the country's efforts to halt the spread of the virus
If you're still unsure about your application, let us help you out!
👉https://immigrationandmigration.com/schengen-visas/
✈ Read the full article at
https://immigrationandmigration.com/the-schengen-zone-finally-opens-borders-after-covid-19/
✈ Keep up with Schengen Visa information to Sweden at
https://immigrationandmigration.com/category/schengen-visas/sweden/
✈ Keep up with Schengen Visa News & Information at
https://immigrationandmigration.com/category/news-and-events/schengen-visa-news/
==========================
✈ Apply for your Schengen Visa at https://immigrationandmigration.com/schengen-visas to get your Schengen Visa!
==========================
✈ Find us on social media:
. Facebook: https://www.facebook.com/immigrationandmigration/
. Instagram: https://www.instagram.com/iam.uk/
. Twitter: https://twitter.com/iam_immigration
. Linkedin: https://www.linkedin.com/company/iam-immigration
. Pinterest: https://www.pinterest.com/iam_immigration/
#SchengenVisa #SwedenReopens #SwedenVisa #SwedenSchengenVisa
-~-~~-~~~-~~-~-
Check out our recent video on: "Applying for a British Passport After Indefinite Leave to Remain"

-~-~~-~~~-~~-~-