Sweden: Travel Advice And EU Entry Ban Extension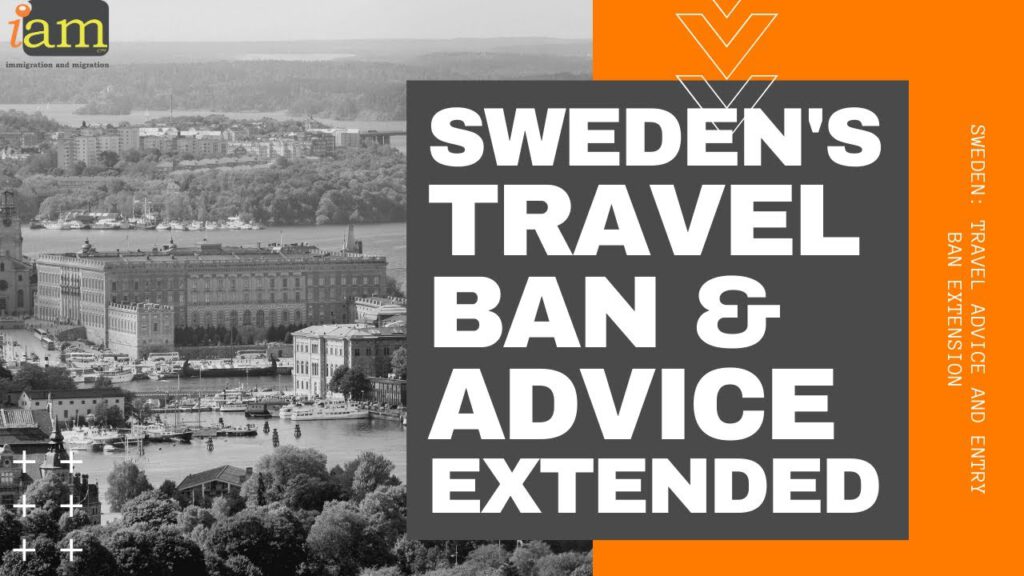 Sweden Travel Advice And EU Entry Ban Extension
Sweden Entry Ban is Extended Until July 7
Sweden's government has decided on 25 June to extend the entry ban until 7 July 2020 due to the Coronavirus situation, Sweden's Ministry of Justice has announced through a press release. This is longer than the EU has advised and wanted to happen.
The entry ban includes all internationals travelling to Sweden from countries aside from European Union Member States, Norway, Iceland, Liechtenstein, Switzerland and the United Kingdom.
Swedish citizens are also excluded from the imposed ban.
✈ In this video:
Sweden: Travel Advice And Entry Ban Extension
The government has clarified that there are two main exceptions to the entry ban.
Firstly, all European Union nationals and individuals with a Swedish residence permit will be eligible to enter the country to return home
Secondly, persons with an essential need or function in Sweden may enter the country.
To stop the further spread of the Coronavirus pandemic The Swedish Ministry of Foreign Affairs decided to extend the advice against non-essential travel to third countries, until August 31
For travel to countries outside the EU, the EEA and the Schengen area, the advice against non-essential travel is, therefore, being extended to August 31, 2020.
In good time before this date, the MFA will provide information about whether the advice against travel will be changed, extended or removed
Sweden's government has also decided to lift the travel advice against Italy, Luxembourg, Portugal, Spain, Belgium, Croatia, France, Greece, Iceland, and Switzerland on June 30 as the current Coronavirus situation allows such a step to be taken.
European Commission in its communication of June 11, 2020, recommended the European Union Member States to gradually lift the travel restrictions to the EU from third countries from July 1 "based on a common, coordinated approach."
Last week, the Swedish authorities decided to start accepting visa applications in several locations in the Philippines, Morocco, Thailand and China, after asserting that the situation related to the Coronavirus allows such a decision to be taken.
Meanwhile, visa centers in London, Manchester and Edinburgh will not be accepting application for Sweden unless under very exceptional circumstance (serious illness or death or on other humanitarian grounds) until further notice.
The initial entry ban into Sweden started on March 19 and was meant to last for 30 days.
Since then, the entry ban has been extended three times, as permitted by Article 28 of the Schengen Border Code. The Code itself permits such action to be taken in cases requiring immediate action and must be limited to up to ten days. But the Coronavirus has seen countries around the world impose such entry bans to protect the general population from a health crisis
If you're still unsure about your application, let us help you out!
👉https://immigrationandmigration.com/schengen-visas/
✈ Read the full article at
✈ Keep up with Schengen Visa information to Sweden at
https://immigrationandmigration.com/category/schengen-visas/sweden/
✈ Keep up with Schengen Visa News & Information at
https://immigrationandmigration.com/category/news-and-events/schengen-visa-news/
==========================
✈ Apply for your Schengen Visa at https://immigrationandmigration.com/schengen-visas to get your Schengen Visa!
==========================
✈ Find us on social media:
. Facebook: https://www.facebook.com/immigrationandmigration/
. Instagram: https://www.instagram.com/iam.uk/
. Twitter: https://twitter.com/iam_immigration
. Linkedin: https://www.linkedin.com/company/iam-immigration
. Pinterest: https://www.pinterest.com/iam_immigration/
#SwedenTravelAdvice #EUTravelBan #SchengenVisa #SwedenReopens #SwedenVisa #SwedenSchengenVisa
-~-~~-~~~-~~-~-
Check out our recent video on: "Applying for a British Passport After Indefinite Leave to Remain"

-~-~~-~~~-~~-~-