Swiss Trip Planning Guide | Switzerland Itinerary on a Budget | Know Before You Visit Switzerland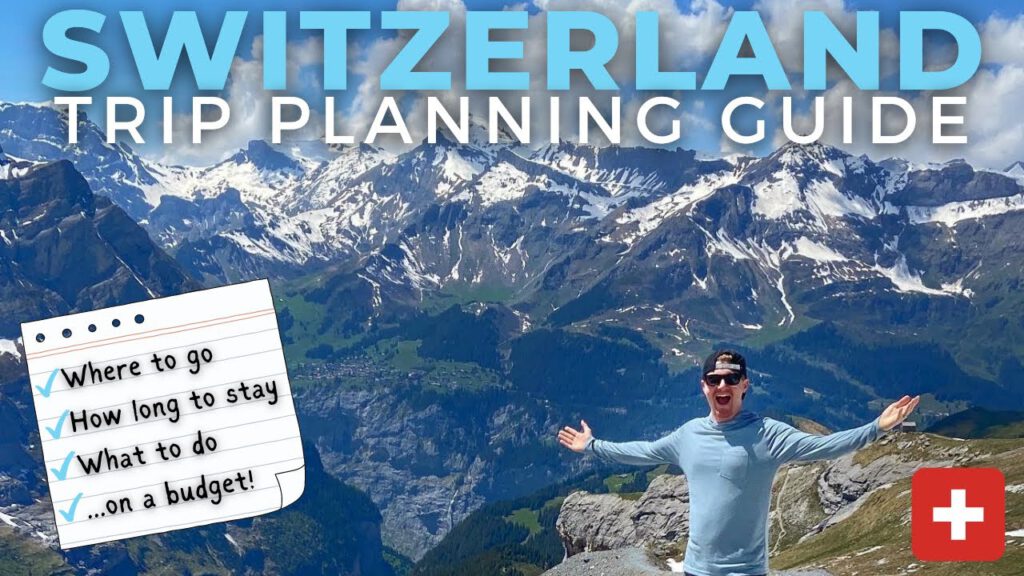 Ready to have the BEST Swiss vacation ever? WATCH NOW to learn where to go, what to do, how long to stay, and how to travel Switzerland on a budget!
SHOP OUR SWITZERLAND TRAVEL GUIDES
➡️ https://www.aplinsinthealps.com/guides
——
00:00 What to Know Before You Go to Switzerland
00:55 Travel Switzerland with Confidence
01:24 Maximize Your Experience
02:22 3 Tough Decisions
06:56 Where to go on your first trip to Switzerland
08:08 Places to save for another trip
11:16 Minimize Your Planning Time
12:42 3 Insider Secrets
14:19 Top 10 Places to Visit in the Jungfrau Region
15:54 Detailed Swiss Travel Guides
19:25 Stretch Your Budget
21:55 FAQs
——
// ABOUT THIS VIDEO //
Planning a trip to Switzerland? We know, it can be time consuming and confusing!
We're Jana + Brett, Aplins in the Alps. Our videos, blogs, emails, and Swiss Travel Guides are all crafted to help you TRAVEL SWITZERLAND WITH CONFIDENCE!
Follow today's video to discover:
🗝️ 3 KEY OBJECTIVES for your Swiss vacation
🤔 3 TOUGH DECISIONS you'll need to make when planning your trip to Switzerland
🤫 3 INSIDER SECRETS you won't wanna miss
🔍 5 PIECES OF EVIDENCE that prove what we're sharing actually works!
1️⃣ First, we're talking about MAXIMIZING YOUR EXPERIENCES, which often looks like spending at least 1 week in the land of the Swiss Alps (and Swiss cheese…plus Swiss chocolate too)!
2️⃣ Next, we explain how you can MINIMIZE YOUR PLANNING TIME. Hint: Use a Switzerland itinerary!
3️⃣ Last, we're spilling Switzerland budget secrets. Because traveling Switzerland can be expensive, but it doesn't have to be!
✅ Watch till the end to see an insider look at our SWISS TRAVEL GUIDES!
👉 1-Week Guide to the Jungfrau Region — Jungfraujoch, Interlaken, Lauterbrunnen & More!
👉 3-Day Guide to Grindelwald, Switzerland — Grindelwald First, Männlichen, & More!
👉 1-Day Guide to Mürren & Gimmelwald — includes the Schilthorn and Birg Thrill Walk!
👉 More Swiss destinations coming soon!
SHOP OUR SWITZERLAND TRAVEL GUIDES
➡️ https://www.aplinsinthealps.com/guides
——
// WATCH NEXT //
17 Things To Know Before Your Trip to Switzerland
▶️ https://youtu.be/W-Xte-dSWlU
How To Travel Switzerland on a Budget
▶️ https://youtu.be/puBcoFBnibA
——
// LET'S BE FRIENDS //
SUBSCRIBE to come and see Switzerland with us!
🔔Don't forget to hit the bell too!
SWITZERLAND TRAVEL GUIDES
➡️ https://www.aplinsinthealps.com/guides
BLOG
➡️ https://www.aplinsinthealps.com
EMAIL NEWSLETTER
➡️ https://aplinsinthealps.ck.page/375f25adf6
INSTAGRAM
➡️ https://www.instagram.com/aplinsinthealps
——
// GET TO KNOW US //
If you love traveling Switzerland, getting off-the-beaten-path, or having foodie experiences, then you're in the right place!
We're Jana and Brett — Aplins in the Alps.
We help you travel Switzerland with confidence to maximize your experiences while minimizing your budget and planning time.
▶️ Get to know us better by watching our channel from episode 1!

➡️ SHOP OUR SWITZERLAND TRAVEL GUIDES
#switzerlandtravel #travelswitzerland #swisstravel #swissalps