The UK to End Quarantine Vaccinated Travellers: The End To UK Travel Restrictions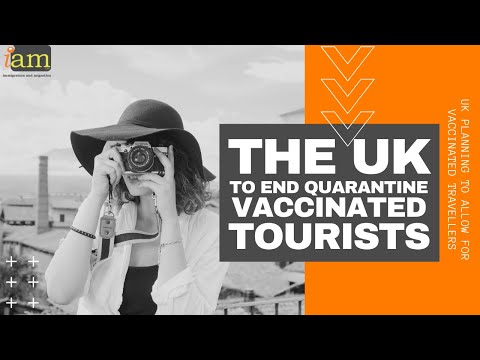 The UK to End Quarantine Vaccinated Travellers: The End To UK Travel Restrictions
UK Planning to Allow for Vaccinated Travellers
✈ In this video:
0:00 – The UK to End Quarantine Vaccinated Travellers: The End To UK Travel Restrictions
01:57 – UK Planning to Allow for Vaccinated Travellers
British officials are considering plans to open up international travel for passengers who've been fully vaccinated against Covid-19, allowing a resumption of tourism to more countries and territories including the US and some of the most popular European destinations.
While the UK technically reopened for international travel in mid-May, it maintains a "traffic light" system, by which it categorises countries as "green", "amber" or "red", with each level carrying specific sets of progressively heightened quarantine and testing requirements.
Under the policy, which is still being discussed by government officials, people who have received both doses of coronavirus vaccine would not need to quarantine upon entry from medium-risk countries on the so-called amber list.
In contrast, the European Commission's guidelines have just shifted to enable quarantine-free leisure travel from the US with proof of vaccination or a negative COVID-19 test.
03:22 – The Aviation Industry
Only a small group of foreign nations made it onto the UK's "green" list while popular destinations like Spain, France, Italy and the United States were relegated to the "amber" category.
Travel from amber countries is discouraged, and all arrivals must comply with a series of testing requirements and full 10-day quarantine upon entering the UK
With the summer tourism season now underway, the airline industry is desperate for a relaxation of these restrictions, which are deterring travel at the time of year that typically generates them the most revenue.
We have commenced work to consider the role of vaccinations in shaping a different set of health and testing measures for inbound travel – Government spokesperson
05:17 – Following the EU
It has been reported that the British government was contemplating following the EU's lead in allowing fully vaccinated foreign tourists.
Do you agree to open the UK to vaccinated visitors? Talk to us in the comment section below.
If you have plans to travel, check out the deals we have found in the description box below
If you need assistance with a visa to Europe, the UK, or the US, including help with securing your travel arrangements, IaM can help.
For visa advice, contact your IAM visa coordinator.
If you're still unsure about your application, let us help you out!
👉https://immigrationandmigration.com/schengen-visas/
✈ Read the full article at
==========================
✈ Apply for your Schengen Visa at https://immigrationandmigration.com/schengen-visas to get your Schengen Visa!
==========================
Check out the offers and discounts from:
Airport Transfers – https://iam.ontraport.com/c/s/j9Q/P/U/jvT/P/6oTxO3/Uz8tXktnsh/P/P/P
Holidays – https://iam.ontraport.com/c/s/j9Q/P/j/jvi/P/6oTxO3/vof8Cu3AQ4/P/P/P
Flights, Hotels Etc – https://iam.ontraport.com/c/s/j9Q/P/5/jvo/P/6oTxO3/vjtlp51A5x/P/P/P
Things to Do When You Get There – https://iam.ontraport.com/c/s/j9Q/P/r/jvM/P/6oTxO3/sALWj2h37D/P/P/P
And because of the pandemic, don't forget to get your travel insurance https://immigrationandmigration.com/travel-insurance-amid-coronavirus/ , which will cover you for flight disruptions and pandemic related matters https://iam.ontraport.com/tl/400 .
==========================
✈ Find us on social media:
. Facebook: http://iam.re/iamfb​
. Instagram: http://iam.re/iamig​
. Twitter: http://iam.re/iamtw​
. Linkedin: http://iam.re/iamli​
. Pinterest: http://iam.re/iampin
-~-~~-~~~-~~-~-
Check out our latest video: "Schengen Visa Types"

-~-~~-~~~-~~-~-
#UKToEndQuarantine #UKEndsTravelRestrictions #UKTravel #EuropeTravel #USTravel #SchengenVisa
* Some of our content may contain affiliate links. If you use these links to buy something we may earn a commission.