Top 25 Travel Destinations – (Most Beautiful and Exotic Places in the World) – Best of 2021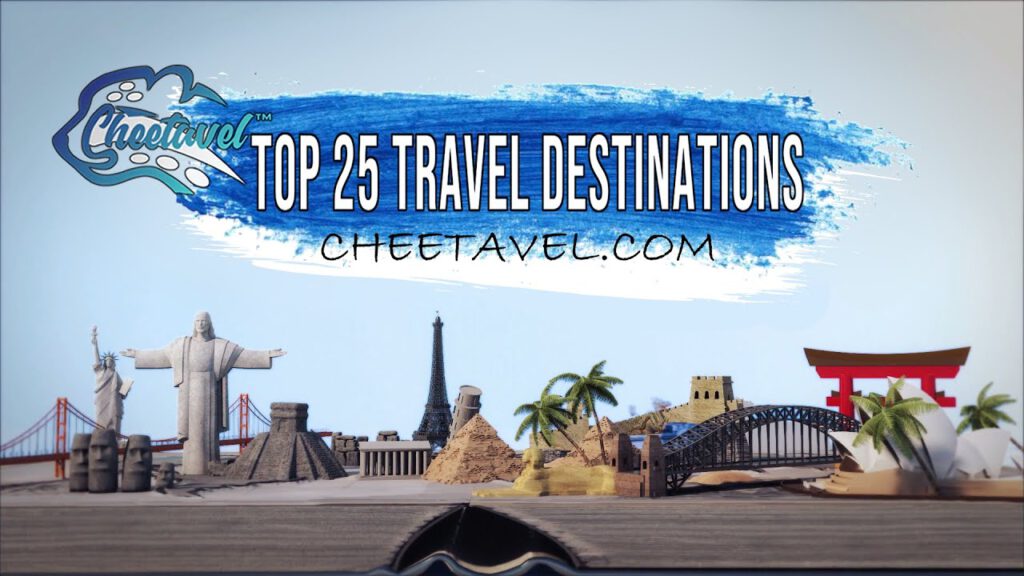 Travel around the world with Cheetavel as a hospitality and tourism industry leader. Visit the best and top tourist destinations to explore historical, national, cultural, and natural tourist attractions with local tour guides to learn and better discover beautiful places and turn your vacation trip into a memorable adventure. Cheetavel invites locals all around the world to introduce their beautiful countries by recording and featuring tourist attractions. We believe having locals share these sites instead of foreign visitors helps give our viewers a better understanding of the culture, history, and architecture of those attractions.
Cheetavel provides an equal opportunity for locals to properly represent their communities through their lens and deliver detailed information about what makes them unique and special. This eventually gives potential travelers a better perception of these countries and helps them pick and plan their next travel destination.
Our mission is to connect people all around the world to talk and introduce their countries by recording and featuring local attractions and inviting tourists to travel and have a visit. There are so many beautiful and exotic places around the globe that are unknown to many people. That is where Cheetavel comes in! Cheetavel provides an equal opportunity for people around the world to feature local attractions, which gives travelers a better perception of these countries and helps you pick your next travel destination.
…………………………………………………
❤️ Thank you for joining us on this trip. We hope you enjoyed seeing the beautiful sights of the world!
🔔 Please subscribe for more ► https://www.youtube.com/c/Cheetavel?sub_confirmation=1
……………………………………………..
🐆 Cheetavel
► Come and join us to support our mission and encourage people all around the world to introduce their countries through recording and featuring local attractions and inviting tourists to have a visit.
► Introduce your country, invite tourists to visit local attractions, and have a chance to win prizes! 🎁
► Submit your video below and become one of our influential tour guides and join the team of locals across the globe. For more information, visit our website at

………………………………………………
💸 Prize:
► We rely on people's votes across all our social media channels to pick the $1000 winner every month. 💰
► What counts as a vote? Views, liking posts, comments, and shares. Each one is one vote.
► Find us on: YouTube, Facebook, Instagram, TikTok, LinkedIn, Twitter, Pinterest, Tumblr, Reddit.
………………………………………..
Wanting to travel somewhere different? Follow Cheetavel on social media to check out fantastic and beautiful locations you can visit with locals.
YouTube: https://www.youtube.com/c/Cheetavel?sub_confirmation=1
Website: https://www.cheetavel.com/
Facebook: https://www.facebook.com/cheetavel
Instagram: https://www.instagram.com/cheetavel/
LinkedIn: https://www.linkedin.com/company/cheetav/
Twitter: @cheetavel
TikTok: @cheetavel
Snapchat: @cheetavel
……………………………………………..
For business inquiries contact us [https://www.cheetavel.com/contact]
#Cheetavel #TravelwithLocals #travel #tourism #tourist #vacation #holiday #explore #adventure #thingstodo #bestdestinations #top10 #travelvlog
©️Cheetavel – All Rights Reserved
……………………………………………..
Song: Extenz – Gravity (Vlog No Copyright Music)
Music provided by Vlog No Copyright Music.
Video Link: https://youtu.be/Dqads4X-WuQ
Audio Music & Sound FX: TuneCore, "Ancient Egyptian Music – Tomb of the Ancients" by Brandon Fiechter and Derek Fiechter https://youtu.be/GI6dOS5ncFc
Embrace by Sappheiros | https://soundcloud.com/sappheirosmusic
Music promoted by https://www.free-stock-music.com
Courage and Willpower – Epic Motivational Music [FREE DOWNLOAD] by Keys of Moon Music https://soundcloud.com/keysofmoon
Music provided by www.plugnplaymusic.net
Top 25 Travel Destinations – (Most Beautiful and Exotic Places in the World) – Best of 2021
exotic places in the world, travel,explore attractions, visit, things to do,travel globe,what to do,where to visit,world trip,travel around the world,solo traveler,best places to visit,top 10 places to visit,travel tips,travel hacks,travel guide,travel vlog,top 10 travel destinations,Travel guide,tour guide, drone, travel video,travel 4k,4k video,4k, top10, list,getty,beautiful,world,gorgeous, amazing,instagram,photography nature,top 25,australia,canyon