Travel From UK To France- Restrictions For Unvaccinated Travellers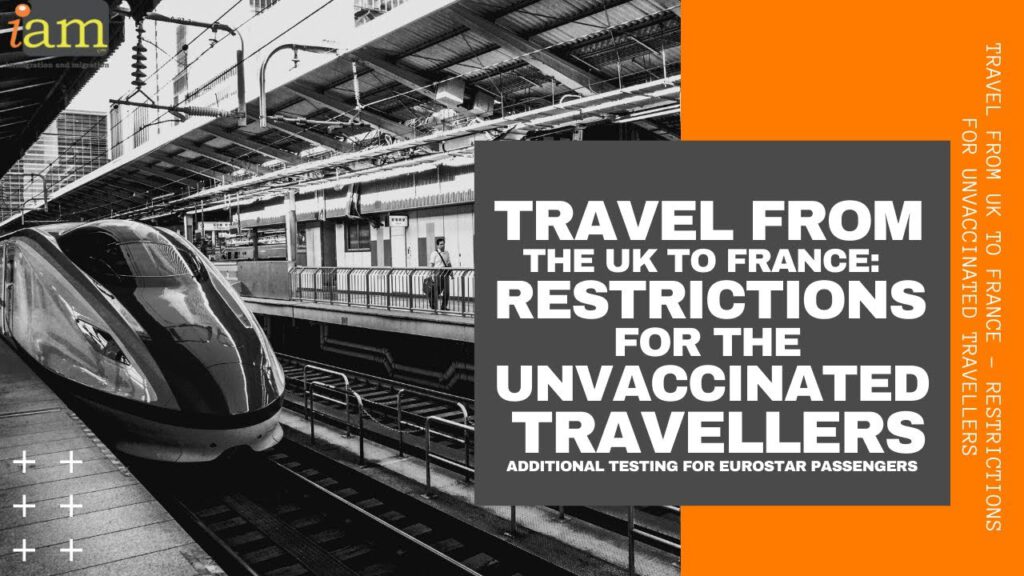 Travel From UK To France: Restrictions For Unvaccinated Travellers
✈ In this video:
0:00 Travel From UK To France: Restrictions for Unvaccinated Travellers
1:27 Travel From UK To France: Restrictions for Unvaccinated Travellers
France announced a tightening of the rules for unvaccinated travellers from the UK.
From 1 November, France has imposed extra travel restrictions on unvaccinated arrivals from the UK into Paris' Gare du Nord.
Those travelling on the Eurostar who are not vaccinated will have to take an additional Covid test on arrival into the station.
The UK is on France's orange list, which means travel is restricted for unvaccinated people. The extra testing is at present confined only to arrivals via Eurostar.
From 1 November, those travelling from the UK to France by Eurostar who are not fully vaccinated will be asked to take a COVID-19 test upon arrival at Gare-du-Nord. Vaccination status will be checked ahead of departure at St Pancras.- — The UK Government update
Anyone testing positive for COVID-19 will be subject to mandatory self-isolation for 10 days.
…
3:15 Unvaccinated Travellers to France
Unvaccinated travellers can only travel to France for an essential reason and will need to fill out an International Travel Certificate to confirm why they are travelling.
If your reason for travel fits the criteria, you need to present a negative Covid test taken within the previous 24 hours and if you are arriving by Eurostar you need to take another test on arrival.
Travel for the unvaccinated is already strictly limited.
The French Health pass is widely used to access venues including bars, cafés, long-distance trains and tourist sites
which means that a trip to France is impractical for those who are not vaccinated, even if they do qualify to travel.
4:10 Fully Vaccinated Travellers to France
Fully vaccinated travellers do not need an essential reason to travel to France.
You can travel to France for any reason including tourism and family visits and you need to show proof of vaccination and a declaration stating that you are free from Covid symptoms. You will not need evidence of a negative test.
France accepts the UK vaccination certificate.
British tourists visiting France will also need to use a health passport if they want to enjoy normal holiday activities.
The health passport works in a similar way to a vaccine certificate and adults will require one to enter indoor venues such as restaurants, bars and museums.
…
Do you have plans to travel to France? Talk to us in the comment section below.
If you're still unsure about your application, let us help you out!
👉https://immigrationandmigration.com/schengen-visas/
✈ Read the full article at
Travel From UK to France: Restrictions for Unvaccinated Travellers
==========================
✈ Apply for your Schengen Visa at https://immigrationandmigration.com/schengen-visas to get your Schengen Visa!
==========================
Check out the offers and discounts from:
Airport Transfers – https://iam.ontraport.com/c/s/j9Q/P/U/jvT/P/6oTxO3/Uz8tXktnsh/P/P/P
Holidays – https://iam.ontraport.com/c/s/j9Q/P/j/jvi/P/6oTxO3/vof8Cu3AQ4/P/P/P
Flights, Hotels Etc – https://iam.ontraport.com/c/s/j9Q/P/5/jvo/P/6oTxO3/vjtlp51A5x/P/P/P
Things to Do When You Get There – https://iam.ontraport.com/c/s/j9Q/P/r/jvM/P/6oTxO3/sALWj2h37D/P/P/P
And because of the pandemic, don't forget to get your travel insurance https://immigrationandmigration.com/travel-insurance-amid-coronavirus/ , which will cover you for flight disruptions and pandemic related matters https://iam.ontraport.com/tl/400 .
==========================
✈ Find us on social media:
. Facebook: http://iam.re/iamfb​
. Instagram: http://iam.re/iamig​
. Twitter: http://iam.re/iamtw​
. Linkedin: http://iam.re/iamli​
. Pinterest: http://iam.re/iampin
-~-~~-~~~-~~-~-
Check out our latest video: "Schengen Visa Types"

-~-~~-~~~-~~-~-
#SchengenVisa #TravelToFrance #UKToFrance #EurostarLondonToParis
* Some of our content may contain affiliate links. If you use these links to buy something we may earn a commission.