US Considers More Countries for Visa Waiver Program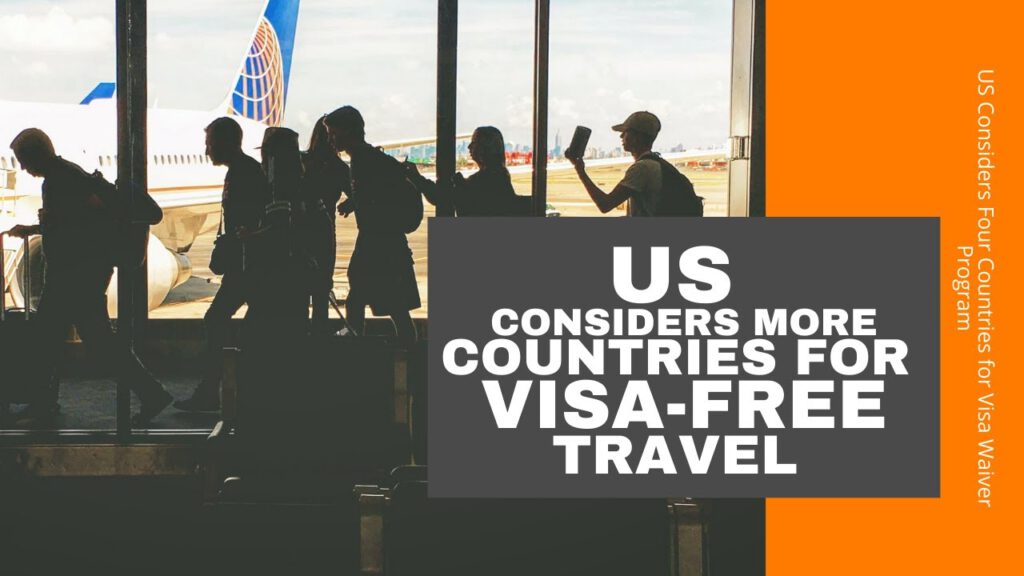 US Considers More Countries for Visa Waiver Program
✈ In this video:
0:00 US Considers More Countries for Visa Waiver Program
1:17 US Considers More Countries for Visa Waiver Program
The United States is considering adding 4 countries to its Visa Waiver Program (VWP), according to Homeland Security Secretary Alejandro Mayorkas.
If the decision is taken, nationals of these countries will be able to visit the USA visa-free for tourism and business.
At present, Cyprus, Romania, and Bulgaria are the only EU countries whose nationals still need a visa to enter the US. However, US citizens don't need a visa to visit any EU country.
The European Commission has been trying to meditate to achieve "visa reciprocity" with the US.
To enter the US without a visa, travellers will simply have to register with the Electronic System for Travel Authorization (ESTA) by completing a quick online form.
The candidates for inclusion in the VWP include Bulgaria, Cyprus, Romania, and Israel.
Enabling citizens of these countries to enter visa-free with an ESTA would make traveling to the US much easier and bring a boost to the US tourist industry.
Croatia was added to the US Visa Waiver Program in September 2021, making it the most recent member. Its inclusion brought the total number of VWP countries to 40.
The addition of Croatia to the VWP added a $100 million boost to the US economy, according to Travel Association Chief Executive Roger Dow.
3:04 Membership in the US VWP
The US Visa Waiver Program currently consists of 40 countries.
Travellers with passports issued by these countries can visit the United States visa-free for up to 90 days.
The trips must be for tourism or business and they can also transit through the USA without a visa.
To enjoy these benefits, visitors must register their details online to obtain the ESTA visa waiver.
…
Do you have plans to travel to the US? Talk to us in the comment section below.
If you're still unsure about your application, let us help you out!
👉https://immigrationandmigration.com/schengen-visas/
✈ Read the full article at
==========================
✈ Apply for your Schengen Visa at https://immigrationandmigration.com/schengen-visas to get your Schengen Visa!
==========================
Check out the offers and discounts from:
Airport Transfers – https://iam.ontraport.com/c/s/j9Q/P/U/jvT/P/6oTxO3/Uz8tXktnsh/P/P/P
Holidays – https://iam.ontraport.com/c/s/j9Q/P/j/jvi/P/6oTxO3/vof8Cu3AQ4/P/P/P
Flights, Hotels Etc – https://iam.ontraport.com/c/s/j9Q/P/5/jvo/P/6oTxO3/vjtlp51A5x/P/P/P
Things to Do When You Get There – https://iam.ontraport.com/c/s/j9Q/P/r/jvM/P/6oTxO3/sALWj2h37D/P/P/P
And because of the pandemic, don't forget to get your travel insurance https://immigrationandmigration.com/travel-insurance-amid-coronavirus/ , which will cover you for flight disruptions and pandemic related matters https://iam.ontraport.com/tl/400 .
==========================
✈ Find us on social media:
. Facebook: http://iam.re/iamfb​
. Instagram: http://iam.re/iamig​
. Twitter: http://iam.re/iamtw​
. Linkedin: http://iam.re/iamli​
. Pinterest: http://iam.re/iampin
-~-~~-~~~-~~-~-
Check out our latest video: "Schengen Visa Types"

-~-~~-~~~-~~-~-
#USVWP #USVisaFreeTravel
* Some of our content may contain affiliate links. If you use these links to buy something we may earn a commission.