Travel To Europe After Brexit: What We'll Miss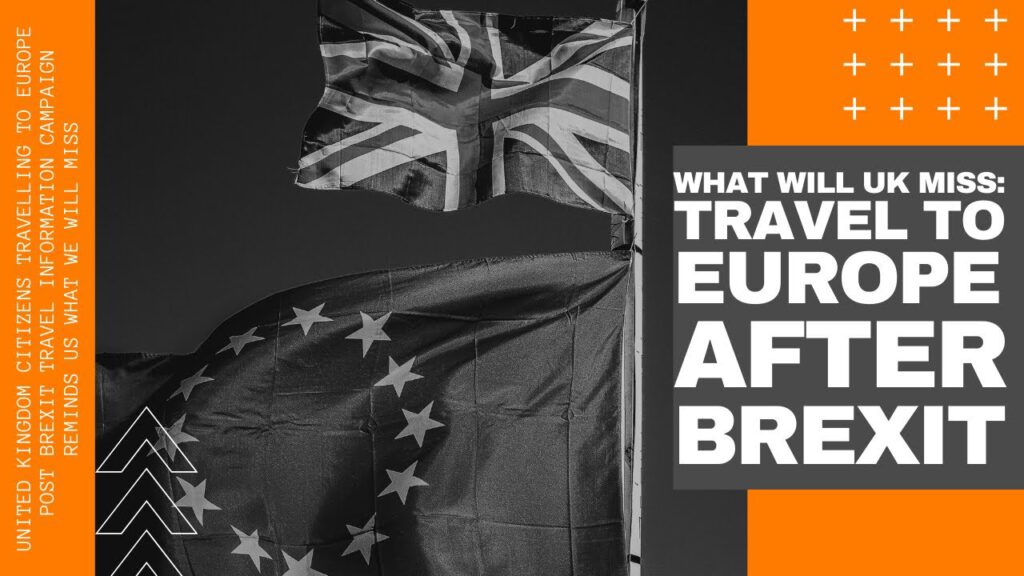 Travel To Europe After Brexit: UK Citizens Travel to Europe Post Brexit
United Kingdom Post Brexit Travel Information Campaign
United Kingdom Citizens Travelling to Europe post-Brexit travel information campaign reminds us what we will miss
United Kingdom Launches New Information Campaign post Brexit
✈ In this video:
Travel To Europe After Brexit UK Citizens Travel to Europe Post Brexit
Travel Information Campaign launched for UK citizens travelling to Europe from January Check out the Little things we'll miss at the end of this video
The United Kingdom of Great Britain and Northern Ireland ceases to be an EU member on January 1 next year, the rules of travelling for the UK passport holders will change.
The UK's government has launched a new campaign to inform Britons who wish to travel to the European Union states after the Brexit transition period ends on December 31, about the recent potential changes.
According to the Foreign, Commonwealth & Development Office (FCDO), the new campaign is created to help the UK citizens prepare for the latest changes that they will be encountering beginning next year when travelling to Europe.
The campaign also contains information regarding passport validity, travelling with pets and travel insurance.
The campaign launching today will help British nationals prepare for visits to Europe by bringing together all the information they need to know in one place so they can plan in advance and get on with their trip UK Minister for the European Neighbourhood, Wendy Morton
travellers are urged to visit gov.uk/transition to check the specific actions you may need to take
the safety and wellbeing of British travellers remains the Government's priority, and anyone planning to go abroad should always check
travel advice on GOV.UK
Things you may need to do before you go include:
check your passport
get travel insurance that covers your healthcare
check you have the right driving documents
organise pet travel – contact your vet at least 4 months before you go
– British passports need to be checked
Currently, holders of British passports are eligible to travel within the EU Member States up till the day that their passport expires.
However, from January 1, 2021, in order to travel to EU states, British Passports have to be valid for at least 6 months and not more than ten years.
Europe is home to some of the most popular destinations for British holidaymakers.
Many people will be making plans for travelling to Europe next year.
Hence, ABTA and its members are keen to work with the UK government to make customers aware of any changes that will affect their travel arrangements ABTA Chief Executive Mark Tanzer
– British Pet owners lose Pet Passports
– Travel insurance
European Health Insurance Cards (EHICs) will no longer be valid from January 2021
Britons need to purchase comprehensive travel insurance that covers all needs, including healthcare.
– Other things we have to say goodbye to, now we've left the EU
Driving
Mobile phones roaming charges
The Return of Customs & Border Checks
Visas for short trips
You can be refused entry into Europe at border control if you don't:
– show a return or onward ticket
– or, show you have enough money for your stay (a minimum of €50 per day)
We now also need to use separate lanes from EU, EEA and Swiss citizens when queueing.
If you're a business, you may need to make a customs declaration if you take goods with you to sell abroad or use for business
also Affected by new changes are also homeowners in EU countries who have not obtained EU residency despite the chance to do so until December 31.
The information campaign went live on September 18 across a range of online and print outlets and on social media.
Have you prepared to travel? Comment below
If you need assistance with visa to Europe or the UK, including help with securing your travel arrangements, IaM can help.
For any advice, you can contact your IaM coordinator
To read about the ETIAS which ill be needed for UK citizens when launched check out:
👉 https://immigrationandmigration.com/everything-you-need-to-know-about-etias/
If you're still unsure about your application, let us help you out!
👉https://immigrationandmigration.com/schengen-visas/
✈ Read the full article at
https://immigrationandmigration.com/blog
==========================
✈ Apply for your Schengen Visa at https://immigrationandmigration.com/schengen-visas to get your Schengen Visa!
==========================
✈ Find us on social media:
. Facebook: https://www.facebook.com/immigrationandmigration/
. Instagram: https://www.instagram.com/iam.uk/
. Twitter: https://twitter.com/iam_immigration
. Linkedin: https://www.linkedin.com/company/iam-immigration
. Pinterest: https://www.pinterest.com/iam_immigration/
-~-~~-~~~-~~-~-
Check out our latest video: "Schengen Visa Types"

-~-~~-~~~-~~-~-
#SchengenVisa #Brexit #ETIAS