US Travel Ban: Flights To US Resume as CDC Changes Advice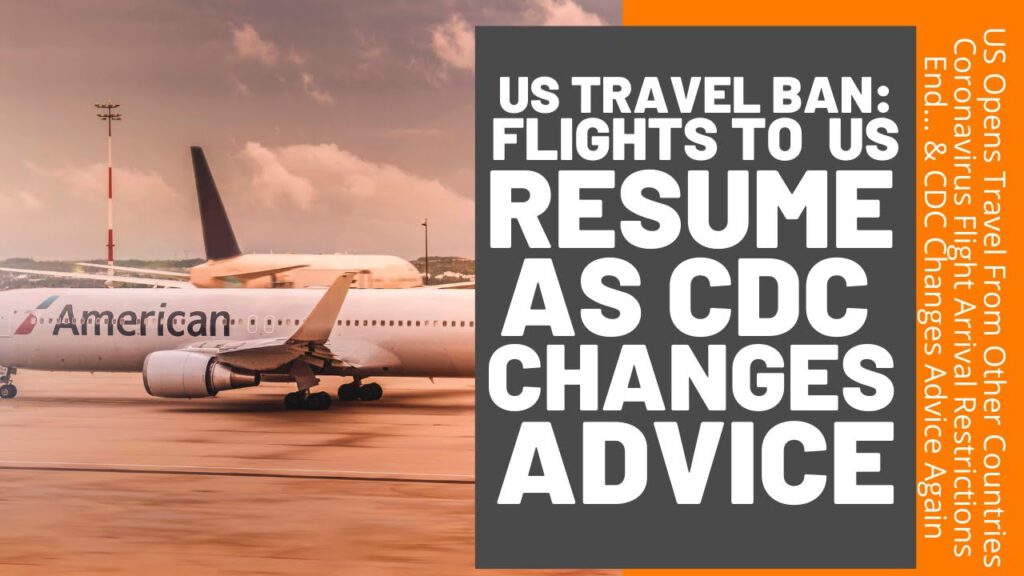 US Travel Ban Flights To US Resume as CDC Changes Advice
The US Opens Travel From Other Countries Coronavirus Flight Arrival Restrictions End… & CDC Changes Advice Again
The US Opens Travel from Other Countries
DHS Terminates COVID-related Flight Arrival Restrictions
✈ In this video:
US Travel Ban Flights To US Resume as CDC Changes Advice
The U.S. Government, through the CDC Centers for Disease Control & Prevention), published an announcement confirming that it will stop requiring the arrivals of international flights to only a certain number of airports in the US.
But you'll never guess why the decision has been reached.
Starting on September 14, 2020, the original restrictions aimed at stopping the spread of the novel coronavirus disease in the United States will come to an end.
The original restrictions were announced to funnel travellers between February and May 2020 through to 15 US airports.
Travellers from 31 countries, including People's Republic of China (excluding Hong Kong and Macau), Iran, United Kingdom, Ireland, Brazil, and the 26 countries within Europe's Schengen Area have been limited to travel to these airports only.
This did not mean that travellers from these countries were permitted to travel to the US as the Presidential proclamations signed by President Trump banned travellers from these countries from entering the US in the first place.
It meant that flights into the US that were carrying passengers that had visited the designated countries in the previous 14 days were required to land at these designated airports.
The airports were equipped with increased public health resources to carry out enhanced entry screening.
As of this week, international flights no longer needed to be directed to the designated airports and enhanced screening will stop.
– Reasoning why Flight Restrictions Are to Stop
The CDC in the US is now stating that screening for symptoms doesn't really help much because so many people do not have symptoms.
Transmission of the virus may occur from passengers who have no symptoms or who have not yet developed symptoms of infection.
Essentially, the US Government now believes that terminating these flight arrangements will allow public health resources to be more effectively reprioritised for other containment and mitigation efforts and will stimulate air travel.
Testing may also be an option, as well as reminding travellers to watch for symptoms and quarantine themselves as possible for 14 days.
The changes do not change the travel restrictions barring entry to the U.S. from Canada or Mexico or the other US travel ban restrictions.
– CDC Changes Coronavirus Advice Again
The changes come as the US Centers for Disease Control and Prevention's (CDC) website has updated, again, the guidelines for testing people who do not have symptoms of coronavirus.
The CDC is the prominent US agency for delivering public health advice
The new CDC language changes controversial changes made to the site last month.
The previous advice was reportedly rewritten by senior Trump administration officials despite the strong objection of CDC scientists.
The new language, changed this week, once again stresses that anyone who has been in contact with an infected person should be tested for coronavirus.
The guidance notes that even if people do not have symptoms, they still need a test if they have been in close contact — such as within 6 feet — of a person with coronavirus infection for at least 15 minutes.
What are your thoughts on the US stopping flights being funnelled to 15 airports?
If you are a person that has been particularly affected by it, we will love to hear from you.
Comment below.
IaM can help with your visa application to the United States, the UK & other countries.
If you need help with a US visa, a UK Visa, or visa to Europe, including help with appointment booking obligations, IaM can help.
For more information and advice on US immigration, UK immigration law and US visa applications Or If you need any help or assistance please, reach out to your Visa Coordinator at IaM.
If you're still unsure about your application, let us help you out!
👉https://immigrationandmigration.com/immigration-consultations/
✈ Read the full article at
https://immigrationandmigration.com/blog
==========================
✈ Apply for your US Visa at https://immigrationandmigration.com/global-mobility/us-visa-immigration/ to get your visa!
==========================
✈ Find us on social media:
. Facebook: https://www.facebook.com/immigrationandmigration/
. Instagram: https://www.instagram.com/iam.uk/
. Twitter: https://twitter.com/iam_immigration
. Linkedin: https://www.linkedin.com/company/iam-immigration
. Pinterest: https://www.pinterest.com/iam_immigration/
-~-~~-~~~-~~-~-
Check out our latest video: "Schengen Visa Types"

-~-~~-~~~-~~-~-
#USTravelBan #USFlights #CDCAdvice #IaM