Travel To France: Health Pass Requirement Extended Until 2022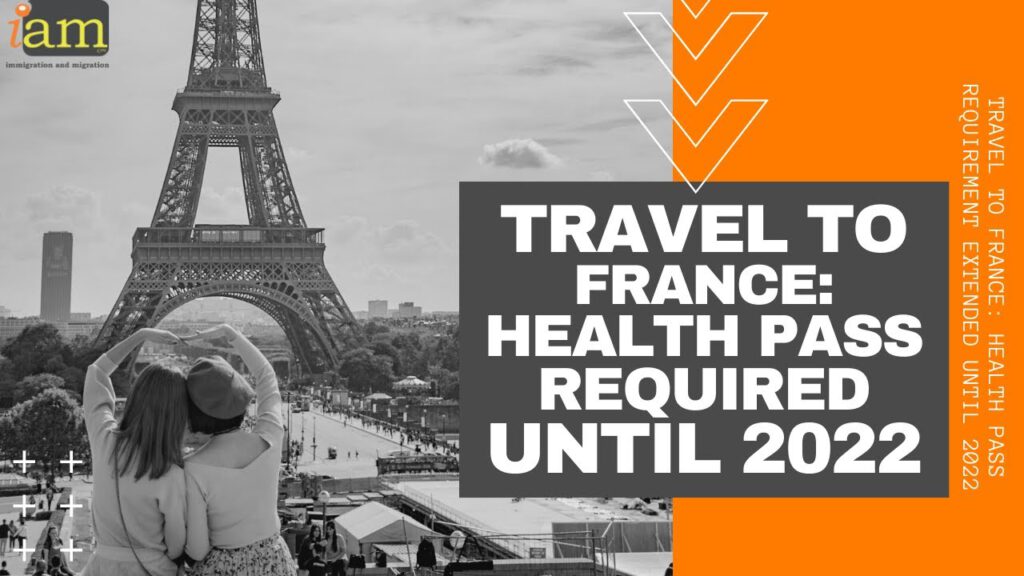 Travel To France: Health Pass Requirement Extended Until 2022
✈ In this video:
0:00 Travel to France: Health Pass Requirement Extended Until 2022
1:26 Travel to France: Health Pass Requirement Extended Until 2022
If you're planning a trip to France you will need the health pass to access venues including bars, cafés and tourist sites.
French nationals and travellers In France will be required to hold a Health Pass until July 2022.
The French Parliament passed the bill on the extension of the health pass until 31 July 2022, with 118 votes in favour and 89 against it.
This means that the bill has now officially been approved and will remain effective until the middle of next year.
COVID-19 test results that have been taken recently also grant entry to most areas as they are considered equivalent to vaccination and recovery certificates.
However, since it is more convenient and cost-effective to take the vaccine for free rather than undergo testing several times a week, the French President, Emmanuel Macron, suggested that everyone gets fully vaccinated.
Tourists have been required to hold a COVID-19 Certificate while in France since 9 August.
Those who are residents of one of the EU Member States, Schengen-associated countries and the UK have been able to enter France and indoor spaces by only presenting the EU Digital COVID Certificate (EUDCC).
…
3:36 How To Access French Health Pass For Third Country Nationals
From 5 November, all third-country travellers over the age of 12 will be required to obtain a health pass
in one of the pharmacies authorised by the country's authorities, for which they will have to pay an amount of €36 per application.
Check the authorised pharmacies on the link on our blog post.
No prior appointment is required for converting the pass.
The French Health Pass can be obtained by all third-country nationals who prove that they have been fully immunised with either Pfizer, Moderna, AstraZeneca or Johnson & Johnson vaccines.
Those vaccinated with Sinopharm or Sinovac can get a French code if they have had a single top-up dose of either Pfizer or Moderna.
…
What are your thoughts on this issue? Talk to us in the comment section below.
If you're still unsure about your application, let us help you out!
👉https://immigrationandmigration.com/schengen-visas/
✈ Read the full article at
Travel to France: Health Pass Requirement Extended Until 2022
==========================
✈ Apply for your Schengen Visa at https://immigrationandmigration.com/schengen-visas to get your Schengen Visa!
==========================
Check out the offers and discounts from:
Airport Transfers – https://iam.ontraport.com/c/s/j9Q/P/U/jvT/P/6oTxO3/Uz8tXktnsh/P/P/P
Holidays – https://iam.ontraport.com/c/s/j9Q/P/j/jvi/P/6oTxO3/vof8Cu3AQ4/P/P/P
Flights, Hotels Etc – https://iam.ontraport.com/c/s/j9Q/P/5/jvo/P/6oTxO3/vjtlp51A5x/P/P/P
Things to Do When You Get There – https://iam.ontraport.com/c/s/j9Q/P/r/jvM/P/6oTxO3/sALWj2h37D/P/P/P
And because of the pandemic, don't forget to get your travel insurance https://immigrationandmigration.com/travel-insurance-amid-coronavirus/ , which will cover you for flight disruptions and pandemic related matters https://iam.ontraport.com/tl/400 .
==========================
✈ Find us on social media:
. Facebook: http://iam.re/iamfb​
. Instagram: http://iam.re/iamig​
. Twitter: http://iam.re/iamtw​
. Linkedin: http://iam.re/iamli​
. Pinterest: http://iam.re/iampin
-~-~~-~~~-~~-~-
Check out our latest video: "Schengen Visa Types"

-~-~~-~~~-~~-~-
#SchengenVisa #TravelToFrance #NonEUTravelToFrance
* Some of our content may contain affiliate links. If you use these links to buy something we may earn a commission.