Trump Lifts US Travel Ban, Biden Says No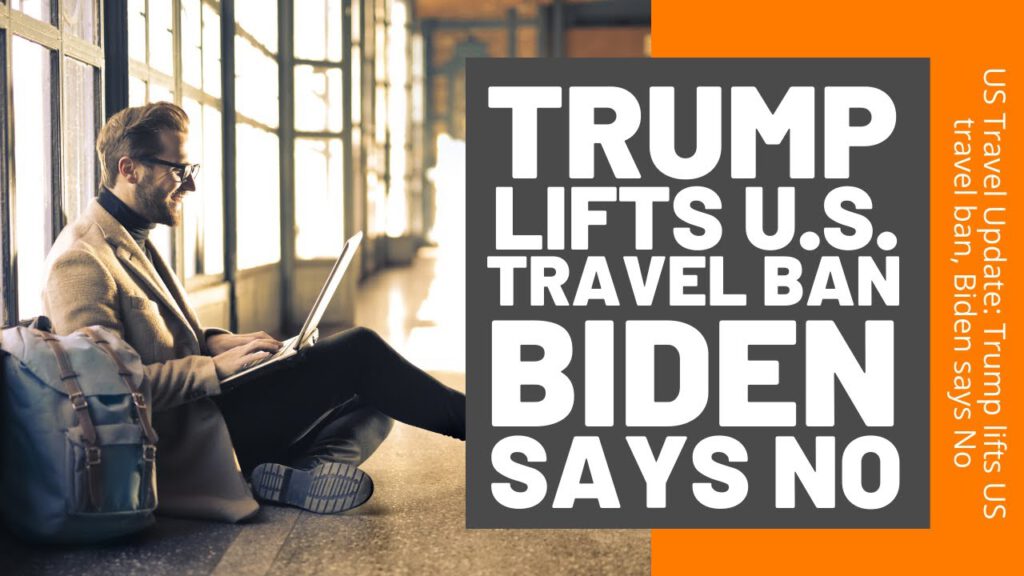 Trump Lifts US Travel Ban, Biden Says No
Trump lifts Travel Ban, Biden says No
US Travel Bans On Europe To be Lifted – Trump Revokes Presidential Proclamations
Incoming Administration Likely to Cancel – US Travel Bans to Continue Under Biden
✈ In this video:
0:00 – Trump Lifts US Travel Ban, Biden Says No
0:57 – Trump lifts travel ban, Biden says No
On 18th January, the White House formally announced the end of a travel ban that restricted entry into the USA from certain countries.
United States President Donald Trump rescinded entry bans imposed because of the coronavirus pandemic on most non-US citizens arriving from Brazil, the United Kingdom and all Schengen member states.
Starting at midnight on January 26, 2021, the travel ban will officially be lifted for travellers coming from the United Kingdom, Ireland, Schengen countries and Brazil.
01:42 – Opposing Views
President Trump stated in his Presidential Proclamation dated January 18, 2021, that people who have been in the UK, Ireland, Brazil, and Schengen Area are "no longer detrimental to the interests of the United States and" "find that it is in the interest of the United States to terminate the suspension of entry into the United States of persons who have been physically present in those jurisdictions."
However, the new presidential proclamation comes with its fair share of both controversy and opposition.
The alleviation of the ban may not last long enough for it to be implemented
United States President-Elect Biden, who will be moving into office on 20th January is expected to reverse the decision and implement even tighter restrictions on international travel.
Biden's spokeswoman, Jen Psaki, said that the new administration "does not intend to lift these restrictions."
02:42 – Reason Behind the Removal of US Travel Ban
The removal of the travel ban for the visitors from the UK, Ireland, Schengen member states, and Brazil coincides with the implementation of new COVID-19 testing requirements for all international arrivals by air into the United States.
Starting January 26, 2021, all arrivals into the USA, including citizens returning, will have to show proof of a negative Covid-19 test, or proof of recent recovery from the virus, before being allowed to enter.
The United States is also willing to accept proof of recent recovery from the Covid-19 virus in lieu of a test, but will not accept proof of vaccination at this time.
03:52 – China and Iran still Banned from Entry
On January 26, 2021, the entry ban will still be in place for Iran and China.
President Trump stated that the Secretary of Health also advised on "leaving in place the restrictions applicable to the People's Republic of China and the Islamic Republic of Iran."
I agree with the Secretary that this action is the best way to continue protecting Americans from COVID-19 while enabling travel to resume safely —President Trump
04:32 – Biden Overturning the Proclamation
President-Elect Joe Biden, who will be moving into the White House on Wednesday, is expected to prevent and reverse Trump's decision.
If Biden's administration is not successful in reversing Trump's termination of proclamation 9993, entry will once again be possible for travellers from Europe and Brazil who've been separated for almost one full year due to travel bans.
What are your thoughts on lifting the travel ban?
Is the new testing rule enough alternative to allow travel?
Talk to us in the comment section below.
If you need assistance with a visa to Europe, the UK or the US, including help with securing your travel arrangements, IaM can help.
For visa advice, contact your IAM visa coordinator.
For help and guidance on your US visa application, contact your visa coordinator at IaM
If you're still unsure about your application, let us help you out!
👉https://immigrationandmigration.com/global-mobility/us-visa-immigration/us-visa-application-form/
✈ Read the full article at
==========================
✈ Apply for your visa to the US at https://immigrationandmigration.com/global-mobility/us-visa-immigration/ to get your US Visa!
==========================
✈ Find us on social media:
. Facebook: https://www.facebook.com/immigrationandmigration/
. Instagram: https://www.instagram.com/iam.uk/
. Twitter: https://twitter.com/iam_immigration
. Linkedin: https://www.linkedin.com/company/iam-immigration
. Pinterest: https://www.pinterest.com/iam_immigration/
-~-~~-~~~-~~-~-
-~-~~-~~~-~~-~-
#USTravelBan #TrumpLiftsUSTravelBan #USTravelBanLifting