UK Second Lockdown Confirmed as Countries Removed From Travel Safe List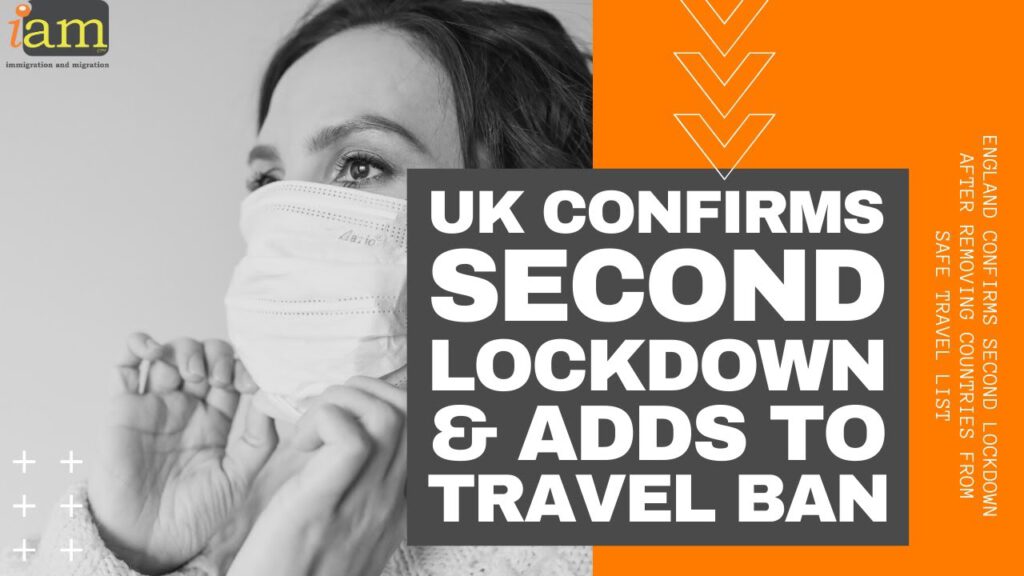 UK Second Lockdown Confirmed as Countries Removed From Travel Safe List
Which European Countries Are in a Second Lockdown?
UK Enters Second Lockdown After Removing 2 European countries from its safe travel corridor list
Second Lockdowns in Europe How Does this affect Europe Travel?
✈ In this video:
0:00 – UK Second Lockdown Confirmed as Countries Removed From Travel Safe List
Which European Countries Are in a Second Lockdown?
0:55 – The UK goes into a Second Lockdown
After Saturday's video anticipating the looming second national lockdown in the UK, it has been confirmed by the UK Prime Minister that England will be going into a second lockdown.
England will begin a month-long lockdown on Thursday, 5th November, with Boris Johnson saying acting now could allow families to spend Christmas together.
Pubs, restaurants, gyms, non-essential shops and places of worship will close, but, as anticipated, schools, colleges and universities can stay open.
With schools, colleges and universities staying open, it has been confirmed that, despite the Prime Minister's hopes, it may take more time to get the virus under control.
It, therefore, means that, instead of believing the government plan of a four-week lockdown, we should expect a lockdown that lasts a couple of months, like the first lockdown.
This latest lockdown has been implemented against the Prime Minister's wishes.
Since 21st September, the Prime Minister was advised to go into a lockdown.
He rather resisted the advice and the opposition leader has been voicing his concerns that the UK government is not listening to its scientific advisors.
This second lockdown is expected to last until 2 December, after which England's regional tiered system would be reintroduced.
But in line with the government's scientific advisors, Cabinet Office Minister Michael Gove has already stated that the lockdown could be extended beyond that deadline.
But more information about this will be made available today.
04:43 – Travel As a result of the UK Lockdown
You should avoid all non-essential travel by private or public transport.
If you do travel internationally, you will be able to return but are likely to face quarantine restrictions unless you are travelling from one of the UK's safe travel corridor countries.
05:38 – Countries you can travel to in Europe
Although European countries are going into a second lockdown, Europe is still open to both essential travel from all countries around the world, and non-essential travel from the EU's safe country list.
There are individual travel bans imposed by a number of European countries as well as the European travel ban and the US travel bans that you may need to navigate.
Check out the links in the description to find out how to legally avoid those bans.
06:51 – UK Updated Quarantine List Two more countries dropped from travel corridor
07:22 – Cyprus and Lithuania have been added to the UK's coronavirus quarantine list.
08:00 – UK List of Safe Travel Countries
The update to the list came into force on Thursday, for people arriving in England, Wales and Northern Ireland.
According to government data, Lithuania has 140 cases per 100,000 people, and Cyprus currently has a rate of 112 cases per 100,000 people.
10:53 – Other European countries Under Lockdown
As coronavirus cases across the continent continue their steep rise, and the European Union's two most populous countries enter into a second lockdown period. Europe braces itself for the second round of national lockdowns.
France, Germany, Belgium and Greece have become the latest countries to announce second lockdowns.
11:22 – France
12:17 – Germany
12:59 – Belgium
13:42 – Italy
14:22 – Greece
15:26 – Spain
What are your thoughts on the second wave and the second lockdowns?
Did you plan on travelling this year?
Tell us what your travel plans were, or still are, before the year-end. Comment Below.
If you need assistance with a visa to Europe or the UK, including help with securing your travel arrangements, IaM can help.
For visa advice, contact your IAM visa coordinator.
How to avoid travel bans:
If you're still unsure about your application, let us help you out!
👉https://immigrationandmigration.com/schengen-visas/
✈ Read the full article at
https://immigrationandmigration.com/blog
==========================
✈ Apply for your Schengen Visa at https://immigrationandmigration.com/schengen-visas to get your Schengen Visa!
==========================
✈ Find us on social media:
. Facebook: https://www.facebook.com/immigrationandmigration/
. Instagram: https://www.instagram.com/iam.uk/
. Twitter: https://twitter.com/iam_immigration
. Linkedin: https://www.linkedin.com/company/iam-immigration
. Pinterest: https://www.pinterest.com/iam_immigration/
-~-~~-~~~-~~-~-
Check out our latest video: "Schengen Visa Types"

-~-~~-~~~-~~-~-
#SchengenVisa #SecondLockDown #UKlockdown