UK Travel Update: UK Red List Revamped From 11 October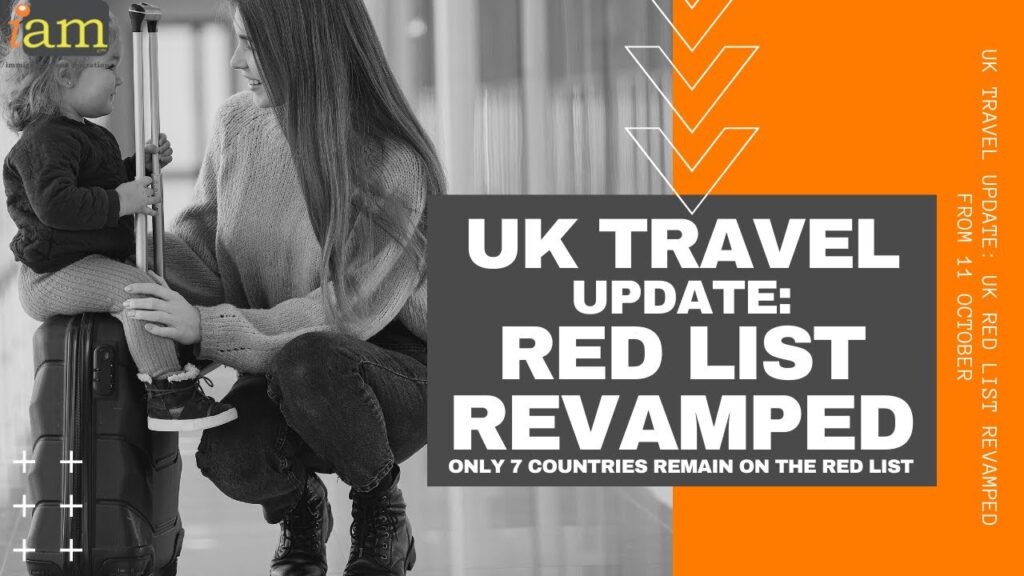 UK Travel Update: UK Red List Revamped From 11 October
✈ In this video:
0:00 UK Travel Update: UK Red List Revamped from 11 October
1:23 UK Travel Update: UK Red List Revamped from 11 October
The UK government has made it much easier for overseas travel and to return to the UK.
The UK has adopted simplified rules for travel which came into force on 4 October with the traffic light system scrapped in favour of a single red list.
As of 11 October, forty-seven nations were taken off the red list at 4 AM, meaning anyone arriving from places including South Africa and Brazil no longer needs to be quarantined in a hotel.
In a major overhaul, only seven countries remain on the red list.
Announcing the update on Twitter, UK transport secretary Grant Shapps confirmed that the 47 recategorised countries will be moved to Britain's "rest of the world" list.
…
2:40 Countries Remaining in UK's Red List
The red list now contains just seven countries, all of them in Central and South America.
The countries on the UK red list are Colombia, Dominican Republic, Ecuador, Haiti, Panama, Peru and Venezuela.
Travel restrictions are updated every three weeks by the UK government, meaning the next update is expected on or around Thursday 28 October.
For updated information from the UK government, check the official website. check our blog post for the link.
3:33 Acceptable Covid Vaccinations in the UK
The UK government is also easing its vaccination requirements for a further 37 countries and territories.
This means that vaccinated passengers travelling from these non-red
list places will only need to take a day two test upon arrival in England just like returning, fully-vaccinated UK residents.
Travellers must have had a complete course of one of the following vaccines at least 14 days before you arrive in England: * Oxford/AstraZeneca
*Pfizer BioNTech
* Moderna
* Janssen
…
4:52 Upcoming Changes to Testing Requirements
The announcement also confirmed that fully vaccinated passengers, including under 18s returning from a non-red list country, will have the option to replace their day 2 test with a cheaper lateral flow test, followed by a free PCR test if positive.
However, the government is yet to give a date this new rule will be in place.
They have said it will be some time in 'late October.'
The British government also confirmed passengers taking postal tests will be able to send a picture of their lateral flow test to give their test results.
Until now tests have had to be sent in the post.
Where do you plan to travel? Talk to us in the comment section below.
If you're still unsure about your application, let us help you out!
👉https://immigrationandmigration.com/schengen-visas/
✈ Read the full article at
==========================
✈ Apply for your Schengen Visa at https://immigrationandmigration.com/schengen-visas to get your Schengen Visa!
==========================
Check out the offers and discounts from:
Airport Transfers – https://iam.ontraport.com/c/s/j9Q/P/U/jvT/P/6oTxO3/Uz8tXktnsh/P/P/P
Holidays – https://iam.ontraport.com/c/s/j9Q/P/j/jvi/P/6oTxO3/vof8Cu3AQ4/P/P/P
Flights, Hotels Etc – https://iam.ontraport.com/c/s/j9Q/P/5/jvo/P/6oTxO3/vjtlp51A5x/P/P/P
Things to Do When You Get There – https://iam.ontraport.com/c/s/j9Q/P/r/jvM/P/6oTxO3/sALWj2h37D/P/P/P
And because of the pandemic, don't forget to get your travel insurance https://immigrationandmigration.com/travel-insurance-amid-coronavirus/ , which will cover you for flight disruptions and pandemic related matters https://iam.ontraport.com/tl/400 .
==========================
✈ Find us on social media:
. Facebook: http://iam.re/iamfb​
. Instagram: http://iam.re/iamig​
. Twitter: http://iam.re/iamtw​
. Linkedin: http://iam.re/iamli​
. Pinterest: http://iam.re/iampin
-~-~~-~~~-~~-~-
Check out our latest video: "Schengen Visa Types"

-~-~~-~~~-~~-~-
#TravvelToUK #UKRedList
* Some of our content may contain affiliate links. If you use these links to buy something we may earn a commission.