USA Blocks Travel From Canada and Mexico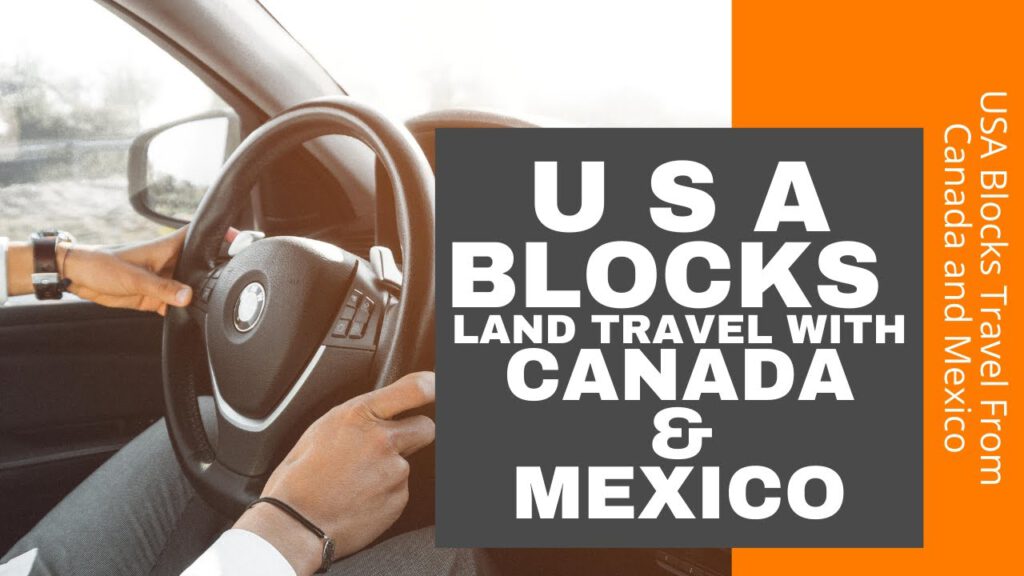 USA Blocks Travel From Canada and Mexico
✈ In this video:
USA Blocks Travel From Canada and Mexico
The United States government extended the closure of land borders with Canada and Mexico to non-essential travel until
21 August.
The Department of Homeland Security (DHS) announced the latest 30-day extension
in constant contact with Canadian and Mexican counterparts to identify the conditions under which restrictions may be eased safely and sustainably. — DHS
The US has continued to extend the restrictions on Canada and Mexico on a monthly basis since March 2020.
As in prior extensions, DHS said it could still seek to amend or rescind the restrictions before 21 August.
The announcement came after Canada has stated that they will open for vaccinated Americans from 9 August.
It's unclear how, or if, the US decision will affect the Canadian decision.
Entry the US Border
from Canada & Mexico
The US continues to allow Canadians and Mexicans to arrive via plane, but they are required to present proof of a negative COVID-19 test result before entry.
Travellers crossing US land borders on essential business do not need negative COVID-19 tests.
The US land border restrictions do not bar US citizens and lawful permanent residents returning to the United States.
The Canadian Chamber of Commerce, a business group, criticised the latest US extension.
The chamber's chief executive, Perrin Beatty, said the US move
"flies in the face of both science and the most recent public health data."
It's hard to see how allowing fully vaccinated Canadians to enter the US
Perrin Beatty
poses a public health threat when travel within the US is unrestricted Perrin Beatty
What are your thoughts on this issue? Is the US the only country in the west still with closed borders? Talk to us in the comments section below.
If you have plans to travel, check out the deals we have found in the description box below.
If you're still unsure about your application, let us help you out!
👉https://immigrationandmigration.com/schengen-visas/
✈ Read the full article at
==========================
✈ Apply for your Schengen Visa at https://immigrationandmigration.com/schengen-visas to get your Schengen Visa!
==========================
Check out the offers and discounts from:
Airport Transfers – https://iam.ontraport.com/c/s/j9Q/P/U/jvT/P/6oTxO3/Uz8tXktnsh/P/P/P
Holidays – https://iam.ontraport.com/c/s/j9Q/P/j/jvi/P/6oTxO3/vof8Cu3AQ4/P/P/P
Flights, Hotels Etc – https://iam.ontraport.com/c/s/j9Q/P/5/jvo/P/6oTxO3/vjtlp51A5x/P/P/P
Things to Do When You Get There – https://iam.ontraport.com/c/s/j9Q/P/r/jvM/P/6oTxO3/sALWj2h37D/P/P/P
And because of the pandemic, don't forget to get your travel insurance https://immigrationandmigration.com/travel-insurance-amid-coronavirus/ , which will cover you for flight disruptions and pandemic related matters https://iam.ontraport.com/tl/400 .
==========================
✈ Find us on social media:
. Facebook: http://iam.re/iamfb​
. Instagram: http://iam.re/iamig​
. Twitter: http://iam.re/iamtw​
. Linkedin: http://iam.re/iamli​
. Pinterest: http://iam.re/iampin
-~-~~-~~~-~~-~-
Check out our latest video: "Schengen Visa Types"

-~-~~-~~~-~~-~-
#SchengenVisa
* Some of our content may contain affiliate links. If you use these links to buy something we may earn a commission.