US Travel Ban to Stay Europeans & Others Banned from the US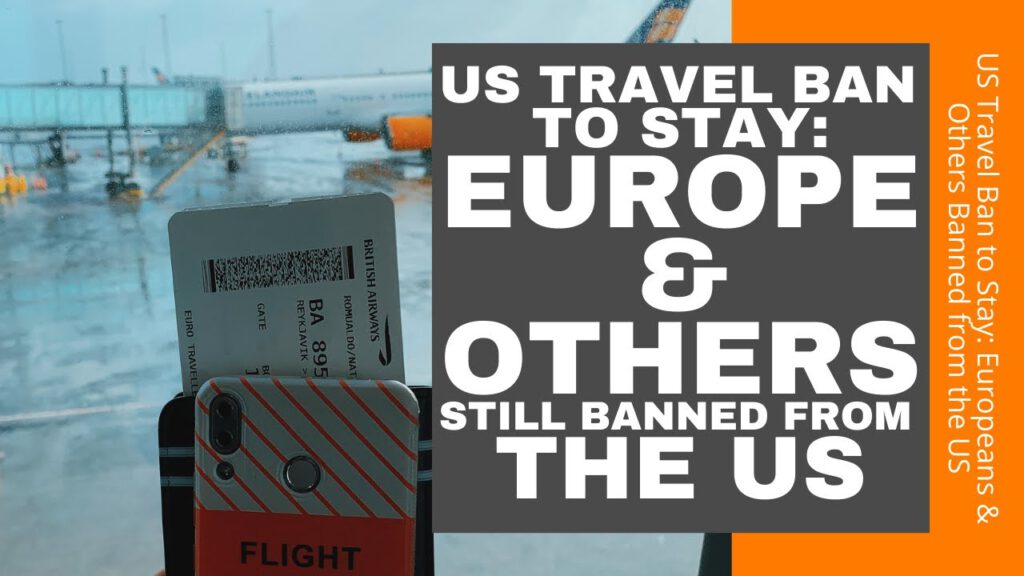 US Travel Ban to Stay Europeans & Others Banned from the US
✈ In this video:
US Travel Ban to Stay Europeans & Others Banned from the US
The United States announced on 26 July that it will keep existing COVID-19 restrictions on international travel in place for now due to concerns about the surging infection rate because of the delta variant.
It was the latest sign that the White House is having to recalibrate its thinking around the coronavirus pandemic as the more infectious variant surges across the US and a substantial chunk of the population resists vaccination.
It was also a reversal from the sentiment President Joe Biden voiced earlier this month when he said his administration was "in the process" of considering how soon the U.S. could lift the ban on European travel bound for the US after the issue was raised by German Chancellor Angela Merkel during her visit to the White House.
….
Causes for Concern
The delta variant is a mutated coronavirus that spreads more easily than other variants. It was first detected in India but now has been identified around the world.
The delta variant now accounts for about 83% of cases nationwide and has led to a spike in US COVID-19 cases. In the last two weeks, cases have increased 171% in the US, and the death rate is up 19% over the week before.
The rise in cases has prompted some state and local officials to reinstate masking guidance, even for vaccinated Americans.
…
When will the US rescind its travel ban?
When asked if Biden would lift travel restrictions in the event airlines adopted vaccine passports, Psaki stated that there are "ongoing working groups" focused on how to reopen international travel into the U.S.
"There are a range of topics in those discussions that are ongoing," Psaki said. "The president receives regular briefings on them, but we rely on public health and medical advice on when we're going to determine changes to be made."
Travel industry groups have urged the Biden administration to open international travel.
…
How to Avoid the US Travel Ban
Although The US travel ban is still in place you can still travel to the US without breaking any rules. To do so you have to use the avoiding route. This means you should spend 14 days in a country that is not subject to the travel ban.
People are spending time and travelling to places like the Caribbean or Mexico, and then flying direct to the US from there. Check out our blog post on how to avoid the US travel ban from where you are.
Another option is also to apply for a National Interest Exception (NIE) to travel to the US. This is where you apply for permission to travel directly from countries affected by the travel ban, like the UK, Europe & the Schengen Area & other countries. Check out our article on the NIE on our blog post.
What are your thoughts on this issue? Talk to us in the comment section below.
If you're still unsure about your application, let us help you out!
👉https://immigrationandmigration.com/schengen-visas/
✈ Read the full article at
US Travel Ban to Stay: Europeans and Others Banned in the US
==========================
✈ Apply for your Schengen Visa at https://immigrationandmigration.com/schengen-visas to get your Schengen Visa!
==========================
Check out the offers and discounts from:
Airport Transfers – https://iam.ontraport.com/c/s/j9Q/P/U/jvT/P/6oTxO3/Uz8tXktnsh/P/P/P
Holidays – https://iam.ontraport.com/c/s/j9Q/P/j/jvi/P/6oTxO3/vof8Cu3AQ4/P/P/P
Flights, Hotels Etc – https://iam.ontraport.com/c/s/j9Q/P/5/jvo/P/6oTxO3/vjtlp51A5x/P/P/P
Things to Do When You Get There – https://iam.ontraport.com/c/s/j9Q/P/r/jvM/P/6oTxO3/sALWj2h37D/P/P/P
And because of the pandemic, don't forget to get your travel insurance https://immigrationandmigration.com/travel-insurance-amid-coronavirus/ , which will cover you for flight disruptions and pandemic related matters https://iam.ontraport.com/tl/400 .
==========================
✈ Find us on social media:
. Facebook: http://iam.re/iamfb​
. Instagram: http://iam.re/iamig​
. Twitter: http://iam.re/iamtw​
. Linkedin: http://iam.re/iamli​
. Pinterest: http://iam.re/iampin
-~-~~-~~~-~~-~-
Check out our latest video: "Schengen Visa Types"

-~-~~-~~~-~~-~-
#SchengenVisa #TravelToUS
* Some of our content may contain affiliate links. If you use these links to buy something we may earn a commission.