USA Facing Shortage of Doctors After US Travel Ban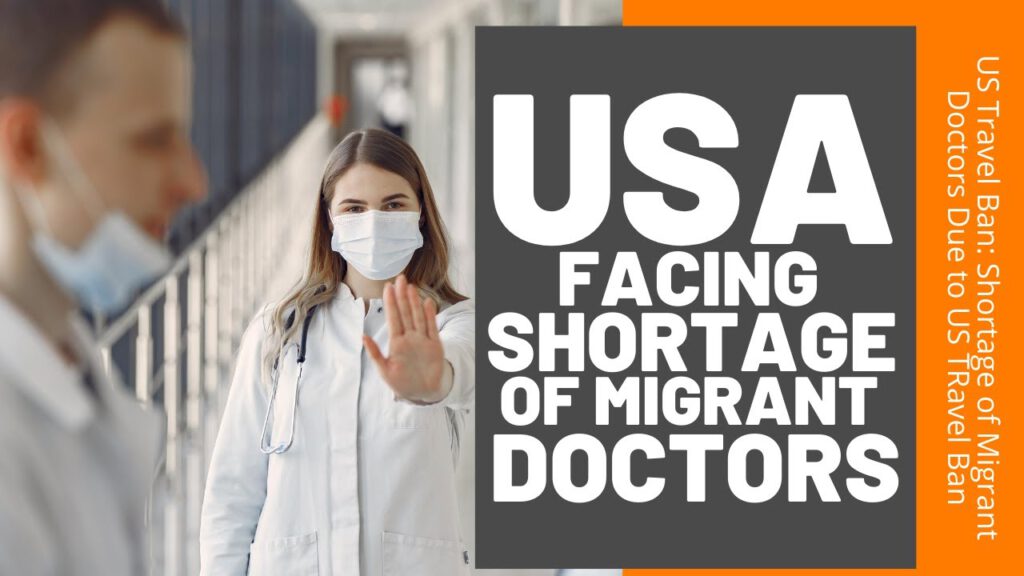 USA Facing Shortage Of Doctors Migrant Doctors Face Restrictions And Delays Due To Presidential Proclamation
America is Facing a Shortage of International Doctors Due to Strict Visa Rules
Hospitals Are Suddenly Short of Young Doctors — Because of Trump's Visa Ban
Doctors treating coronavirus patients were supposed to be allowed into the U.S.
But hundreds of young doctors have their visas put on hold indefinitely.
The COVID-19 pandemic has exposed the acutely short-staffed nature of hospitals around the world.
✈ In this video:
USA Facing Shortage of Doctors After US Travel Ban
If you are a doctor and qualified from abroad, the US government requires you to apply for an H-1B visa, which can run hundreds of pages.
Once granted, H-1Bs will stop you from switching employers, working in other states, or practicing outside your approved specialty.
These restrictions have stopped experienced doctors with low caseloads from relocating to states that have been hit hard by COVID-19.
The rules are also restrictive for foreign medical students doing your residency in the US.
If you're on a J-1 visa, as most are, then you must return to your home country for at least two years before you're allowed to apply to return to the United States, with limited exceptions.
The US has also been badly hit because of an ill-timed change to immigration policy and its inconsistent implementation.
The presidential proclamation on June 22, that barred the entry of most immigrants on work visas, came as hospitals were expecting a new class of medical doctors.
Hundreds of young doctors were unable to start their residencies on time.
The proclamation included the H1-B visa for highly skilled workers, which is used by some practicing doctors to get U.S. residency slots.
involved with the provision of medical care to individuals who have contracted COVID-19 and are currently hospitalized
Unfortunately, it delegated the issuing of guidance to the departments of State and Homeland Security.
That guidance has been slow and inconsistently interpreted.
Some US consulates started approving doctors' visas.
Others say they're still waiting for guidance.
The delay in issuing of visas has created staffing shortages for hospitals around the US at a time when doctors are in need to fight the pandemic sweeping the country.
After the inconsistencies and delays were pointed out by the media, a number of doctors spoken to said they had suddenly received visa approvals.
A quite remarkable turnaround, given that I received a rejection email three days ago
In at least five countries, however, consulates were still not processing doctors' visas.
Trump's ban didn't revoke visas for anyone currently in the U.S., but if they leave the country — which they will have to do if they change jobs — their ability to return is unclear.
One doctor ended up stuck in India while her husband was unable to travel there from the U.S.
Most people coming to the U.S. for residencies arrive on a different kind of visa, the J-1, and aren't covered by Trump's ban, though some have had issues getting consulate appointments because of the COVID-19 pandemic.
An earlier immigration ban targeting permanent immigrants, which passed in March, contained a broad medical worker exemption.
When rumors of a work-visa ban started swirling in late spring, immigration lawyers and hospitals expected it would include the same language.
Instead, the June proclamation mentioned only doctors working with hospitalized COVID-19 patients.
Visa limits raise concerns for doctors at risk of deportation
Some doctors worry about getting sick, others face deportation.
For many health workers, catching coronavirus from their patients is a serious concern.
For migrant doctors there's another worry – deportation.
Many doctors rely on H1-B visas to continue their careers in the U.S.
This is because the Green Card backlog stretches more than a decade and prevents many from getting permanent residency.
Comment below if you have been affected by these visa restrictions.
If you need any help or advice, reach out to your Visa Coordinator at IaM
If you're still unsure about your application, let us help you out!
👉https://immigrationandmigration.com/immigration-consultations/
✈ Read the full article at
America Facing Shortage of International Doctors Due to Strict Visa Rules
==========================
✈ Apply for your US Visa at https://immigrationandmigration.com/global-mobility/us-visa-immigration/ to get your Visa!
==========================
✈ Find us on social media:
. Facebook: https://www.facebook.com/immigrationandmigration/
. Instagram: https://www.instagram.com/iam.uk/
. Twitter: https://twitter.com/iam_immigration
. Linkedin: https://www.linkedin.com/company/iam-immigration
. Pinterest: https://www.pinterest.com/iam_immigration/
-~-~~-~~~-~~-~-
#USDoctors #USTRavelBan #IaM