Austria Imposes Travel Restrictions on High Risk Countries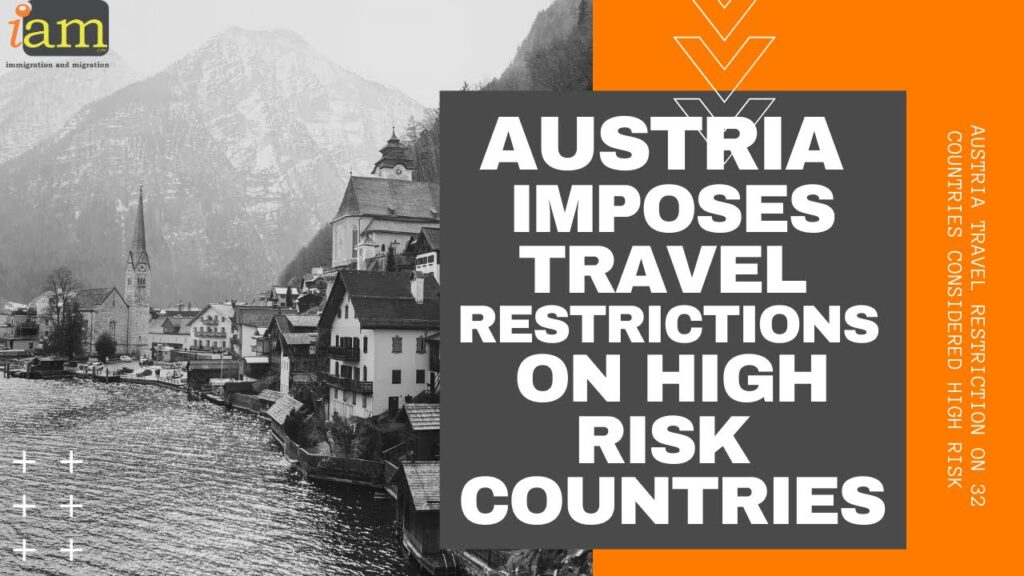 Austria Imposes Travel Restrictions on High-Risk Countries
Austria travel update: travel restrictions for high-risk countries
Austria implements travel restrictions for high-risk countries
Austria's government has decided to impose travel restrictions on
32 countries, where the Coronavirus cases are surging, in an effort to stop the further spread of the virus.
Austria has created a "red list" of countries that it considers as high risk. This takes into account the epidemiological situation of infections in that country.
✈ In this video:
Austria Travel Update: Travel Restriction For High-Risk Countries
The countries considered high-risked by Austria's government include
Albania, Bangladesh, Belarus, Bosnia and Herzegovina, Brazil, Bulgaria, Egypt, India, Indonesia, Iran, Kosovo, Mexico, Moldova, Nigeria, Pakistan, Peru, Portugal, Romania, Russia, North Macedonia, Senegal, Serbia, USA, Turkey, Ukraine, Philippines, the Chinese province of Hubei, Chile, Montenegro, Sweden, Ecuador, South Africa.
Exempted from the above-mentioned decision are:
Medical professionals, seasonal workers and diplomats
However, if they come from Austria's red list, they will be required to take a PCR test.
Earlier this month, Austria permitted the entry for travellers coming from 30 European countries, the majority of which are part of the European Union and/or the European Economic Area.
Internationals coming from these countries can enter Austria without the need to comply with health measures such as testing or
two weeks mandatory quarantine.
Austria's decision was announced through a press release by the Austrian Ministry of Interior.
From 30 countries, entry to Austria is again possible without health measures. Austrian Ministry of Interior
The ordinances of the Ministry of Health apply until the end of September 30, 2020.
The Ministry of the Interior recommends that you contact the Ministry of Health with any questions
The Austrian authorities also lifted entry restrictions for the residents of 32 European countries, which are either EU or Schengen Members, or both, entering the country for essential purposes.
Andorra, Belgium, Croatia, Cyprus,
The Czech Republic,
Denmark, Estonia, Finland
France, Germany, Greece
Hungary, Iceland, Ireland
Italy, Latvia, Liechtenstein
Lithuania, Luxembourg, Malta
Monaco, Netherlands, Norway, Poland
San Marino, Slovakia, Slovenia
Spain, Switzerland,
united kingdom, Vatican City
Residents of these countries are eligible to enter the Austrian territory without the need of presenting negative test results or going through a fortnight of quarantine, since July 2.
For the latest update, help or advice, contact your IaM visa coordinator
If you're still unsure about your application, let us help you out!
👉https://immigrationandmigration.com/schengen-visas/
✈ Read the full article at
✈ Keep up to date with Schengen visa information and news at https://immigrationandmigration.com/category/news-and-events/schengen-visa-news/
✈ Keep up with Austria Visa information at
https://immigrationandmigration.com/category/schengen-visas/austria-schengen-visas/
==========================
✈ Apply for your Schengen Visa at https://immigrationandmigration.com/schengen-visas to get your Schengen Visa!
==========================
✈ Find us on social media:
. Facebook: https://www.facebook.com/immigrationandmigration/
. Instagram: https://www.instagram.com/iam.uk/
. Twitter: https://twitter.com/iam_immigration
. Linkedin: https://www.linkedin.com/company/iam-immigration
. Pinterest: https://www.pinterest.com/iam_immigration/
-~-~~-~~~-~~-~-
Check out our latest video: "Schengen Visa Types"

-~-~~-~~~-~~-~-
#AustriaTravelRestrictions #AustriaRedList#SchengenVisa #AustriaBorder #AustriaVisa #Austria #IaM #Travel #AustriaReopens