What You Need To Know About Travel To Portugal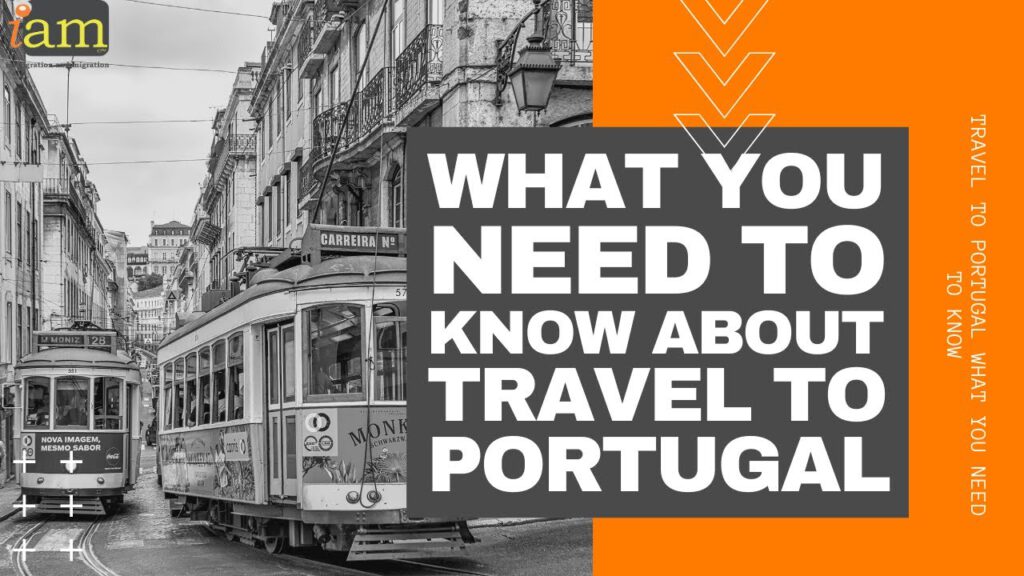 What You Need To Know About Travel To Portugal
Travel to Portugal what you need to know
Trip to PORTUGAL what you need to know
Portugal has been added to the UK's travel corridors since Saturday, August 22, which means travellers from Portugal are no longer required to quarantine upon their return to the UK.
Portugal's recorded number of cases has been lower than the threshold of 20 in 100,000 set by the UK government, which led to its removal from the quarantine list
✈ In this video:
What You Need To Know About Travel To Portugal
Travel To Portugal What You Need To Know
Portugal is one of the most popular destinations for Travellers from the UK.
Although it is relatively safe to travel, now is the time to seek out the country's unexplored spots with fewer tourist around.
It is not too late to start your summer break. Portugal offers a variety of things to do.
You can go surfing and enjoy the sun with the peaceful sands and pounding waves along the Portuguese Atlantic coast.
or walk along the sandy Algarve beach.
You can also enjoy the mountainous landscape with an abundance of hiking trails and outdoor activities.
– Entry to Portugal
Travellers from EU countries are allowed to enter the country without restrictions.
Travellers from Norway, Switzerland, Iceland and Liechtenstein, as well as the United Kingdom, are also allowed to enter without restrictions.
Currently, the following third-country nationals are allowed are:
Australia, Canada, China, South Korea, Georgia, Japan, Morocco, New Zealand, Rwanda, Thailand, Tunisia and Uruguay.
Third-country nationals will be required to show a negative COVID-19 test taken within the last 72 hours.
Clean and Safe certification
Turismo de Portugal launched a 'Clean & Safe' seal campaign to assure travellers that the establishment with the awarded seal has complied with the hygiene requirements and cleaning measures recommended by the country's Directorate-General for Health (DGS),
Last June, Portugal received the Safe Travel seal from the World Travel and Tourism Council (WTTC).
WTTC alongside their members, governments, health experts and other industry associations have been working together to achieve an effective recovery protocol by developing meaningful action plans that optimise sector-wide recovery efforts.
So look out for these seals of approval when you visit Portugal.
– Health Measures
As a precautionary measure, it is mandatory to wear a mask on public transport, shops and any interior public areas.
Social distancing must be adopted and a tourist is expected to follow the health guidelines set by the authorities.
International visitors to Portugal may download the Portugal Health Passport, an unofficial pass that gives you access to a special offer from private healthcare providers in the country in case you need healthcare services during your stay.
This initiative includes urgent care and preventive medicine services for fixed prices in the largest private health providers in the country, with access to highly qualified and internationally recognized professionals and English-speaking staff.
– Getting to Portugal
If you are at all worried about how to travel safely to Portugal, we've done a bit of asking around for you.
Even those who are immune-compromised or have any other medical issues that you need to be "shielded" can find ways to travel.
We spoke to a Specialist who advised on how to keep COVID Safe.
Most of all, stay safe and follow the "new normal" guidelines of social distancing and keeping safe like you usually do.
Are you planning to visit Portugal?
We would like to hear from you. comment below
For travel advice, contact your IaM coordinator
If you're still unsure about your application, let us help you out!
👉https://immigrationandmigration.com/schengen-visas/
✈ Read the full article at
✈ Find out how to get a Portugal Visa yourself at
✈ Keep up with Portugal Visa Information at
https://immigrationandmigration.com/category/schengen-visas/portugal/
✈ Keep up with Schengen Visa News and information at
https://immigrationandmigration.com/category/news-and-events/schengen-visa-news/
==========================
✈ Apply for your Schengen Visa at https://immigrationandmigration.com/schengen-visas to get your Schengen Visa!
==========================
✈ Find us on social media:
. Facebook: https://www.facebook.com/immigrationandmigration/
. Instagram: https://www.instagram.com/iam.uk/
. Twitter: https://twitter.com/iam_immigration
. Linkedin: https://www.linkedin.com/company/iam-immigration
. Pinterest: https://www.pinterest.com/iam_immigration/
-~-~~-~~~-~~-~-
Check out our latest video: "Schengen Visa Types"

-~-~~-~~~-~~-~-
#SchengenVisa #PortugalTravel #IaM #PortugalVisa