ETIAS Americans, Brits, Australians & Others Need Visa to Travel To Europe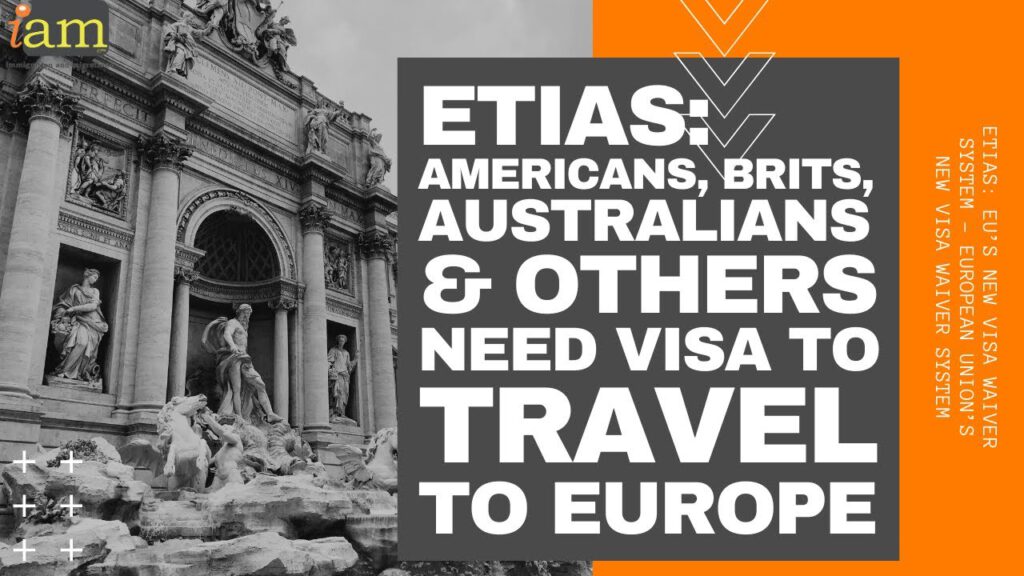 ETIAS: Americans, Brits, Australians & Others Need a Visa to Travel To Europe
The European Union's new Visa Waiver System
Are you a national of one of a group of select citizens able to travel to Europe without a visa?
Are you a US Citizen? What about Australian? Brazilian? Japanese? a New Zealander? a South Korean?…
No?
What about if you are a UK national that currently enjoys free movement to Europe?
Well after 31st December 2020, that will be changing.
✈ In this video:
ETIAS: EU's New Visa Waiver System
ETIAS: Americans, Brits, Australians & Others Need a Visa to Travel To Europe
If you are a national of any of these countries and more, you will need to register for Europe's visa waiver program if you wish to travel to Europe.
EU is introducing a new system that aims to tighten security on travellers entering the EU's free movement Schengen zone.
This will affect the people who do not currently need a visa to enter one
of the countries that make up the Schengen zone.
The new system is called the European Travel Information and Authorization System or ETIAS which will be implemented in 2022.
– What is E T I A S?
The ETIAS travel pass will be valid for up to three years from the date of issue or when your passport expires.
You will be permitted to visit the Schengen Zone for up to 90 days per trip during a 180-day period.
Also, the ETIAS will be a Multiple Entry visa waiver.
This means that you can enter and exit the EU's Schengen Zone as many times as you wish during each visit's 90-day maximum period
ETIAS is a visa waiver program which is unlike a conventional visa as you do not need to physically go to an embassy or consulate.
The whole process will be completed online.
– Who Will Have to apply for an ETIAS?
There are currently 60 nationalities who will need to apply for an ETIAS visa waiver though more countries may be added in the future.
Many of these nationalities can currently travel to the Schengen Area visa-free but this will change when ETIAS is implemented.
Citizens from non-eligible countries will need to apply for a Schengen Visa to enter the Schengen zone.
There are also different types of visas available for people who want to study or work in Europe as ETIAS is not designed for these purposes.
Albania, Antigua and Barbuda, Argentina, Australia. Bahamas, Barbados, Bosnia and Herzegovina, Brazil, Brunei, Canada, Chile, Colombia, Costa Rica, Dominica, El Salvador, Georgia, Grenada, Guatemala, Honduras, Hong Kong, Israel, Japan, Kiribati, Macau, Macedonia, Malaysia, Marshall Islands, Mauritius, Mexico, Micronesia, Moldova, Montenegro, New Zealand, Nicaragua, Palau, Panama, Paraguay, Peru, Saint Kitts and Nevis, Saint Lucia, Saint Vincent, Samoa, Serbia, Seychelles, Singapore, Solomon Islands, South Korea, Taiwan, Timor Leste, Tonga, Trinidad and Tobago, Tuvalu, Ukraine, United Arab Emirates, United Kingdom, United States of America, Uruguay, Vanuatu, Venezuela
ETIAS will protect visitors to the Schengen Area as well as European citizens and residents.
The online application process has been designed to be hassle-free and straightforward, there will be no need to go to an embassy or consulate.
Other countries running similar visa-waiver style authorisations are Canada, the United States and Australia.
For visa advice, reach out to your IaM coordinator
If you're still unsure about your application, let us help you out!
👉https://immigrationandmigration.com/schengen-visas/
✈ Read the full article at
==========================
✈ Apply for your Schengen Visa at https://immigrationandmigration.com/schengen-visas to get your Schengen Visa!
==========================
✈ Find us on social media:
. Facebook: https://www.facebook.com/immigrationandmigration/
. Instagram: https://www.instagram.com/iam.uk/
. Twitter: https://twitter.com/iam_immigration
. Linkedin: https://www.linkedin.com/company/iam-immigration
. Pinterest: https://www.pinterest.com/iam_immigration/
-~-~~-~~~-~~-~-
Check out our latest video: "Schengen Visa Types"

-~-~~-~~~-~~-~-
#ETIAS #EuropeVisa #SchengenVisa #IaM