Sweden Allows Travel to Austria & Liechtenstein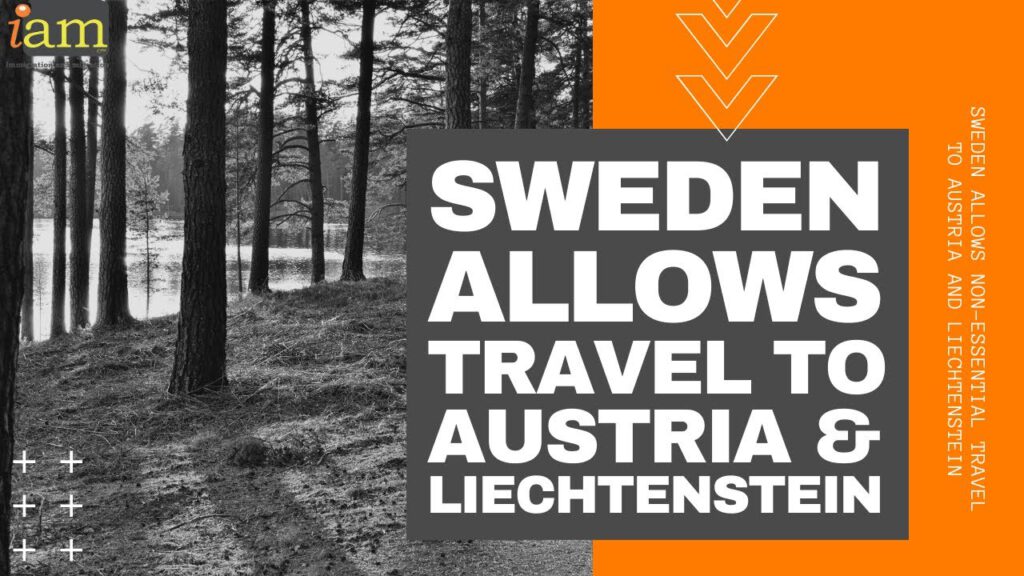 Sweden Allows Travel to Austria & LIECHTENSTEIN
SWEDEN LIFTS TRAVEL ADVICE AGAINST AUSTRIA AND LIECHTENSTEIN
Swedish citizens are no longer advised against travel to two Schengen member states; Austria and Liechtenstein after the Ministry for Foreign Affairs evaluated that the epidemiological situation in these countries has improved.
✈ In this video:
Sweden Allows Travel to Austria & LIECHTENSTEIN
SWEDEN ALLOWS NON-ESSENTIAL TRAVEL TO AUSTRIA AND LIECHTENSTEIN
The new decision has been announced through a press release issued by the Ministry,
"The Ministry of Foreign Affairs has previously revoked the advisories against unnecessary travel to
Andorra, Belgium, Denmark, France, Greece, Iceland, Italy, Croatia, Luxembourg,
" Monaco, Norway, Poland, Portugal, San Marino, Switzerland, Spain, the Czech Republic, Germany, Hungary and Vatican City." the press release notes.
For other countries within the EU, EEA, Schengen area and the United Kingdom, the advisory against unnecessary travel is extended until 26 August 2020.
These countries are Bulgaria, Cyprus, Estonia, Finland, Ireland, Latvia, Lithuania, Malta, the Netherlands, Romania, Slovakia and Slovenia
The advice against non-essential travel to countries outside the EU, the EEA, the Schengen Area and the United Kingdom, will also remain in force, until August 31.
The Ministry of Foreign Affairs advised that the next update will be released on 26 August which will take effect on the 31 of August
Sweden has made a lot of strides with handling the coronavirus pandemic.
There was a high number of cases in Sweden based on the epidemiological status of infections.
This let to people stating that Sweden was pursuing a "herd immunity" approach to combating the virus.
In the meantime, as other European countries opened up its borders to travel and tourism, Sweden was left out from travel advisories and Swedes were discouraged to travel to other countries.
Since then, there are reports that Sweden has achieved herd immunity although the authorities have stated it was not their aim.
The country's infection rate has come down and countries across Europe are permitting Swedes to travel.
These measures in the Swedish government permitting nationals to travel are part of the progress Sweden has made.
What are your thoughts on these restrictions being lifted? Comment below.
FOR THE LATEST UPDATE AND TRAVEL ADVICE, CONTACT YOUR IAM COORDINATOR
If you're still unsure about your application, let us help you out!
👉https://immigrationandmigration.com/schengen-visas/
✈ Read the full article at
✈ Keep up with Schengen Visa information to Sweden at
https://immigrationandmigration.com/category/schengen-visas/sweden/
✈ Keep up with Schengen Visa News & Information at
https://immigrationandmigration.com/category/news-and-events/schengen-visa-news/
==========================
✈ Apply for your Schengen Visa at https://immigrationandmigration.com/schengen-visas to get your Schengen Visa!
==========================
✈ Find us on social media:
. Facebook: https://www.facebook.com/immigrationandmigration/
. Instagram: https://www.instagram.com/iam.uk/
. Twitter: https://twitter.com/iam_immigration
. Linkedin: https://www.linkedin.com/company/iam-immigration
. Pinterest: https://www.pinterest.com/iam_immigration/
-~-~~-~~~-~~-~-
Check out our latest video: "Schengen Visa Types"

-~-~~-~~~-~~-~-
#SwedenTravelAdvice #EUTravelBan #SchengenVisa #SwedenReopens #SwedenVisa #SwedenSchengenVisa