Switzerland Updates Its List of Countries Required to Quarantine: Swiss Travel Update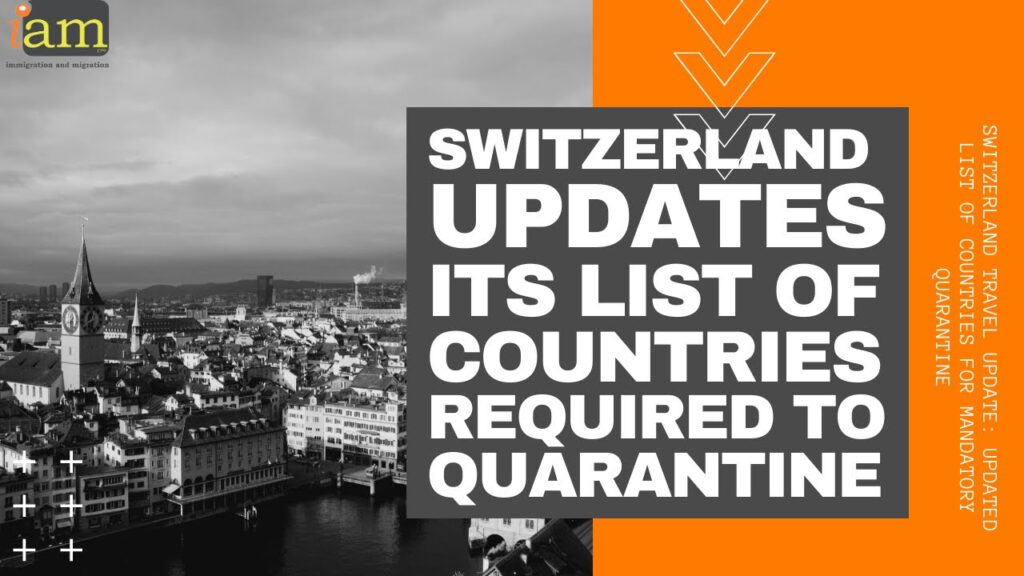 Switzerland Updates Its List of Countries Required to Quarantine: Swiss Travel Update
SWITZERLAND TRAVEL UPDATE: Updated List Of Countries For Mandatory Quarantine
Switzerland updated Quarantine List
Switzerland has decided to add seven other countries to its quarantine list, the citizens of which countries will be required to go through 10 days mandatory quarantine while removing three other countries, Switzerland's Health Office of Public Health has announced.
✈ In this video:
Switzerland Updates Its List of Countries Required to Quarantine: Swiss Travel Update
The decision came into force on August 8, according to the head of crisis management for the Federal Office of Public Health, Patrick Mathys
Travellers who have spent time in a country or area with an increased risk of infection and then enter Switzerland must go into quarantine. Anyone who fails to comply with the quarantine requirement of a fine of up to CHF 10,000.
A negative test result does not exempt you from the mandatory quarantine requirement or shorten the quarantine period.
Countries added to Switzerland's quarantine list are:
the Bahamas, Equatorial Guinea, Romania, Singapore, São Tomé and Príncipe, Sint Maarten and Spain (except the Balearic and Canary Islands)
Removed from the mandatory quarantine list are:
Azerbaijan, Russia and the United Arab Emirates
Travellers from these 46 countries are obliged to follow the quarantine rules upon their arrival in Switzerland:
Argentina, Armenia, The Bahamas, Bahrain, Bolivia,
Bosnia and Herzegovina, Brazil, Cape Verde, Chile, Colombia,
Costa Rica, Dominican Republic, Ecuador, El Salvador, Eswatini (Swaziland), Equatorial Guinea, Guatemala, Honduras, Iraq, Israel, Kazakhstan, Kyrgyzstan, Kosovo, Kuwait, Luxembourg, Maldives, Mexico, Moldova, Montenegro, North Macedonia, Occupied Palestinian Territory, Oman, Panama, Peru, Qatar, Romania, São Tomé and Príncipe, Saudi Arabia, Serbia, Singapore, Sint Maarten, South Africa, Suriname, Spain (except for the Balearic and Canary Islands), Turks and Caicos Islands, United States of America (including Puerto Rico and US Virgin Islands)
While Switzerland is analysing countries based on the rate infection to add to its quarantine list, last week, Switzerland was added to Belgium's "red zone" due to a surge in the number of new COVID-19 cases.
On July 20, Swiss authorities decided to relax some of its entry restrictions, for citizens coming from 21 countries considered epidemiologically safe regarding COVID-19.
On July 6, the country's government permitted third-country citizens to enter the Swiss as part of efforts to relax some of its restrictions, imposed amid the pandemic.
As of 3 August, travellers from high-risk countries who have a partner in Switzerland may enter the country provided evidence of their relationship can be given.
For the latest update and visa advice, contact your IaM coordinator
If you're still unsure about your application, let us help you out!
👉https://immigrationandmigration.com/schengen-visas/
✈ Read the full article at
https://immigrationandmigration.com/
==========================
✈ Apply for your Schengen Visa at https://immigrationandmigration.com/schengen-visas to get your Schengen Visa!
==========================
✈ Find us on social media:
. Facebook: https://www.facebook.com/immigrationandmigration/
. Instagram: https://www.instagram.com/iam.uk/
. Twitter: https://twitter.com/iam_immigration
. Linkedin: https://www.linkedin.com/company/iam-immigration
. Pinterest: https://www.pinterest.com/iam_immigration/
-~-~~-~~~-~~-~-
Check out our latest video: "Schengen Visa Types"

-~-~~-~~~-~~-~-
#EropeTravelBan #SwissVisa #SwitzerlandTravelRestrictions #SchengenVisa