Germany Imposes Travel Restrictions On Europe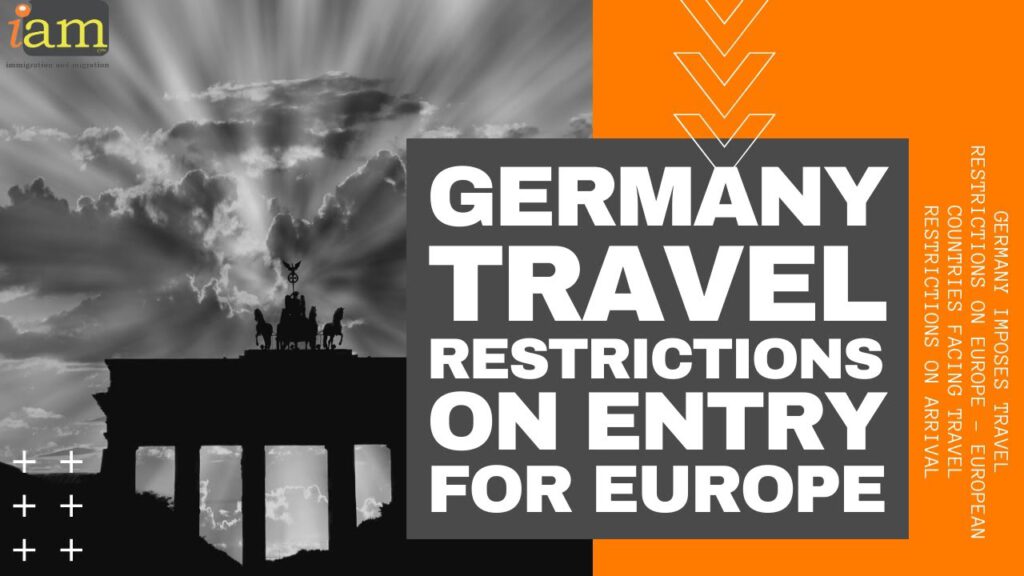 Germany Imposes Travel Restrictions On Europe: European Countries Facing Travel Restrictions On Arrival
Germany steps up border restrictions for EU countries
Germany has increased border restrictions amid a new spike in coronavirus cases in the country.
✈ In this video:
Germany Imposes Travel Restrictions On Europe European Countries Facing Travel Restrictions On Arrival
Restrictions have been placed on people arriving from the Bulgarian regions of Blagoevgrad, Dobrich, and Varna.
Restrictions have also been placed on travellers from Romania's Argeș, Bihor, Buzău, Neamt, Ialomita, Mehedinti and Timis regions.
The measures follow restrictions announced that from August 5, travellers from Belgium's town of Antwerp will also need to quarantine for 14 days or provide a negative coronavirus test.
The announcement followed the Robert Koch Institute's declaration that 127 countries and four regions in Belgium and Spain were high-risk areas for the new coronavirus.
Antwerp, the Belgian port, is accounting for around 70% of Belgium's COVID-19 cases.
Spanish residents from Catalonia, Navarra and Aragon were told to quarantine from July 31 when entering Germany after Spain saw a spike in those areas.
The current list of other European countries needing to quarantine when arriving in Germany are:
Albania (since June 15)
Belarus (since June 15)
Bosnia and Herzegovina (since June 15)
Kosovo (since June 15)
Luxembourg (since July 14th)
Montenegro (since June 15)
North Macedonia (since June 15)
The Republic of Moldova (since June 15)
Australian travellers from Victoria state will also need to undergo quarantine or present a negative test upon arrival.
Currently, except the other European/EU/Schengen countries all other travellers from mostly non-European – including the US, have to quarantine for 14 days.
The only exception to the quarantine requirements are:
Australia
Georgia
Canada
New Zealand
Thailand
Tunisia
Uruguay
Japan
South Korea and
China (as soon as the possibility of mutual entry is confirmed.)
Countries not on the exemption list are countries or areas which Germany's disease control centre, the Robert Koch Insitute (RKI), considers as "high-risk".
The RKI classifies a country or an area as "high-risk" when there are more than 50 new infections per 100,000 people over the last period of seven days.
Germany is also offering to pay for any coronavirus test for people entering from high-risk regions for the first three days of their arrival.
The country has recently battled to contain local outbreaks in various regions and recorded over 1,000 new infections nationwide for the third day running last week.
Germany has also reported over 217,000 coronavirus cases in total, and more than 9,200 related deaths.
What are your thoughts on Germany's travel restrictions? Comment below.
If you have any questions or need some help or advice, reach out to your Visa Coordinator at IaM.
If you're still unsure about your application, let us help you out!
👉https://immigrationandmigration.com/schengen-visas/
✈ Read the full article at
==========================
✈ Apply for your Schengen Visa at https://immigrationandmigration.com/schengen-visas to get your Schengen Visa!
==========================
✈ Find us on social media:
. Facebook: https://www.facebook.com/immigrationandmigration/
. Instagram: https://www.instagram.com/iam.uk/
. Twitter: https://twitter.com/iam_immigration
. Linkedin: https://www.linkedin.com/company/iam-immigration
. Pinterest: https://www.pinterest.com/iam_immigration/
-~-~~-~~~-~~-~-
Check out our latest video: "Schengen Visa Types"

-~-~~-~~~-~~-~-
#GermanyTravelRestrictions #GermanyEuropeTravelRestrictions #GermanyVisa #IaM