When Will the US Travel Bans Be Lifted? Timeline To Reopen International Travel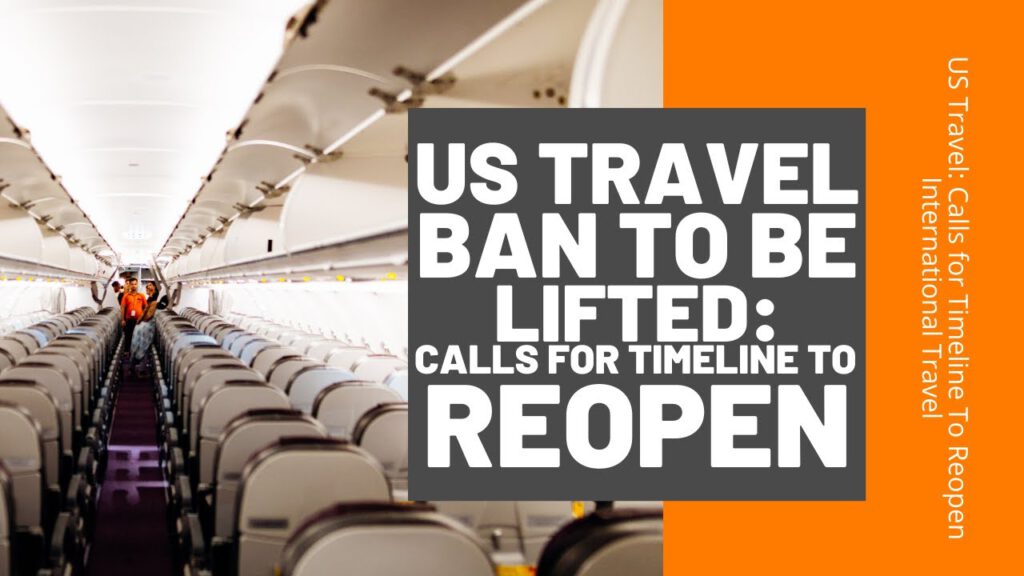 When Will the US Travel Bans Be Lifted? Timeline To Reopen International Travel
US Travel Calls For Timeline To Reopen International Travel
Calls to Lift the US Travel Bans – US Travel Bans Should Be Lifted By 1st May
The US to Open to Its Key International Markets – Return Of Growth to Domestic Travel
US Travel: Calls for Timeline To Reopen International Travel – US To Open To Stem $262Bn Loss
✈ In this video:
0:00 – When Will the US Travel Bans Be Lifted? Timeline To Reopen International Travel
01:27 – US Travel: Calls for To Reopen International Travel
The US borders have been closed to so many people for a year now.
The US Travel Association and 26 other organizations in the tourism and aviation industry have penned a letter to the White House asking the administration to partner with them to "develop…a risk-based, data-driven roadmap to rescind inbound international travel restrictions."
Leaders in both the travel and aviation industries are asking for a plan to lift the international entry ban by 1 May 2021.
In the letter, they noted that 2020 international arrivals to the US fell 62 per cent from Mexico, 77 per cent from Canada, and 81 per cent from overseas markets, for a total loss to the US economy of $146 billion last year.
US Travel estimates that if these international travel bans aren't lifted, the US economy may not restore the jobs of 1.1 million Americans, and they estimate $262 billion in export spending will be lost by the end of 2021.
Were travel to resume by 4 July 2021, and reach approximately 40 per cent of 2019 levels for the remainder of the year, US Travel says it would stimulate economic recovery by adding $30 billion in incremental spending and bringing back 225,000 American jobs.
03:06 – Supported by Data
However, the letter states that controlling the pandemic should also be of the utmost priority, and notes that its May timeline for an international reopening plan is supported by President Biden's priority to make every American eligible for vaccination by 1 May.
"To be clear, at this time, we do not support removal or easing of core public health protections, such as the universal mask mandate, inbound international testing requirement, physical distancing, or other measures that have made travel safer and reduced transmission of the virus," reads the letter
"However, the data and science demonstrate that the right public health measures are now in place to effectively mitigate risk and allow for the safe removal of entry restrictions."
The letter also highlights favourable trends, including declining infections and hospitalisations as well as the increase in the number of Americans vaccinated.
What are your thoughts of possible unrestricted travel to the US in May?
If you have plans to travel this summer, check out the deals we have found in the description box below and tell us your travel plans.
If you need assistance with a visa to Europe, the UK, or the US, including help with securing your travel arrangements, IaM can help.
For visa advice, contact your IAM visa coordinator.
If you're still unsure about your application, let us help you out!
👉https://immigrationandmigration.com/global-mobility/us-visa-immigration/us-visa-application-form/
✈ Read the full article at
US Travel: Calls for Timeline To Reopen International Travel
==========================
✈ Apply for your visa to the US at https://immigrationandmigration.com/global-mobility/us-visa-immigration/ to get your US Visa!
==========================
Check out the offers and discounts from:
Airport Transfers – https://iam.ontraport.com/c/s/j9Q/P/U/jvT/P/6oTxO3/Uz8tXktnsh/P/P/P
Holidays – https://iam.ontraport.com/c/s/j9Q/P/j/jvi/P/6oTxO3/vof8Cu3AQ4/P/P/P
Flights, Hotels Etc – https://iam.ontraport.com/c/s/j9Q/P/5/jvo/P/6oTxO3/vjtlp51A5x/P/P/P
Things to Do When You Get There – https://iam.ontraport.com/c/s/j9Q/P/r/jvM/P/6oTxO3/sALWj2h37D/P/P/P
And because of the pandemic, don't forget to get your travel insurance https://immigrationandmigration.com/travel-insurance-amid-coronavirus/ , which will cover you for flight disruptions and pandemic related matters https://iam.ontraport.com/tl/400 .
==========================
✈ Find us on social media:
. Facebook: https://www.facebook.com/immigrationandmigration/
. Instagram: https://www.instagram.com/iam.uk/
. Twitter: https://twitter.com/iam_immigration
. Linkedin: https://www.linkedin.com/company/iam-immigration
. Pinterest: https://www.pinterest.com/iam_immigration/
-~-~~-~~~-~~-~-
Check out our latest video: "Schengen Visa Types"

-~-~~-~~~-~~-~-
#USTravelBan #USAReOpening #InternationalTravelReopening
* Some of our content may contain affiliate links. If you use these links to buy something we may earn a commission.