Australia Travel Update: International Tourism Not Open Until 2022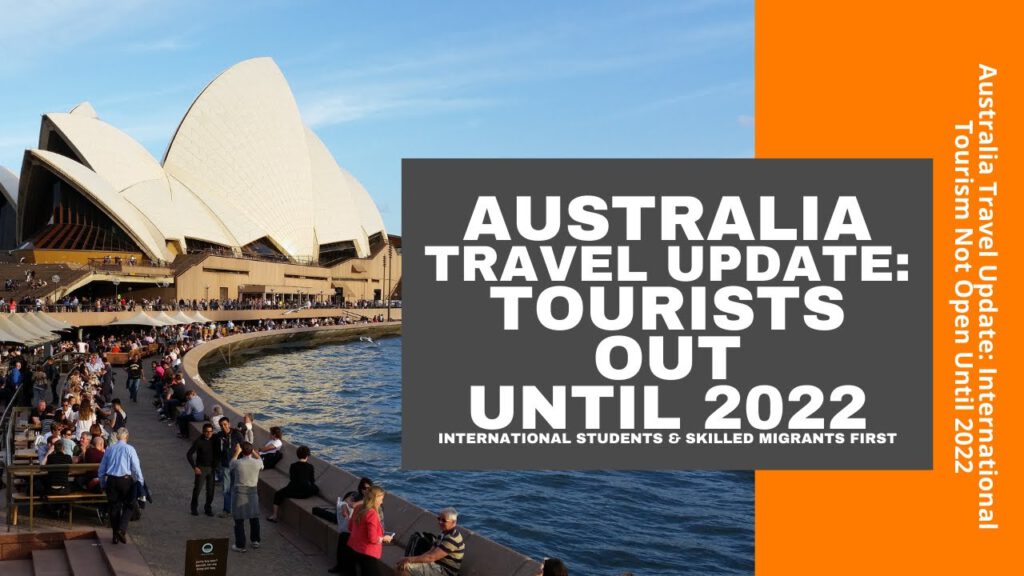 Australia Travel Update: Australia's International Tourism Not Open Until 2022
✈ In this video:
0:00 Australia Travel Update: International Tourism Not Open Until 2022
1:26 Australia Travel Update: International Tourism Not Open Until 2022
Australia, which has been one of the most restrictive countries in the world when it comes to combating the COVID-19 pandemic, will continue to block international tourists at least into 2022.
Foreign tourists won't be welcomed back to Australia until at least next year, Prime Minister Scott Morrison stated on 05 October.
Instead, Scott Morrison announced skilled migrants and students will be given priority for entering the country which has had a strict travel ban in place since March last year.
As for a date when restrictions will be fully lifted, that remains to be seen as "2022" is obviously vague.
The Australian Tourism Export Council wants to have international travel up and running by March of next year to bring the tourism dollars back to the country.
…
2:46 International Students in Australia
New South Wales (NSW) and Victoria recently announced pilot plans to facilitate international students' return to Australia.
Some 500 international students could return via New South Wales' pilot plan in December, while in Victoria, the number will be set at 120 a week at first.
The return to Australia cost for international students will be different in each state.
It has been reported that quarantine will be free for students in New South Wales, but universities in Victoria will decide who foots the quarantine cost which is A$5,000.
According to the NSW International Student Arrivals Pilot Plan, international students will quarantine in purpose-built student accommodation in Sydney and adhere to the same health and quarantine requirements set by the Australian government for returning Australians.
…
4:13 International Travel for Australian Citizens and Residents
Australia's international borders could re-open for vaccinated travellers in NSW as early as 1 November under a fast-tracked plan announced today by Prime Minister Scott Morrison to allow Australians to take their lives back.
The proposal outlined by the Prime Minister follows discussions with the new NSW Premier Dominic Perrottet about fast-tracking the rollout of home quarantine.
The move away from 14 days of hotel quarantine for vaccinated travellers is regarded as a crucial step before international travel can start ramping up to pre-pandemic levels.
Mr Morrison said it was a stunning achievement that over half of the adult population has now been vaccinated.
We have now administered more than 30 million vaccines around the country. – Scott Morrison
That's 82.2 percent of eligible over 16s who have had the first dose, and 61.9 percent with both doses. – Scott Morrison
…
Do you have plans to travel to Australia? Talk to us in the comment section below.
If you're still unsure about your application, let us help you out!
👉https://immigrationandmigration.com/schengen-visas/
✈ Read the full article at
Australia Travel Update: International Tourism Does Not Open Until 2022
==========================
✈ Apply for your Schengen Visa at https://immigrationandmigration.com/schengen-visas to get your Schengen Visa!
==========================
Check out the offers and discounts from:
Airport Transfers – https://iam.ontraport.com/c/s/j9Q/P/U/jvT/P/6oTxO3/Uz8tXktnsh/P/P/P
Holidays – https://iam.ontraport.com/c/s/j9Q/P/j/jvi/P/6oTxO3/vof8Cu3AQ4/P/P/P
Flights, Hotels Etc – https://iam.ontraport.com/c/s/j9Q/P/5/jvo/P/6oTxO3/vjtlp51A5x/P/P/P
Things to Do When You Get There – https://iam.ontraport.com/c/s/j9Q/P/r/jvM/P/6oTxO3/sALWj2h37D/P/P/P
And because of the pandemic, don't forget to get your travel insurance https://immigrationandmigration.com/travel-insurance-amid-coronavirus/ , which will cover you for flight disruptions and pandemic related matters https://iam.ontraport.com/tl/400 .
==========================
✈ Find us on social media:
. Facebook: http://iam.re/iamfb​
. Instagram: http://iam.re/iamig​
. Twitter: http://iam.re/iamtw​
. Linkedin: http://iam.re/iamli​
. Pinterest: http://iam.re/iampin
-~-~~-~~~-~~-~-
Check out our latest video: "Schengen Visa Types"

-~-~~-~~~-~~-~-
#AustraliaInternationalBorder #InternationalStudentsInAustralia
* Some of our content may contain affiliate links. If you use these links to buy something we may earn a commission.