EU Safe List Adds Ukraine but removes two countries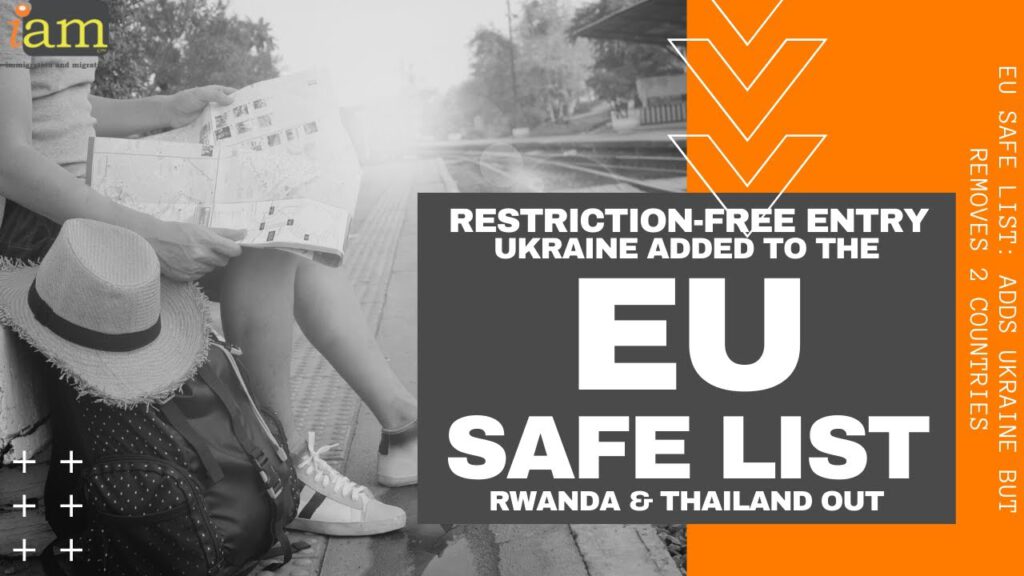 EU Safe List Adds Ukraine but removes two countries
✈ In this video:
EU Safe List Adds Ukraine but removes two countries
The European Union Council has announced on 15 July that the borders of the EU Member States will now be open to travellers from Ukraine as the country has been added to the EU's epidemiologically safe countries list.
At the same time, it has been revealed that stricter travel restrictions will be imposed against all arrivals from Rwanda and Thailand since the two countries are no longer part of the non-EU safe-countries list
Such decisions to remove or include new countries on the EU's
safe-countries list are solely based on the COVID-19 situation prevailing in third countries and the vaccination rates.
Following a review under the recommendation on the gradual lifting of the temporary restrictions on non-essential travel into the EU, the Council updated the list of countries, special administrative regions and other entities and territorial authorities for which travel restrictions should be lifted.
In particular, Rwanda and Thailand were removed from the list and Ukraine was added to the list — the Council's statement
Updated EU Safe List
Based on the conditions set on the Council's recommendation, from 15 July, the EU Member States should gradually lift travel restrictions for citizens of the following third countries:
Countries on eu safe list:
* Albania
* Armenia
* Australia
* Azerbaijan
* Bosnia and Herzegovina
* Brunei Darussalam
* Canada
* Israel
* Japan
* Lebanon
* Montenegro
* New Zealand
….
What are your thoughts on the new set of countries on EU's safe list? Talk to us in the comment section below.
If you have plans to travel, check out the deals we have found in the description box below.
If you're still unsure about your application, let us help you out!
👉https://immigrationandmigration.com/schengen-visas/
✈ Read the full article at
==========================
✈ Apply for your Schengen Visa at https://immigrationandmigration.com/schengen-visas to get your Schengen Visa!
==========================
Check out the offers and discounts from:
Airport Transfers – https://iam.ontraport.com/c/s/j9Q/P/U/jvT/P/6oTxO3/Uz8tXktnsh/P/P/P
Holidays – https://iam.ontraport.com/c/s/j9Q/P/j/jvi/P/6oTxO3/vof8Cu3AQ4/P/P/P
Flights, Hotels Etc – https://iam.ontraport.com/c/s/j9Q/P/5/jvo/P/6oTxO3/vjtlp51A5x/P/P/P
Things to Do When You Get There – https://iam.ontraport.com/c/s/j9Q/P/r/jvM/P/6oTxO3/sALWj2h37D/P/P/P
And because of the pandemic, don't forget to get your travel insurance https://immigrationandmigration.com/travel-insurance-amid-coronavirus/ , which will cover you for flight disruptions and pandemic related matters https://iam.ontraport.com/tl/400 .
==========================
✈ Find us on social media:
. Facebook: http://iam.re/iamfb​
. Instagram: http://iam.re/iamig​
. Twitter: http://iam.re/iamtw​
. Linkedin: http://iam.re/iamli​
. Pinterest: http://iam.re/iampin
-~-~~-~~~-~~-~-
Check out our latest video: "Schengen Visa Types"

-~-~~-~~~-~~-~-
#SchengenVisa
* Some of our content may contain affiliate links. If you use these links to buy something we may earn a commission.