UK Travel Update: The Balearic Islands Bumped To The Amber List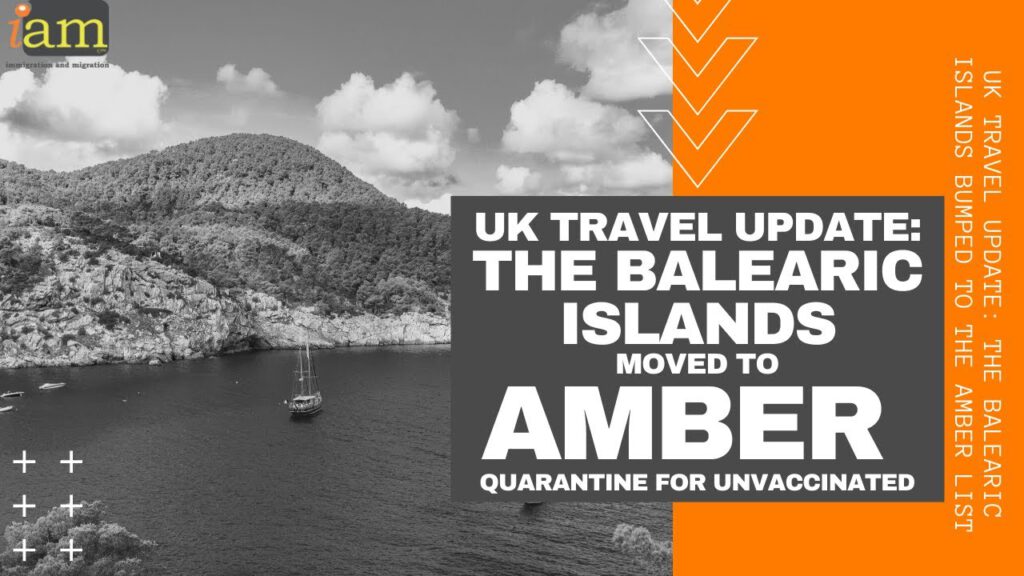 UK Travel Update The Balearic Islands Bumped To The Amber List
✈ In this video:
UK Travel Update The Balearic Islands Bumped To The Amber List
A handful of holiday destinations are shuffled around the UK travel list depending on the Covid risks associated with travelling to and from them.
Less than a month since the Balearic Islands were deemed fit for quarantine-free travel, the islands are returning to the UK's amber list from 19 July 2021.
This means British nationals travelling from Ibiza, Majorca or Menorca to England will have to self-isolate for 10 days unless they have received both doses of the vaccines from the NHS or they are under 18.
The move comes less than a fortnight after the Balearic Islands were added to the green list and is in response to a rapid rise in cases.
UK Transport Secretary Grant Shapps told reporters that the government had to "move quickly," as the cases have doubled on the islands.
It is believed that the uptick in cases is related to end-of-term parties being held in the Balearics.
No Quarantine for the Vaccinated from the Amber Country
Britain has one of the fastest vaccination programmes in the world but so far the government has effectively prevented travel to most countries through quarantine and testing rules.
From 19 July, the UK will implement the new quarantine rule for the vaccinated holidaymakers.
This will allow fully vaccinated individuals to travel without quarantine upon return to all countries except those on the red list.
This means anyone coming from Ibiza, Majorca or Menorca can skip quarantine if they have been vaccinated and can prove it using the NHS app.
However, as the Balearic Islands will be moved to the amber list, young adults above 18 who have not been vaccinated will have to quarantine at home for 10 days upon return.
The islands are hugely popular with young British tourists and this is a major blow to young adults who are looking forward to summer relaxation.
Updated Amber List from
19th July
All travellers from amber list countries will need to present a negative COVID test, book a COVID test prior to arrival and complete a passenger locator form.
Vaccinated travellers will need to take a COVID test on day 2.
Travellers not fully vaccinated or unvaccinated need to quarantine on arrival and take both the day 2 and day 8 COVID test.
To see the full list of countries under the amber category, check out our blog post
What are your thoughts on this rule change? Talk to us in the comment section below.
If you're still unsure about your application, let us help you out!
👉https://immigrationandmigration.com/schengen-visas/
✈ Read the full article at
UK Travel Update: The Balearic Islands Bumped to the Amber List
==========================
✈ Apply for your Schengen Visa at https://immigrationandmigration.com/schengen-visas to get your Schengen Visa!
==========================
Check out the offers and discounts from:
Airport Transfers – https://iam.ontraport.com/c/s/j9Q/P/U/jvT/P/6oTxO3/Uz8tXktnsh/P/P/P
Holidays – https://iam.ontraport.com/c/s/j9Q/P/j/jvi/P/6oTxO3/vof8Cu3AQ4/P/P/P
Flights, Hotels Etc – https://iam.ontraport.com/c/s/j9Q/P/5/jvo/P/6oTxO3/vjtlp51A5x/P/P/P
Things to Do When You Get There – https://iam.ontraport.com/c/s/j9Q/P/r/jvM/P/6oTxO3/sALWj2h37D/P/P/P
And because of the pandemic, don't forget to get your travel insurance https://immigrationandmigration.com/travel-insurance-amid-coronavirus/ , which will cover you for flight disruptions and pandemic related matters https://iam.ontraport.com/tl/400 .
==========================
✈ Find us on social media:
. Facebook: http://iam.re/iamfb​
. Instagram: http://iam.re/iamig​
. Twitter: http://iam.re/iamtw​
. Linkedin: http://iam.re/iamli​
. Pinterest: http://iam.re/iampin
-~-~~-~~~-~~-~-
Check out our latest video: "Schengen Visa Types"

-~-~~-~~~-~~-~-
#SchengenVisa
* Some of our content may contain affiliate links. If you use these links to buy something we may earn a commission.