Italy Quarantines UK Travellers: Italy Travel Restrictions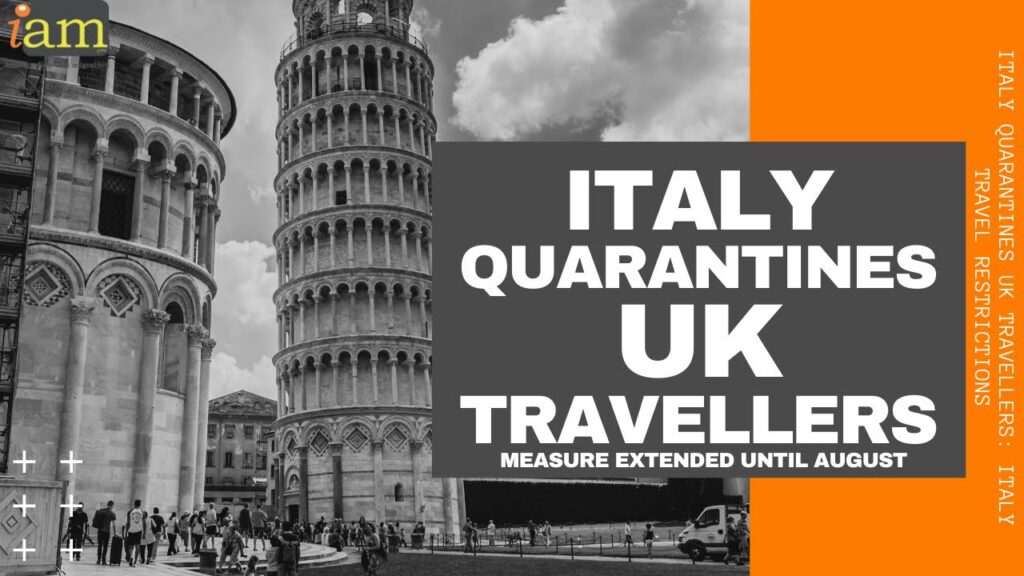 Italy Quarantines UK Travellers: Italy Travel Restrictions
✈ In this video:
Italy Quarantines UK Travellers: Italy Travel Restrictions
Italy initially reinstated quarantine and double-testing requirements for all arrivals from the UK including anyone who has transited the UK within the past 14 days on 21 June amid concern about the Delta variant surge in the UK.
The quarantine rule was set to end on Friday 30 July but Italy's Minister of Health Roberto Speranza announced that compulsory quarantine would remain in place for all arrivals from the UK including those who are fully vaccinated.
The rule will be in force until 30 August, according to the ordinance.
"I have just signed an order extending the restrictive measures regarding entry into Italy from India, Bangladesh, Sri Lanka and Brazil," said Speranza.
"The 10-day quarantine for non-European countries is confirmed, except for those on the EU-recommended list for which quarantine is reduced to 5 days.
"Mini quarantine is confirmed also from Britain."
Green Pass Requirement
The Health Minister also announced that Italy would recognise the vaccination certificates or health passes for travellers from the UK for use in Italy.
Italy will begin asking individuals to show their green passes to gain entry into certain places from 06 August.
But no more details were added about whether health passes and QR codes stored on the UK's NHS app would be recognised.
"Vaccination and health certificates can be used for green pass purposes in Italian territory," he said, adding "For the European countries and Schengen area, as well as Canada, Japan, and the United States, the green pass requirements entry regime is extended."
As Italy is not currently making any exemptions for those who are vaccinated, and with steep fines for anyone found not following the rules,
this "mini-quarantine" has posed a big problem for many particularly those who had been planning to visit Italy this summer for shorter periods to attend weddings and other events.
Even those who were planning longer trips have had to rethink plans, not least because low demand resulted in airlines slashing the number of flights available on UK-Italy routes.
A day before Italy's announcement, the British government confirmed that from 2 August, travellers who have been vaccinated
in European countries apart from those travelling from France, do not need to go for a 10-day quarantine.
Access to Italy's Indoor and Outdoor Activities
Italy is launching a scheme expanding the use of a digital COVID-19 certificate so that it's required for access to cultural, wellness and entertainment venues in Italy.
Starting 06 August 2021, Italy is requiring individuals to present proof of vaccination, recovery from COVID-19 or a recent negative test to enter indoor venues like museums, theatres, football stadiums, swimming pools, spas, gyms and theme parks.
Italy's Green pass is an extension of the EU digital COVID-19 certificate and will also be required to sit indoors at bars and restaurants.
The green pass can be presented in either digital or paper format.
In Italy, the Green Pass certifies that the holder has had at least one jab of the vaccine approved by the European Medicines Agency, has tested negative in the previous 48 hours or has recovered from the virus in the last six months.
Are you planning to travel to Italy? Talk to us in the comment section below.
If you're still unsure about your application, let us help you out!
👉https://immigrationandmigration.com/schengen-visas/
✈ Read the full article at
==========================
✈ Apply for your Schengen Visa at https://immigrationandmigration.com/schengen-visas to get your Schengen Visa!
==========================
Check out the offers and discounts from:
Airport Transfers – https://iam.ontraport.com/c/s/j9Q/P/U/jvT/P/6oTxO3/Uz8tXktnsh/P/P/P
Holidays – https://iam.ontraport.com/c/s/j9Q/P/j/jvi/P/6oTxO3/vof8Cu3AQ4/P/P/P
Flights, Hotels Etc – https://iam.ontraport.com/c/s/j9Q/P/5/jvo/P/6oTxO3/vjtlp51A5x/P/P/P
Things to Do When You Get There – https://iam.ontraport.com/c/s/j9Q/P/r/jvM/P/6oTxO3/sALWj2h37D/P/P/P
And because of the pandemic, don't forget to get your travel insurance https://immigrationandmigration.com/travel-insurance-amid-coronavirus/ , which will cover you for flight disruptions and pandemic related matters https://iam.ontraport.com/tl/400 .
==========================
✈ Find us on social media:
. Facebook: http://iam.re/iamfb​
. Instagram: http://iam.re/iamig​
. Twitter: http://iam.re/iamtw​
. Linkedin: http://iam.re/iamli​
. Pinterest: http://iam.re/iampin
-~-~~-~~~-~~-~-
#SchengenVisa #TravelToItaly
* Some of our content may contain affiliate links. If you use these links to buy something we may earn a commission.