Post Brexit: British Holidaymaker Denied Flight Due To Wrong Passport Validity Advice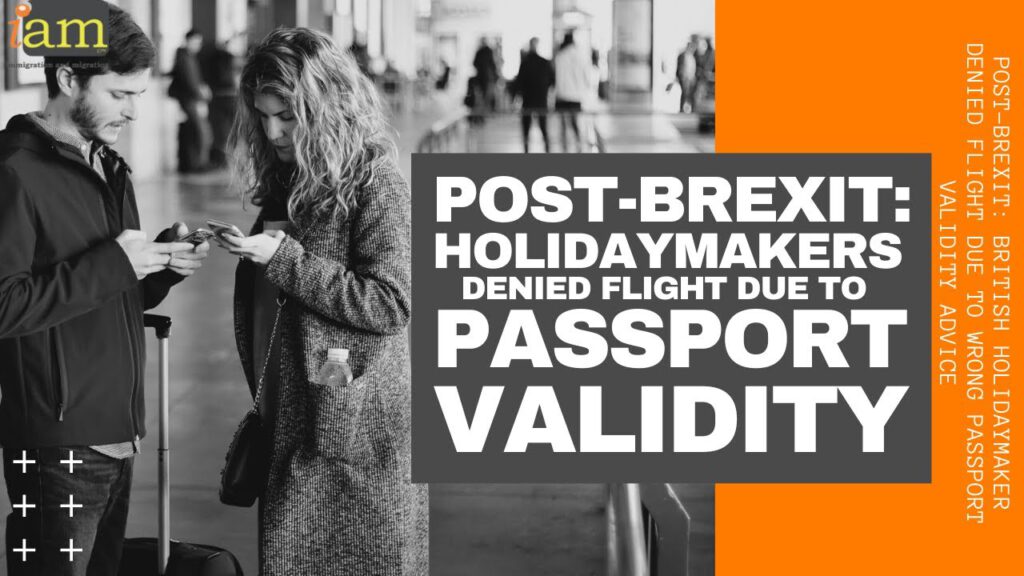 British Citizens Denied Boarding on Flights to Europe
Post Brexit British Holidaymaker Denied Flight Due To Wrong Passport Validity Advice
✈ In this video:
0:00 – Post-Brexit British Holidaymaker Denied Flight Due To Wrong Passport Validity Advice
01:32 – British Citizens Denied Boarding on Flights to Europe
As the United Kingdom is no longer part of the European Union (EU), British holidaymakers need to follow EU travel rules and regulations for third-country nationals.
One of the UK's biggest holiday companies has apologised after wrongly turning away holidaymakers from Leeds Bradford airport. Jet2 has revised its post-Brexit passport procedures after mistakenly acting on incorrect UK government advice.
02:37 – Passport Validity for Travel Post-Brexit
UK government spokesperson said: Now that the UK has left the EU, the rules for travel to Europe have changed.
While the details are set out on the government website, our simple message is that UK nationals should have six months validity on their passport to travel to Europe.
We issue detailed guidance to carriers who are responsible for ensuring that the travel document meets the entry requirements of the country that their customer is travelling to.
03:47 – The Brexit impact on travel
Since the end of the Brexit transition period in January, the effects of Brexit on travel have not been fully felt by British residents as overseas travel was restricted.
Most British travellers will find that Brexit brings some inconveniences when travelling to the EU.
Aside from a valid passport, British travellers need to make sure they have valid travel insurance with health cover.
When the European Travel Authorisation and Information System (ETIAS) is introduced in the second half of 2022, visa-exempt, non-EU citizens will need to apply for travel authorisation online before their trip and pay a fee of 7 euros.
Other than that, they will be restricted to staying less than 90 days in a 180 period in the Schengen area.
If you're still unsure about your application, let us help you out!
👉https://immigrationandmigration.com/schengen-visas/
✈ Read the full article at
Post-Brexit: British Holidaymakers Denied Flight Due to Wrong Passport Validity Advice
==========================
✈ Apply for your Schengen Visa at https://immigrationandmigration.com/schengen-visas to get your Schengen Visa!
==========================
Check out the offers and discounts from:
Airport Transfers – https://iam.ontraport.com/c/s/j9Q/P/U/jvT/P/6oTxO3/Uz8tXktnsh/P/P/P
Holidays – https://iam.ontraport.com/c/s/j9Q/P/j/jvi/P/6oTxO3/vof8Cu3AQ4/P/P/P
Flights, Hotels Etc – https://iam.ontraport.com/c/s/j9Q/P/5/jvo/P/6oTxO3/vjtlp51A5x/P/P/P
Things to Do When You Get There – https://iam.ontraport.com/c/s/j9Q/P/r/jvM/P/6oTxO3/sALWj2h37D/P/P/P
And because of the pandemic, don't forget to get your travel insurance https://immigrationandmigration.com/travel-insurance-amid-coronavirus/ , which will cover you for flight disruptions and pandemic related matters https://iam.ontraport.com/tl/400 .
==========================
✈ Find us on social media:
. Facebook: http://iam.re/iamfb​
. Instagram: http://iam.re/iamig​
. Twitter: http://iam.re/iamtw​
. Linkedin: http://iam.re/iamli​
. Pinterest: http://iam.re/iampin
-~-~~-~~~-~~-~-
Check out our latest video: "Schengen Visa Types"

-~-~~-~~~-~~-~-
#BrexitReality #PostBrexitTravel #SchengenVisa
* Some of our content may contain affiliate links. If you use these links to buy something we may earn a commission.