Singapore Opens To Germany & More Countries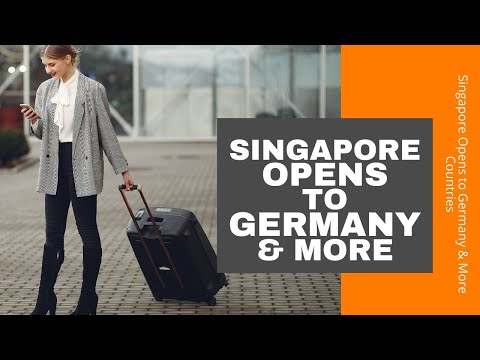 Singapore Opens To Germany & More Countries
✈ In this video:
0:00 Singapore Opens to Germany & More Countries
1:33 Singapore Opens to Germany & More Countries
Singapore will be launching quarantine-free travel lanes for vaccinated passengers from Germany and Brunei Darussalam in September as it further moves to reopen its borders.
With nearly 80% of its population now fully vaccinated, the Singaporean government has room to reopen its borders.
Under the vaccinated travel lanes, passengers who are fully vaccinated and arriving from Germany or Brunei from 8 September will not have to serve a stay-home notice in Singapore.
Instead, they will have to take four COVID-19 polymerase chain reaction (PCR) tests.
* Pre-departure test within 48 hours of the scheduled flight,
* On-arrival test at Changi Airport,
* Post-arrival tests on days three and seven at a designated clinic in Singapore.
…
3:21 Singapore's Vaccinated Travel Lanes
Germany has been allowing Singapore citizens and permanent residents unrestricted entry since 25 June 2021, and now Singapore is simply doing the same.
Short-term visitors and long-term pass holders coming from Germany or Brunei will need to apply for a vaccinated travel pass seven to 30 days before their intended arrival.
Applications for these passes open on 1 September.
Fully vaccinated Singapore citizens and permanent residents do not need to apply for a vaccination travel pass to enter Singapore under the scheme.
…
4:31 Singapore's New Normal
Based on the World Health Organization data, Singapore has recorded a total of 66,478 COVID-19 infection cases and 49 deaths since the start of the pandemic.
The nation of 5.7 million has had a steady undercurrent of around 20-30 cases daily.
Since the beginning of July, however, cases have slowly started to increase to sometimes triple digits.
The city-state of Singapore has stated Covid-19 will be treated like other endemic diseases such as the flu.
There will be no goals of zero transmission.
Quarantine will be dumped for vaccinated travellers and close contact of cases will not have to quarantine.
It also plans to no longer announce daily case numbers.
Instead, Singapore authorities will monitor Covid-19 infection numbers every day, and will focus more on the outcomes: how many fall very sick, how many are in the intensive care unit, how many need to be intubated for oxygen, and so on.
Senior Singaporean ministers have said it is the "new normal" of "living with covid".
Now, Singapore ministers are charging their country towards a new 'Covid normal', which in time will see the airport, seaport, office buildings, malls, hospitals, and educational institutions use kits to screen staff and visitors.
What are your thoughts on Singapore's long-term plan to live with Covid? Talk to us in the comment section below.
If you're still unsure about your application, let us help you out!
👉https://immigrationandmigration.com/schengen-visas/
✈ Read the full article at
==========================
✈ Apply for your Schengen Visa at https://immigrationandmigration.com/schengen-visas to get your Schengen Visa!
==========================
Check out the offers and discounts from:
Airport Transfers – https://iam.ontraport.com/c/s/j9Q/P/U/jvT/P/6oTxO3/Uz8tXktnsh/P/P/P
Holidays – https://iam.ontraport.com/c/s/j9Q/P/j/jvi/P/6oTxO3/vof8Cu3AQ4/P/P/P
Flights, Hotels Etc – https://iam.ontraport.com/c/s/j9Q/P/5/jvo/P/6oTxO3/vjtlp51A5x/P/P/P
Things to Do When You Get There – https://iam.ontraport.com/c/s/j9Q/P/r/jvM/P/6oTxO3/sALWj2h37D/P/P/P
And because of the pandemic, don't forget to get your travel insurance https://immigrationandmigration.com/travel-insurance-amid-coronavirus/ , which will cover you for flight disruptions and pandemic related matters https://iam.ontraport.com/tl/400 .
==========================
✈ Find us on social media:
. Facebook: http://iam.re/iamfb​
. Instagram: http://iam.re/iamig​
. Twitter: http://iam.re/iamtw​
. Linkedin: http://iam.re/iamli​
. Pinterest: http://iam.re/iampin
-~-~~-~~~-~~-~-
Check out our latest video: "Schengen Visa Types"

-~-~~-~~~-~~-~-
#SchengenVisa #Singapore
* Some of our content may contain affiliate links. If you use these links to buy something we may earn a commission.