UK Travel Update: Cheaper Covid Travel Test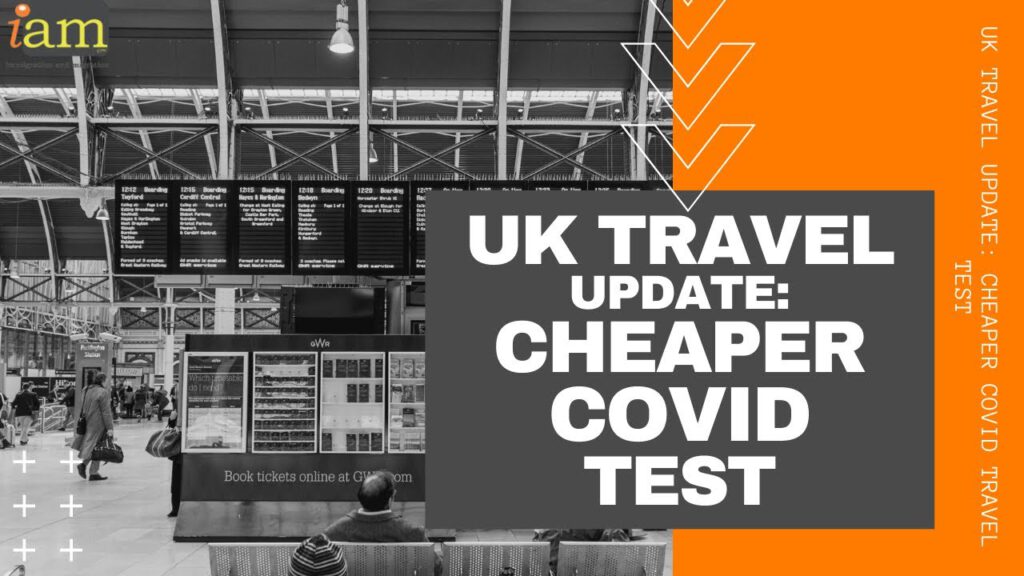 UK Travel Update: Cheaper Covid Travel Test
✈ In this video:
0:00 UK Travel Update: Cheaper Covid Travel Test
1:23 UK Travel Update: Cheaper Covid Travel Test
England is set to change its Covid-19 testing requirements for inbound travellers.
Covid test required to enter the UK has been a contentious issue throughout the course of the pandemic, with critics labeling it as too expensive and too frequent making it a barrier to travel.
New rules allowing fully vaccinated travellers returning to England to take lateral-flow coronavirus tests instead of more expensive PCR tests will come into force on 24 October.
Grant Shapps, Secretary of State for Transport announced the news via Twitter.
Mandatory PCR tests will be gone in time for the October half-term! 👍🏻 for vaccinated adults and families seeking some winter sun abroad ❄️☀️
From 24 Oct take a cheaper lateral flow test on return, to make travelling easier and simpler for everyone
2:30 How The New testing Rule Works
The government confirmed the date for the switch, which will see the publication of an approved list of private providers, with which a lateral flow test must be booked and submitted on or before day two of their arrival in England from non-red list countries.
The use of lateral flow tests is acceptable for fully vaccinated adults and most under-18s.
A statement from the government said passengers must upload a photo of their test along with the booking reference supplied to verify results as soon as possible, with free
follow-up PCR tests are available for any positive cases.
NHS Test and Trace tests cannot be used for international travel, it added.
Passengers arriving in England after 24 October that have already bought PCR tests do not need to purchase a new test.
Passengers arriving from non-red list destinations that are not fully vaccinated with an authorised vaccine must still take a pre-departure test, day two PCR test, and day 8 test and complete ten days of self-isolation.
Do you have plans to travel? Talk to us in the comment section below.
If you're still unsure about your application, let us help you out!
👉https://immigrationandmigration.com/schengen-visas/
✈ Read the full article at
https://immigrationandmigration.com/blog
==========================
✈ Apply for your Schengen Visa at https://immigrationandmigration.com/schengen-visas to get your Schengen Visa!
==========================
Check out the offers and discounts from:
Airport Transfers – https://iam.ontraport.com/c/s/j9Q/P/U/jvT/P/6oTxO3/Uz8tXktnsh/P/P/P
Holidays – https://iam.ontraport.com/c/s/j9Q/P/j/jvi/P/6oTxO3/vof8Cu3AQ4/P/P/P
Flights, Hotels Etc – https://iam.ontraport.com/c/s/j9Q/P/5/jvo/P/6oTxO3/vjtlp51A5x/P/P/P
Things to Do When You Get There – https://iam.ontraport.com/c/s/j9Q/P/r/jvM/P/6oTxO3/sALWj2h37D/P/P/P
And because of the pandemic, don't forget to get your travel insurance https://immigrationandmigration.com/travel-insurance-amid-coronavirus/ , which will cover you for flight disruptions and pandemic related matters https://iam.ontraport.com/tl/400 .
==========================
✈ Find us on social media:
. Facebook: http://iam.re/iamfb​
. Instagram: http://iam.re/iamig​
. Twitter: http://iam.re/iamtw​
. Linkedin: http://iam.re/iamli​
. Pinterest: http://iam.re/iampin
-~-~~-~~~-~~-~-
Check out our latest video: "Schengen Visa Types"

-~-~~-~~~-~~-~-
#TravelToTheUK #UKCovidTest
* Some of our content may contain affiliate links. If you use these links to buy something we may earn a commission.