US Travel Update: US Sets Reopening Date For International Travel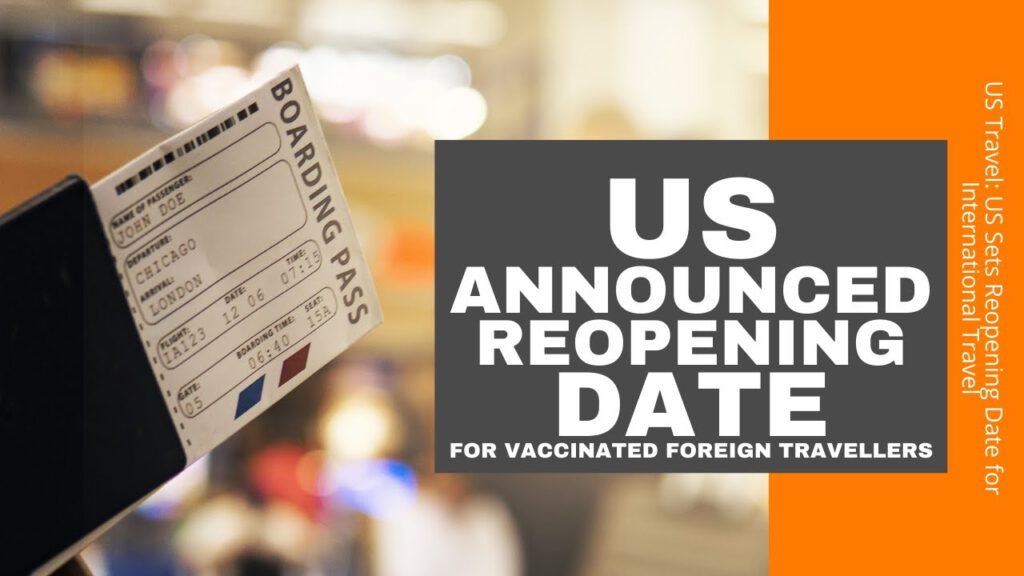 US Travel Update: The US Sets Reopening Date For International Travel
✈ In this video:
0:00 US Travel Update: The US Sets Reopening Date For International Travel
1:27 US Travel Update: The US Sets Reopening Date For International Travel
The US will soon allow fully vaccinated foreign air travellers
from the26 Schengen countries in Europe as well as the UK, Ireland, China, India, South Africa, Iran and Brazil.
The United States is set to overhaul its travel restrictions on 8 November, ushering in a new system that makes US tourism possible for millions of fully vaccinated foreign nationals.
"The US' new travel policy that requires vaccination for foreign national travellers to the United States will begin on
November 8," Kevin Munoz, White House assistant press secretary
"This announcement and date applies to both international air travel and land travel. This policy is guided by public health, stringent, and consistent."
2:27 US Entry Requirements for International Travel
Foreign air travellers will need to provide proof of vaccination status to fly to the US.
They will also need to show a pre-departure negative COVID test taken no more than three days ahead of boarding.
International visitors who cross land borders with Canada and Mexico for non-essential reasons will also be required to be vaccinated and show vaccination proof.
Unvaccinated foreign travellers will not be allowed in the US.
The new travel system also adds more stringent testing requirements for unvaccinated US travellers.
Vaccinated Americans will still need to show proof of a negative coronavirus test taken no more than three days before departure. If unvaccinated, they will need to take a test one day before departure and test again upon arrival.
Americans won't have to show proof of vaccination to board international flights to the US.
3:45 Vaccines Accepted for US Travel
The Centers for Disease Control and Prevention has said vaccines approved by the US Food and Drug Administration (FDA) and World Health Organization will be accepted for air travel.
The White House official said the same will likely be true for land travel.
Currently, vaccines approved for emergency use by the WHO include: * Moderna
* Johnson & Johnson
* Pfizer-BioNTech
…
When do you plan to travel to the US? Talk to us in the comment section below.
If you're still unsure about your application, let us help you out!
👉https://immigrationandmigration.com/schengen-visas/
✈ Read the full article at
US Travel Update: USA Sets Reopening Date for International Travel
==========================
✈ Apply for your Schengen Visa at https://immigrationandmigration.com/schengen-visas to get your Schengen Visa!
==========================
Check out the offers and discounts from:
Airport Transfers – https://iam.ontraport.com/c/s/j9Q/P/U/jvT/P/6oTxO3/Uz8tXktnsh/P/P/P
Holidays – https://iam.ontraport.com/c/s/j9Q/P/j/jvi/P/6oTxO3/vof8Cu3AQ4/P/P/P
Flights, Hotels Etc – https://iam.ontraport.com/c/s/j9Q/P/5/jvo/P/6oTxO3/vjtlp51A5x/P/P/P
Things to Do When You Get There – https://iam.ontraport.com/c/s/j9Q/P/r/jvM/P/6oTxO3/sALWj2h37D/P/P/P
And because of the pandemic, don't forget to get your travel insurance https://immigrationandmigration.com/travel-insurance-amid-coronavirus/ , which will cover you for flight disruptions and pandemic related matters https://iam.ontraport.com/tl/400 .
==========================
✈ Find us on social media:
. Facebook: http://iam.re/iamfb​
. Instagram: http://iam.re/iamig​
. Twitter: http://iam.re/iamtw​
. Linkedin: http://iam.re/iamli​
. Pinterest: http://iam.re/iampin
-~-~~-~~~-~~-~-
Check out our latest video: "Schengen Visa Types"

-~-~~-~~~-~~-~-
#USLiftsTravelBan #USReopeningDate #USEndsTravelBan
* Some of our content may contain affiliate links. If you use these links to buy something we may earn a commission.