UK Travel Update: Start Of Covid Lateral Flow Tests Instead Of PCR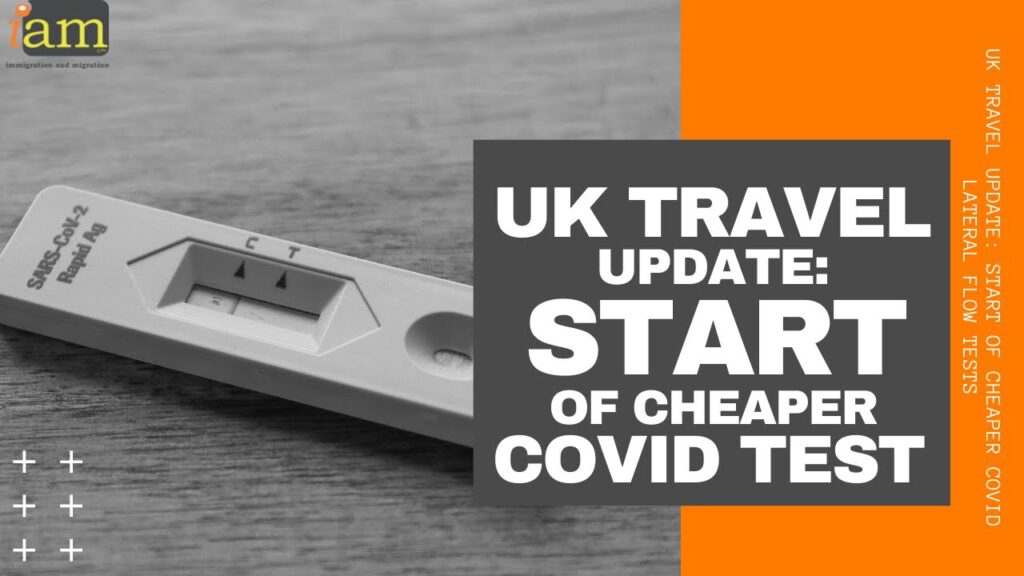 UK Travel Update: Start Of Covid Lateral Flow Tests Instead Of PCR
✈ In this video:
0:00 UK Travel Update: Start of cheaper Covid Lateral Flow Tests
1:21 UK Travel Update: Start of cheaper Covid Lateral Flow Tests
Travel testing rules will relax for returning holidaymakers who are fully vaccinated in what the UK government is describing as a "huge boost" for the travel industry.
From 4 AM Today, 24 October, fully vaccinated individuals arriving in England from a non-red list country can use a lateral flow test rather than the more expensive PCR version on or before day two.
Lateral flow tests for international travel must be purchased from a private provider as NHS Test and Trace lateral flow tests cannot be used for international travel.
…
2:30 How Lateral Flow Test Works
The Department of Health and Social Care (DHSC) said passengers must send a photo of their test results to the private provider.
Failure to do so could result in a fine of £1,000.
Travellers are able to book a test which they can take on their arrival into the UK at testing centres located in some airports.
Tests can be taken any time on or before the second day after your arrival. The Government recommends taking it "as soon as possible" after landing.
People who test positive will need to take a free NHS confirmatory PCR test and isolate.
Anyone travelling on to Ireland, Northern Ireland, Scotland, Wales, the Channel Island or the Isle of Man in the 10 days after arrival in England, must follow the rules for testing and quarantine in those places.
…
4:03 UK Travel Rules
There are now just two lists, the red list and the "rest of world" list.
Just seven countries remain on the red list, while rules for the rest of the world list depend on your vaccination status.
Only British citizens and those with residence rights in the UK can travel from red list countries.
The seven countries are Colombia, Dominican Republic, Ecuador, Haiti, Panama, Peru and Venezuela.
…
What are your thoughts on this issue? Talk to us in the comment section below.
If you're still unsure about your application, let us help you out!
👉https://immigrationandmigration.com/schengen-visas/
✈ Read the full article at
UK Travel Update: Start of COVID Lateral Flow Tests Instead of PCR
==========================
✈ Apply for your Schengen Visa at https://immigrationandmigration.com/schengen-visas to get your Schengen Visa!
==========================
Check out the offers and discounts from:
Airport Transfers – https://iam.ontraport.com/c/s/j9Q/P/U/jvT/P/6oTxO3/Uz8tXktnsh/P/P/P
Holidays – https://iam.ontraport.com/c/s/j9Q/P/j/jvi/P/6oTxO3/vof8Cu3AQ4/P/P/P
Flights, Hotels Etc – https://iam.ontraport.com/c/s/j9Q/P/5/jvo/P/6oTxO3/vjtlp51A5x/P/P/P
Things to Do When You Get There – https://iam.ontraport.com/c/s/j9Q/P/r/jvM/P/6oTxO3/sALWj2h37D/P/P/P
And because of the pandemic, don't forget to get your travel insurance https://immigrationandmigration.com/travel-insurance-amid-coronavirus/ , which will cover you for flight disruptions and pandemic related matters https://iam.ontraport.com/tl/400 .
==========================
✈ Find us on social media:
. Facebook: http://iam.re/iamfb​
. Instagram: http://iam.re/iamig​
. Twitter: http://iam.re/iamtw​
. Linkedin: http://iam.re/iamli​
. Pinterest: http://iam.re/iampin
-~-~~-~~~-~~-~-
Check out our latest video: "Schengen Visa Types"

-~-~~-~~~-~~-~-
#UKTravelUpdate #UKCovidLateralTest
* Some of our content may contain affiliate links. If you use these links to buy something we may earn a commission.