EU To Ease Travel For The Fully Vaccinated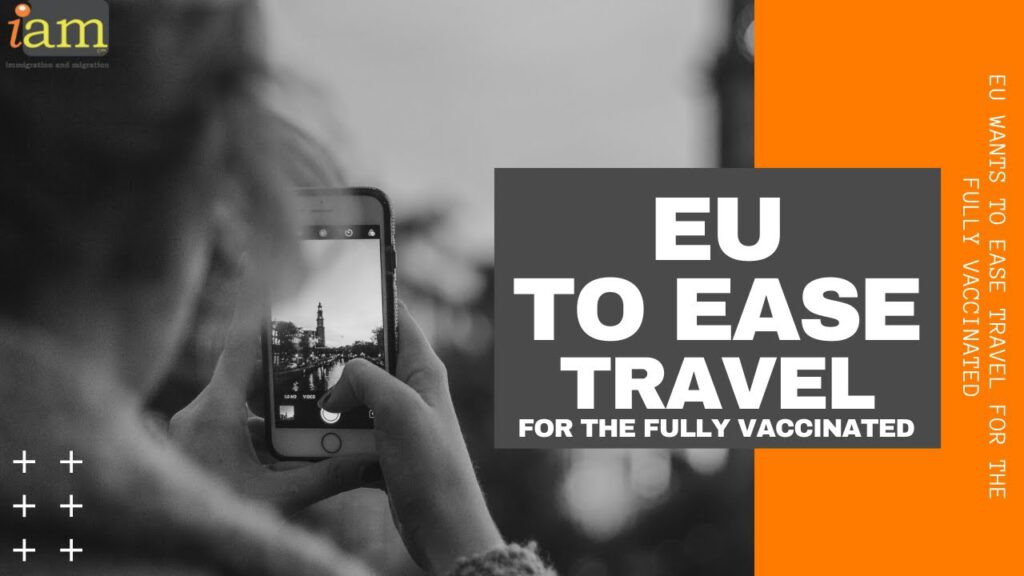 EU To Ease Travel For The Fully Vaccinated
✈ In this video:
0:00 EU To Ease Travel For The Fully Vaccinated
1:29 EU To Ease Travel For The Fully Vaccinated
The European Union (EU) is looking to make travel easier for those who are vaccinated.
EU countries are trying to reach agreement on ways to ease pandemic travel restrictions within and into the bloc as leaders work to boost Covid-19 vaccination levels.
According to reports, the EU could scrap its traffic light system and allow vaccinated travellers to travel freely using a digital Covid passport.
The plan would rely on the use of the widely adopted EU Digital Covid Certificate (EUDCC) which has allowed travellers
to cross borders without tests or quarantines since the summer if they can show they've been fully inoculated or recovered from the virus.
Travellers without a Covid pass could be required to undergo tests after arriving at their destination.
…
3:06 UK's NHS App to Join EUDCC
The European Union is set to recognise the NHS Covid pass "soon", raising hopes of frictionless travel to almost 40 countries.
The UK has been in talks with the European Commission for more than three months in a bid to join the bloc's EU Digital Covid Certificate (EUDCC) scheme, which would allow other countries to verify a users' vaccine status and test results via a QR code.
Once the NHS pass is tied into the EUDCC system, travellers to EU member states along with 16 non-EU nations already signed up to the system will be able to prove their vaccine status via the QR code on the NHS Covid Pass app.
The lack of "equivalence" status between the NHS app and EU system has been a thorn in the side of British tourists
seeking to visit a range of European destinations and for those people who were vaccinated in the UK but who live abroad.
This is also a concerning issue as an increasing number of EU governments have started requiring a Covid pass for entrance to events or hospitality venues.
…
Do you have plans to travel? Talk to us in the comment section below.
If you're still unsure about your application, let us help you out!
👉https://immigrationandmigration.com/schengen-visas/
✈ Read the full article at
==========================
✈ Apply for your Schengen Visa at https://immigrationandmigration.com/schengen-visas to get your Schengen Visa!
==========================
Check out the offers and discounts from:
Airport Transfers – https://iam.ontraport.com/c/s/j9Q/P/U/jvT/P/6oTxO3/Uz8tXktnsh/P/P/P
Holidays – https://iam.ontraport.com/c/s/j9Q/P/j/jvi/P/6oTxO3/vof8Cu3AQ4/P/P/P
Flights, Hotels Etc – https://iam.ontraport.com/c/s/j9Q/P/5/jvo/P/6oTxO3/vjtlp51A5x/P/P/P
Things to Do When You Get There – https://iam.ontraport.com/c/s/j9Q/P/r/jvM/P/6oTxO3/sALWj2h37D/P/P/P
And because of the pandemic, don't forget to get your travel insurance https://immigrationandmigration.com/travel-insurance-amid-coronavirus/ , which will cover you for flight disruptions and pandemic related matters https://iam.ontraport.com/tl/400 .
==========================
✈ Find us on social media:
. Facebook: http://iam.re/iamfb​
. Instagram: http://iam.re/iamig​
. Twitter: http://iam.re/iamtw​
. Linkedin: http://iam.re/iamli​
. Pinterest: http://iam.re/iampin
-~-~~-~~~-~~-~-
Check out our latest video: "Schengen Visa Types"

-~-~~-~~~-~~-~-
#EUEasierTravel #TravelToTheEU
* Some of our content may contain affiliate links. If you use these links to buy something we may earn a commission.