UK Nationals Travelling to the EU Post Brexit: Passport Stamps at EU Borders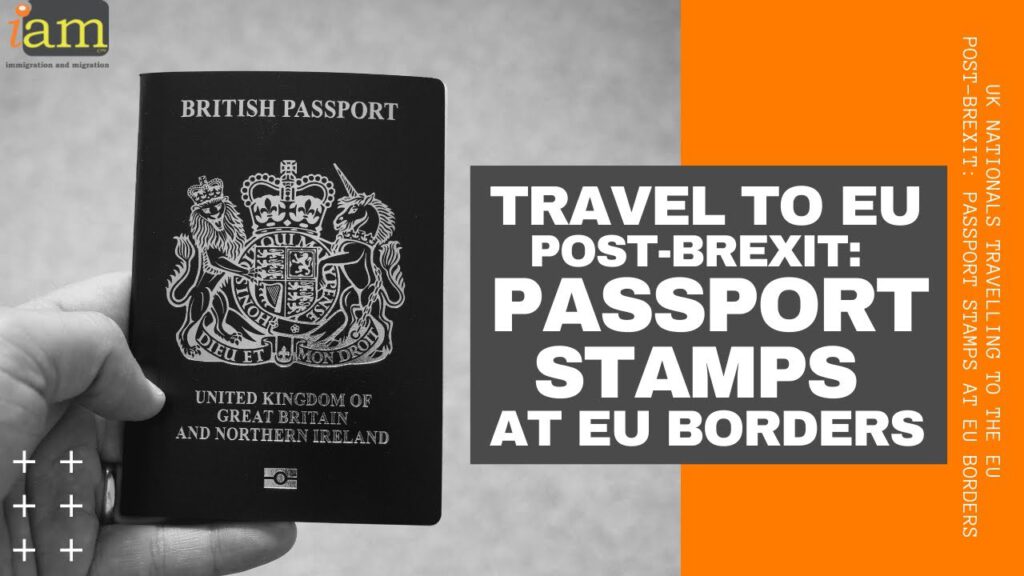 UK Nationals Travelling to the EU Post Brexit: Passport Stamps at EU Borders
✈ In this video:
0:00 UK Nationals Travelling To The EU Post-Brexit: Passport Stamps At EU Borders
1:25 UK Nationals Travelling To The EU Post-Brexit: Passport Stamps At EU Borders
As international borders open between the UK and the EU, travel is gradually going back to pre-pandemic days.
However, Brexit has ushered in a host of changes to travel rules especially on the issue of passport stamping.
As British nationals are no longer EU citizens, British travellers have to abide by the 90 days in every 180 days rule.
British nationals who do not have EU residency status or a visa are now limited to 90 days in every 180 within the Schengen zone and the passport stamp helps to keep track of this.
…
2:36 Changes to EU Travel Post Brexit
The rules for entry and exit of British passport holders into the EU have changed as checks and passport stamping now apply to British visitors to the EU.
Border guards are entitled to ask British visitors for evidence of healthcare cover and sufficient funds for their trip.
Passport stamps reflecting the date of entry and exit are a way for border officials to calculate that British travellers just like other third-country nationals have not overstayed.
In order for the checks and/or stamping to take place, British passport holders are no longer entitled to use automatic e-gates on crossing EU external borders.
4:20 British Residents in the EU
British citizens who are resident in the EU need to be able to prove their residency status at the border.
British residents travelling back to their host EU country should always hand over both the passport and the residency card or documents proving their residency rights at the border.
In the absence of such documents, the passports of British nationals will be systematically stamped to verify the authorised length of stay in the Schengen area for non-resident.
…
5:24 UK Passport Validity
There are also specific rules on passport validity post-Brexit.
The rules for travelling to European countries changed on January 1, 2021.
Check your passport is valid for travel before you book your trip, -FCDO and renew your passport if you do not have enough time left on it. – FCDO
British visitors to EU/Schengen area countries must make sure their passport was issued no more than 10 years before the day after they will leave the Schengen area, and that it is valid until at least three months after the planned departure date.
…
Have you encountered any problem with your passport when travelling to the EU? Talk to us in the comment section below.
If you're still unsure about your application, let us help you out!
👉https://immigrationandmigration.com/schengen-visas/
✈ Read the full article at
EU Travel Post-Brexit: Passport Stamps at EU Borders for UK Nationals
==========================
✈ Apply for your Schengen Visa at https://immigrationandmigration.com/schengen-visas to get your Schengen Visa!
==========================
Check out the offers and discounts from:
Airport Transfers – https://iam.ontraport.com/c/s/j9Q/P/U/jvT/P/6oTxO3/Uz8tXktnsh/P/P/P
Holidays – https://iam.ontraport.com/c/s/j9Q/P/j/jvi/P/6oTxO3/vof8Cu3AQ4/P/P/P
Flights, Hotels Etc – https://iam.ontraport.com/c/s/j9Q/P/5/jvo/P/6oTxO3/vjtlp51A5x/P/P/P
Things to Do When You Get There – https://iam.ontraport.com/c/s/j9Q/P/r/jvM/P/6oTxO3/sALWj2h37D/P/P/P
And because of the pandemic, don't forget to get your travel insurance https://immigrationandmigration.com/travel-insurance-amid-coronavirus/ , which will cover you for flight disruptions and pandemic related matters https://iam.ontraport.com/tl/400 .
==========================
✈ Find us on social media:
. Facebook: http://iam.re/iamfb​
. Instagram: http://iam.re/iamig​
. Twitter: http://iam.re/iamtw​
. Linkedin: http://iam.re/iamli​
. Pinterest: http://iam.re/iampin
-~-~~-~~~-~~-~-
Check out our latest video: "Schengen Visa Types"

-~-~~-~~~-~~-~-
#BritsTravelToEU #BritishPassportStamps
* Some of our content may contain affiliate links. If you use these links to buy something we may earn a commission.